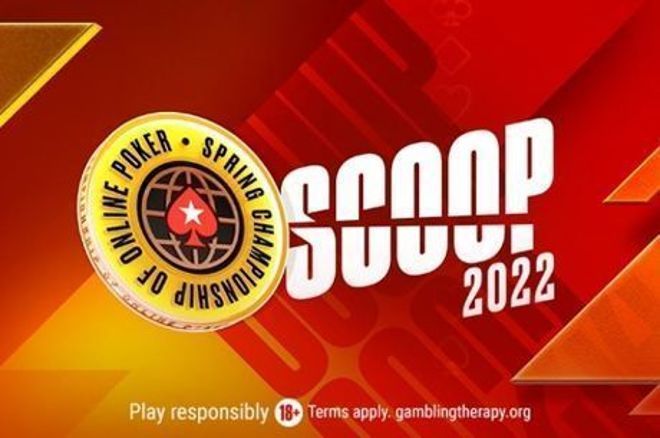 The 2022 Spring Championship Of Online Poker (SCOOP) High Main Event saw 654 players created a guarantee-busting $6,540,000 prize pool and it was Austria's "WElcomeINnferNO" who outlasted them all and captured a monster-sized $1,141,510.
WElcomeINnferNO went into the star-studded second in chips, trailing Dejan "dejanlc357" Kaladjurdjevic ever so slightly. When the dust had settled, WElcomeINnferNO and Kaladjurdjevic has swapped places, with the former becoming the SCOOP NLHE High Main Event champion.
SCOOP 95-H: $10,300 NLHE Main Event Final Table Results
PlacePlayerCountryPrize 1WElcomeINnferNOAustria$1,141,510 2Dejan "dejanlc357" KaladjurdjvicMontenegro$834,273 3SintorasGermany$609,730 4monzemannAustria$445,621 5Vlad "dariepoker" DarieRomania$325,682 6AchoBogdanovBulgaria$238,025 720001219Lithuania$173,961 8Renan "Aziz.Mancha" AzizBrazil$127,140 9RUMUKULUSAustria$102,819
Austria's "RUMUKULUS" was the ninth-place finisher and collected $102,819. RUMUKULUS min-raised to 1,000,000 with ace-eight of hearts from late position before jamming all-in for 10,834,824 in total when WElcomeINnferNO three-bet to 2,750,000 from the small blind. WElcomeINnferNO called with pocket jacks, which held to send RUMUKULUS to the rail.
Renan "Aziz.Mancha" Aziz joined RUMUKULUS on the sidelines after he made an ill-timed move against WElcomeINnferNO. The latter min-raised to 1,000,000 with ace-king in late position and quickly called when Aziz moved all-in with ace-four of spades from the big blind for 11,659,776. It was game over for Aziz on the turn.
Turning $215 Into $173,961
Seventh place and $173,691 went to "20001219" of Lithuania, who busted during the next blind level. Again, WElcomeINnferNO min-raised, doing so to 1,290,000 on the button with pocket queens. 20001219 three-bet all-in for 13,627,752 with ace-ten, and the initial raise instantly called. An eight-high board sent 20001219 to the rails. 20001219 won their way into this $10,300 buy-in event for only $215, making their $173,961 payday even more impressive.
Bulgaria's "AchoBogdanov" was the shortest from the moment the final table started to the moment they busted, but their amazing laddering skills meant they collected $238,025 when it looked more likely they'd secure the $102,819 ninth-place money. The Bulgarian finally came unstuck when they committed their 8,380,182 stack with king-ten of diamonds from the small blind after Kaladjurdjvic had opened to 1,200,000 from the cutoff. Kaladjurdjvic snap-called with a pair of queens in the hole, and AchoBogdanov was history.
Dangerous Darie Demolished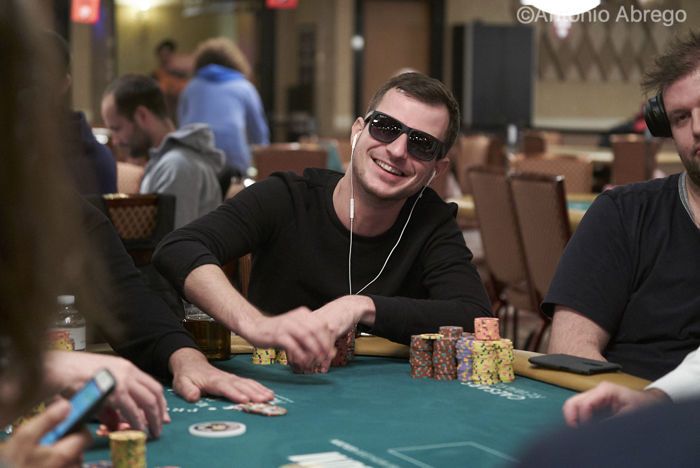 Vlad Darie
A clash between Kaladjurdjvic and Vlad "dariepoker" Darie saw the latter head to the showers with $325,682 more in his PokerStars account. The action folded to Kaladjurdjvic in on the button and he raised twice the big blind to 1,400,000. Darie, in the small blind, looked down at pocket sevens and raised to 9,800,000, leaving himself a shade over 4,300,000 behind. Kaladjurdjvic moved all-in with his pocket jacks, and Darie called off his remaining chips. No help arrived on the five community cards, and the 2022 SCOOP NLHE High Main Event lost a dangerous player.
You need to win your coinflips if you want to become a poker tournament champion, but "monzemann" did not get that memo. After min-raising to 1,600,000 under the gun with pocket sevens, monzeman called WElcomeINnferNO's shove, which was for 17 million chips effective. WElcomeINnferNO held ace-jack and when you are running hot, the cards seem to work in your favor. An ace on the flop confirmed this bias, and the Main Event was down to only three players.
Those three became two when "Sintoras" crashed out in third, a finish good for $609,730. A brief raising war between Sintoras on the button and WElcomeINnferNO in the small blind resulted in Sintoras being all-in and at risk with pocket tens against ace-four. The flop fell with an ace and a four, and Sintoras could not find one of his two outs.
WElcomeINnferNO held a 125,351,675 to 38,148,325 lead over Kaladjurdjvic and the writing was on the wall for the Montenegrin shorter stack.
The final hand saw WElcomeINnferNO limp in for 900,000 with ace-ten, Kaladjurdjvic raise to 3,150,000 with the dominating ace-queen, and WElcomeINnferNO rip it in. Kaladjurdjvic called off the 19,303,132 chips they had behind, only for WElcomeINnferNO to spike a ten on the turn to become the $10,300 NLHE SCOOP Main Event champion. A valiant performance by Kaladjurdjvic who took home $834,273.
$1,050 and $109 NLHE SCOOP Main Event Crown Their Champions
The $1,050 and $109 editions of the SCOOP NLHE Main Events crowned their champions, too. The $1,050 version ended in a four-way chop that saw "KasparovAKs" finish fourth for $334,898, "S Georgiev" collect $348,874 for third place, and Luis "luisnrd" Domeles, the start of the final table chip leader, bank $416,304 for their runner-up finish. "paythetable101" of the United Kingdom secured the title and a $509,837 payday.
SCOOP 95-M: $1,050 NLHE Main Event Final Table Results
PlacePlayerCountryPrize 1paythetable101United Kingdom$509,837* 2Luis "luisnrd" DomelesBrazil$416,304* 3S GeorgievBulgaria$348,874* 4KasparovAKsCanada$334,898* 5RebozeioBrazil$157,176 6NikTolikKazakhstan$111,140 7Tomas "T 54 T 97s" PaivaUnited Kingdom$78,588 8MarceloLG30Brazil$55,569 9DeZauZeRMexico$39,293
*reflects a four-way deal
There was no chop in the $109 buy-in Main Event despite some massive pay jumps. The top three finishers each turned their $109 investment into a six-figure haul. Third-place finisher "lbr-rojo" got their hands on $131,837, before "Mr. Havener" and "GoianoVix," both of Brazil, battled it out for the title and the lion's share of the $2,553,400 prize pool.
GoianoVix defeated their fellow Brazilian heads-up and came away with the title of champion in addition to $259,474 in prize money. The runner-up headed into the night with $184,947 reasons to be delighted with their performance.
SCOOP 95-L: $109 NLHE Main Event Final Table Results
PlacePlayerCountryPrize 1GoianoVixBrazil$259,474 2Mr. HavenerBrazil$184,947 3lbr-rojoMexico$131,837 4suckratess888Hungary$93,978 5PolecatRiderAustria$66,991 6zekuraNorway$47,753 7JbiancoliniBrazil$34,040 8Marianex.BJArgentina$24,265 9Bl4ckCat77Brazil$17,297