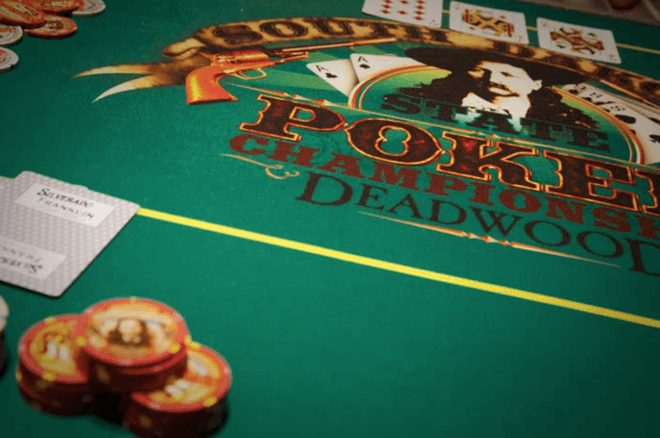 The Mid-States Poker Tour (MSPT) will be stopping at Silverado-Franklin Casino in Deadwood, South Dakota later this month for the South Dakota State Poker Championship.
The South Dakota State Poker Championship will feature the $1,110 buy-in Main Event, a two-day event with two starting flights that will run from May 20-22.
At Least $100K Up for Grabs
This year's Main Event has a guaranteed prize pool of $100,000, though it is likely to surpass that. The MSPT Main Event at the 2019 MSPT South Dakota Deadwood Shootout attracted 387 runners to generate a prize pool of $373,886, nearly quadrupling the guaranteed $100,000.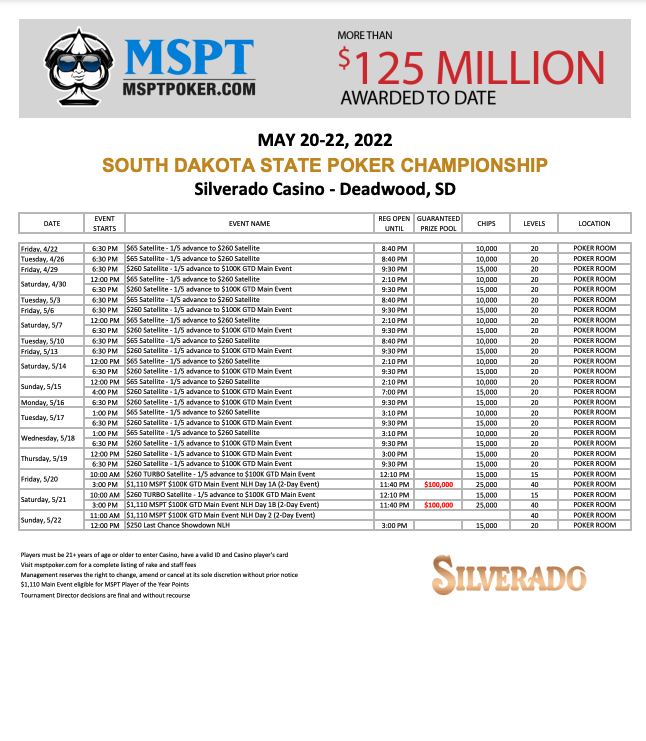 MSPT South Dakota State Poker Championship
Players will begin with a starting stack of 25,000 tournament chips and blinds at 100/100/100. Both starting flights will play through the end of Level 15 or until approximately 12% of the field remains.
Each level will last 40 minutes in duration until heads-up play is reached, at which point levels will shorten to 30 minutes.
Day 2 will commence on May 22 at 11 a.m. local time and will play down to a winner, who will take home the bulk of the prize pool and the glorious MSPT trophy.
The MSPT stop will wrap up with $250 Last Chance Showdown NLH, a one-day event that gets underway on May 22 at noon.
Players can satellite into the Main Event by either playing a $65 satellite where one in five advances to a $260 satellite, or buying directly into the higher buy-in satellite, where one in five players will advance to the Main Event.
Best Free to Play Slots
Previous Winner
Mark Steffen took down the Main Event at the 2021 MSPT Deadwood Shootout in October to win $82,256, defeating Rosie Paules during heads-up play.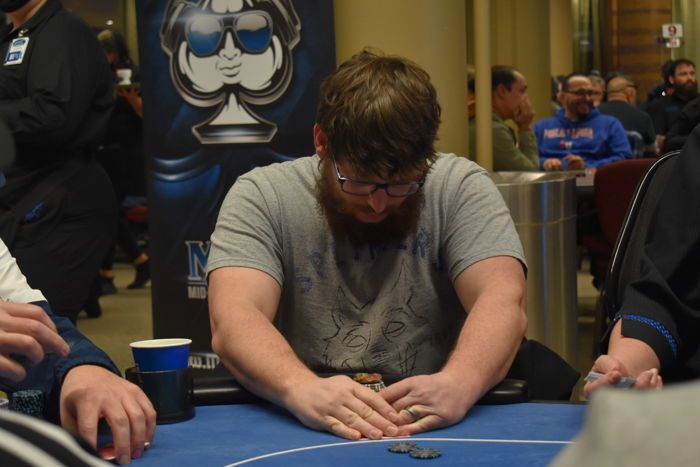 Mark Steffen
Steffen and Paules, who earned $50,849 for her runner-up finish, were joined at the final table by William Reynolds (3rd – $37,015), Lorri Riley (4th – $27,294) and Ralph Kingan (5th – $20,564), among others.
Steffen, who is from Hot Springs, South Dakota, had less than $5,000 in live tournament earnings before winning the career-best five-figure score, according to The Hendon Mob.
2021 MSPT Deadwood Shootout Results
 SEATPLAYERHOMETOWNPRIZE (IN USD)  1Mark SteffenHot Springs, SD$82,256  2Rosie PaulesTorrington, WY$50,849  3William ReynoldsSioux City, IA$37,015  4Lorri RileySpearfish, SD$27,294  5Ralph KinganWright, WY$20,564  6Tom TinesGordon, NE$15,703  7Ronald KohnerPeoria, AZ$12,338  8Scott ChristensenSpearfish, SD$9,721  9Frank LuceroBillings, MT$7,104
After South Dakota, MSPT will head to the Venetian in Las Vegas for the $1,600 Main Event, which runs from June 6-10 and has a huge $2 million guarantee.
A full schedule for the MSPT South Dakota State Poker Championship is available in the table below.
Check out the MSPT Hub on PokerNews here!
MSPT South Dakota State Poker Championship Schedule
 DATEEVENTBUY-IN  April 22, 2022No Limit Hold'em – Main Event Step SatelliteBuy-in: $65  April 26, 2022No Limit Hold'em – Main Event Step SatelliteBuy-in: $65  April 29, 2022No Limit Hold'em – Main Event SatelliteBuy-in: $260  April 30, 2022No Limit Hold'em – Main Event Step SatelliteBuy-in: $65  April 30, 2022No Limit Hold'em – Main Event SatelliteBuy-in: $260  May 03, 2022No Limit Hold'em – Main Event Step SatelliteBuy-in: $65  May 06, 2022No Limit Hold'em – Main Event SatelliteBuy-in: $260  May 07, 2022No Limit Hold'em – Main Event Step SatelliteBuy-in: $65  May 07, 2022No Limit Hold'em – Main Event SatelliteBuy-in: $260  May 10, 2022No Limit Hold'em – Main Event Step SatelliteBuy-in: $65  May 13, 2022No Limit Hold'em – Main Event SatelliteBuy-in: $260  May 14, 2022No Limit Hold'em – Main Event Step SatelliteBuy-in: $65  May 14, 2022No Limit Hold'em – Main Event SatelliteBuy-in: $260  May 15, 2022No Limit Hold'em – Main Event SatelliteBuy-in: $260  May 15, 2022No Limit Hold'em -Main Event Step SatelliteBuy-in: $65  May 16, 2022No Limit Hold'em – Main Event SatelliteBuy-in: $260  May 17, 2022No Limit Hold'em – Main Event Step SatelliteBuy-in: $65  May 17, 2022No Limit Hold'em – Main Event SatelliteBuy-in: $260  May 18, 2022No Limit Hold'em – Main Event Step SatelliteBuy-in: $65  May 18, 2022No Limit Hold'em – Main Event SatelliteBuy-in: $260  May 19, 2022No Limit Hold'em – Main Event SatelliteBuy-in: $260  May 19, 2022No Limit Hold'em – Main Event SatelliteBuy-in: $260  May 20, 2022No Limit Hold'em – Turbo Ironman Main Event SatelliteBuy-in: $260  May 20, 2022No Limit Hold'em – Main Event – Day 1ABuy-in: $1,110  May 21, 2022No Limit Hold'em – Turbo Ironman Main Event SatelliteBuy-in: $260  May 21, 2022No Limit Hold'em – Main Event – Day 1BBuy-in: $1,110  May 22, 2022No Limit Hold'em – Main Event – Day 2Buy-in: $0  May 22, 2022No Limit Hold'em – Last Chance ShowdownBuy-in: $250