The New York Knicks are desperate to sign free agent Jalen Brunson, but they had to make a couple of key moves to clear up enough cap space to accommodate Brunson's new contract. The Knicks sent center Nerlens Noel, guard Alec Burks, two-second round picks, plus $6 million in cash to the Detroit Pistons in a trade.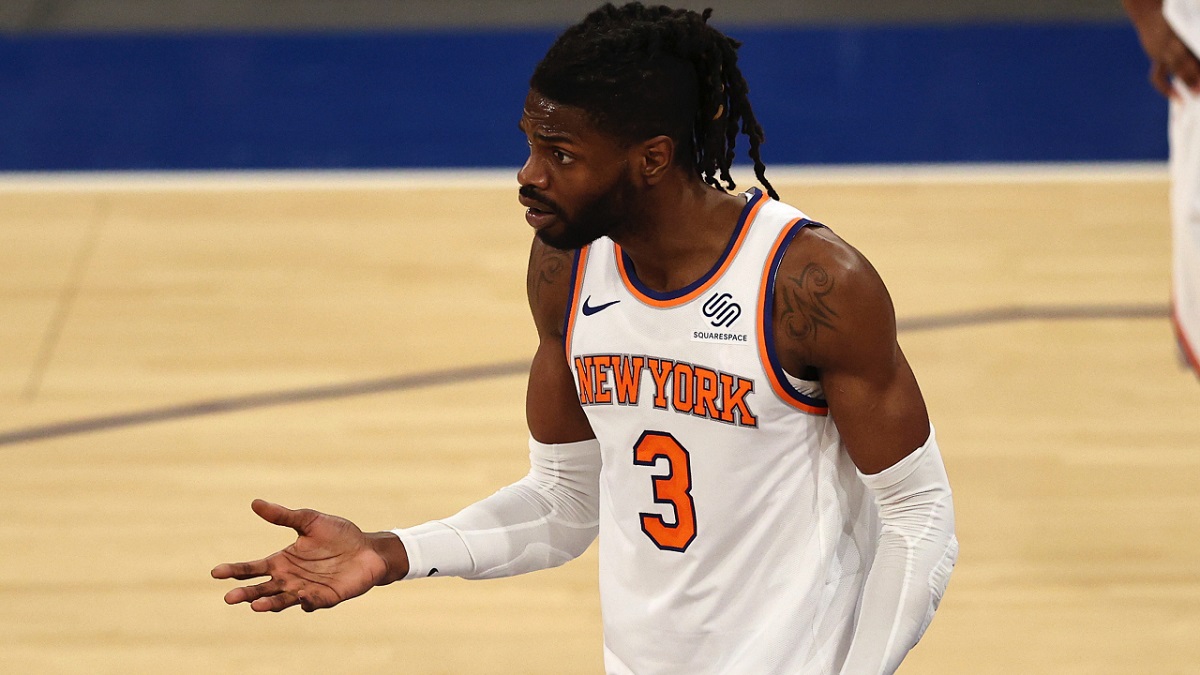 Center Nerlens Noel from the New York Knicks disputes a foul call at Madison Square Garden. (Image: Suzanne Greenburg/Getty)
The Knicks do not get any players in return, but they shed $19 million in cap space. If you also include the moves the Knicks made on draft night — which included dumping Kemba Walker in another trade with the Pistons — they cleared over $28 million in cap space. They also saved an additional $4.5 million in salary by trading the #11 pick in the draft to the Oklahoma City Thunder.
Everyone in Gotham is buzzing right now because the Knicks are on the verge of signing Brunson to a four-year deal somewhere around $110 million.
The rumor of Brunson joining the Knicks did not alter the futures market. The Knicks are still long shots at +20000 odds to win the 2023 NBA championship.
Knicks Save $19M on Burks and Noel
The NBA is a ruthless business, which is why the Knicks sent fan-favorites — Burks and Noel — to the Pistons in a one-sided trade.
Burks, 30, averaged 11.7 points, 4.9 rebounds, and 3.0 assists with the Knicks' high-octane second unit. There were times when Burks looked like the most prolific scorer on the Knicks. He was a streaky shooter, but when he got hot, he got MSG rocking with his ability to knock down 3-pointers and score quick buckets in transition. He shot 40.4% from deep last season and knocked down 41.5% from downtown the previous to seasons.
Burks had off-season foot surgery, but his future with the Knicks was in doubt because of his salary. He originally signed a three-year deal worth $30 million at the start of last season. Burks will be exiled with a young Pistons squad in Detroit that could use a savvy veteran like him. He has two more years on his contract, but there's a club option next season. So, there's a good chance Burks gets traded again before the trade deadline.
Noel, 28, averaged 3.4 points and 5.6 rebounds off the bench for the Knicks last season. The injury-prone Noel appeared in just 25 games, but started in 11 games for head coach Tom Thibodeau. Fans loved his high energy and his commitment to defense. NYC Fashionistas adored Noel's "game-day fits" and avant-garde hair style.
Noel was one of numerous players from Kentucky on the Knicks roster. There were no shortage of Kentucky Knicks or New York Wildcats jokes made about all the former players from Lexington at MSG.
Last offseason, Noel signed a three-year deal with the Knicks worth $27 million. He's due $9 million this season, but his final contract year is a club option.