With the Breeders' Cup serving as rich icing on the cake, Keeneland announced a record $8.75 million in stakes purses during its Oct. 7-29 Fall Meet.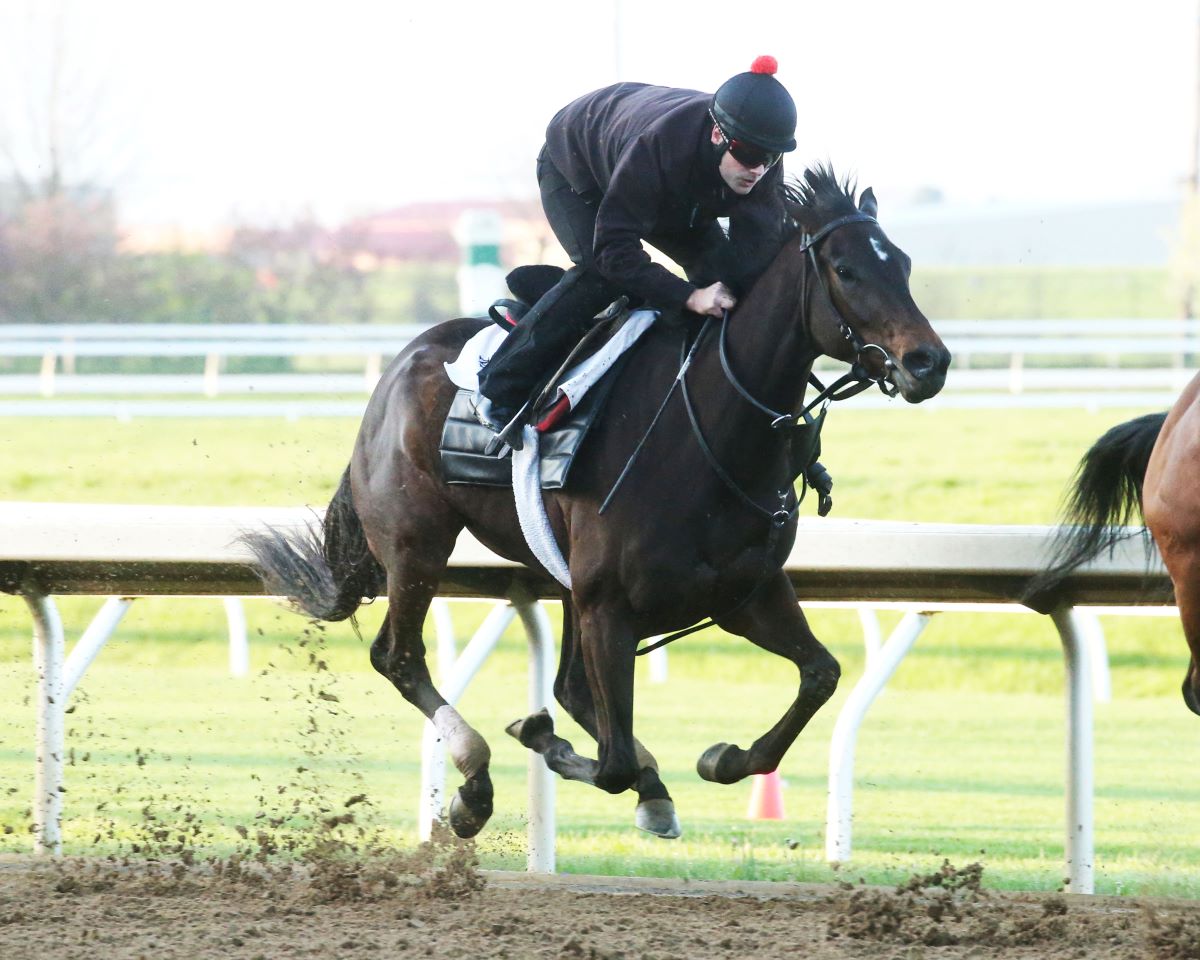 Kentucky Oaks contender Kathleen O worked out earlier this spring at Keeneland, where she could run later this year in one of the 22 stakes at Keeneland's Fall Meet. (Image: Coady Photography)
Of Keeneland's 22 stakes, nine of those are Breeders' Cup "Win and You're In" Challenge Series events. The track plays host to the Breeders' Cup for the third time overall and second time in three years the week after its Fall Meet ends: Nov. 4-5.
The $8.75 million in stakes purses eclipses the previous meet record of $7.7, which didn't stand long. That came during this year's 22-day Spring Meet in April. This sparked horseplayers' interests enough to wager a record $219 million in all-sources handle.
Keeneland's Fall Meet opens with 11 stakes, including those nine Breeders' Cup Challenge Series races. The track carded multiple stakes on six of the meet's 17 days, breaking stakes races down to 12 on dirt and 10 on turf. It also increased purses on every stakes race.
"Keeneland has planned a Fall Meet that promises to be better than ever," Keeneland President and CEO Shannon Arvin said in a statement. "Adjustments made to the season last year, including increasing the number of stakes to 22 and boosting the final days with multiple stakes, produced an extremely successful meet from start to finish."
Turf Mile the first of six Grade 1 races
The meet's richest race, the $1 million Grade 1 Coolmore Turf Mile, headlines the first weekend of stakes. Along with being one of three Grade 1s on the Saturday, Oct. 8 card, the Coolmore Turf Mile offers its winner an all-expense paid berth into the Breeders' Cup Mile.
The other two Grade 1s that day are the Breeders' Futurity and First Lady. Along with a good view of 2023 Kentucky Derby hopefuls, the Breeders' Futurity comes with a berth in the Breeders' Cup Juvenile for its winner.
Keeneland's Friday, Oct. 7 opening day presents three Challenge Series stakes races: the Grade 1 Alcibiades (Juvenile Fillies), Grade 2 Ogden Phoenix (Sprint) and Grade 2 Jessamine (Juvenile Fillies Turf). Track officials moved the Jessamine to opening day to place it exactly four weeks before the Breeders' Cup. Previously, it ran the following Wednesday. Bettors now will find it in Keeneland's Turf Pick 3.
Keeneland 2022 Fall Meet Key Stakes
Race
Grade
Distance
Eligible Horses
Oct. 7
Alcibiades
I
1 1/16 miles
2-year-old fillies
Oct. 7
Ogden Phoenix
II
6 furlongs
3-year-olds and up
Oct. 7
Jessamine
II
1 1/16 miles (turf)
2-year-old fillies
Oct. 8
Turf Mile
I
1 mile
3-and-up
Oct. 8
Breeders' Futurity
I
1 1/16 miles
2-year-olds
Oct. 8
First Lady
I
1 mile (turf)
3-and-up fillies & mares
Oct. 8
Thoroughbred Club of America
II
6 furlongs
3-and-up fillies & mares
Oct. 9
Spinster
I
1 1/8 miles
3-and-up fillies & mares
Oct. 9
Bourbon
II
1 1/16 miles (turf)
2-year-olds
Oct. 15
Queen Elizabeth II Challenge Cup
I
1 1/8 miles (turf)
3-year-old fillies (invite only)
That opening weekend concludes with three more Challenge Series stakes, headlined by the Grade 1 Spinster (Distaff). The others are the Grade 2 Bourbon (Juvenile Turf) and Listed Indian Summer (Juvenile Turf Sprint).
Headlining the following weekend on Sunday, Oct. 15 is Keeneland's sixth and final Grade 1. That's the Queen Elizabeth II Challenge Cup. The winning owner of that race will receive a specially designed strawberry dish produced by Garrad, the Royal Jeweler. This commemorates the Queen's Platinum Jubilee and her impact on Thoroughbred racing.
"The stakes schedule is designed to present our horsemen and fans with exceptional racing opportunities from opening day through the final card of the Fall Meet," Keeneland Vice President of Racing Gatewood Bell said. "We're extremely excited about the purse structure we're able to offer."