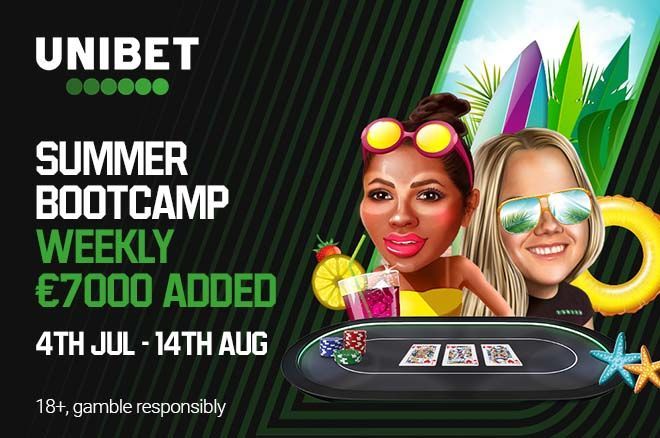 Calling all cash game players, Unibet Poker has launched its Summer Bootcamp promotion and is throwing a cool €42,000 at it. Summer Bootcamp runs from July 4 through August 14, and it awards €7,000 to cash game players each week.
Unibet Poker's cash game players who play at least NL/PL25 earn leaderboard points for completing simple poker-related tasks. For example, don't despair if you look down at seven-deuce as your starting hand at a No-Limit Hold'em table because you'll receive four Summer Bootcamp leaderboard points.
Other tasks include playing in multiway pots, seeing the flop in consecutive hands; you are even rewarded should you experience the sickening feeling of having aces cracked!
Satellites For Unibet Open Malta Are Live! Win Your Package Today!
Unibet Poker Summer Bootcamp Tasks
AchievementPoints at NLHEPoints at PLO Reach the flop with at least three other players21 Reach the flop in two consecutive hands42 Play a hand from the button and win or split the pot33 Lose with AA at showdown208 Reach a flop showing three cards of the same rank5025 Be dealt seven-deuce as your starting hand42 Be dealt a straight flush1,000300
Players can boost their points total with special daily and weekly achievements. Playing two cash game tables at once gifts you 200 extra points once per day. Love PLO? Win three PLO pots in one day and you bank another 200 points.
Those of you who want to receive sacksful of extra points need to see at least five cash game flops for seven consecutive days. Do this and a cool 1,200 extra points are added to your total.
AchievementFrequencyPoints Play at least two cash games simultaneouslyDaily200 Win three pots in any PLO cash gameDaily200 Losing week at eligible stakes, one point per €1 lostWeekly450 Reach at least five cash game flops for 3 consecutive daysWeekly600 Reach at least five cash game flops for 7 consecutive daysWeekly1,200
Points Multipliers
All the points you earn are multiplied based on the stakes you earned them at. NL/PL25 players' points are multiplied by 1x, NL/PL50 are multiplied 2x, while NL/PL100 players enjoy a 3x boost on all the points they earn.
StakesMultiplier NL/PL251 NL/PL502 NL/PL1003 NL/PL2001
Summer Bootcamp Leaderboard Payouts
There are two Summer Bootcamp leaderboards running each week: one for mid-stakes and the other for high-stakes. Mid-stakes are NL/PL25, NL/PL50, and NL/PL100, while high-stakes are NL/PL200 games.
The mid-stakes pays out the top 30 points earners between €25 and an impressive €600. High stakes players need to finish in the top 20 to receive a cash prize ranging from €50 to €1,100.
RankMid-Stakes Cash PrizeHigh-Stakes Cash Prize 1€600€1,100 2€400€800 3€300€600 4€200€350 5€150€300 6€100€200 7€50€150 8€50€125 9€50€100 10€50€75 11-20€50€50 21-30€25 
Unibet Poker Launches All Encompassing GameLab Feature and Loyalty Program
Summer Bootcamp Dates
Check the list below for the dates of the Unibet Poker Summer Bootcamp.
July 4 to July 10July 11 to July 17July 18 to July 24July 25 to July 31August 1 to August 7August 8 to August 14
Grab €20 Extra and a €200 Bonus
Now is the time to join the fun and games at Unibet Poker because signing up for a free account via PokerNews' links gives you an awesome welcome package. Grind the Summer Bootcamp should see you clear a large chunk of the generous welcome bonus.
If you don't have an account already, download Unibet Poker via PokerNews. Create your account, and make a deposit of at least €10. Doing so entitles you to €20 worth of tickets, plus entry into up to four €500 weekly welcome freerolls.
Your new Unibet Poker account comes with a €200 playthrough bonus. Play real money cash games, tournaments and HexaPro games and your bonus money releases into your playable account balance at the frequencies shown below:
LevelRakeCash rewardReward % 1€2€150% 2€10€440% 3€50€1530% 4€150€4027% 5€588€14025%