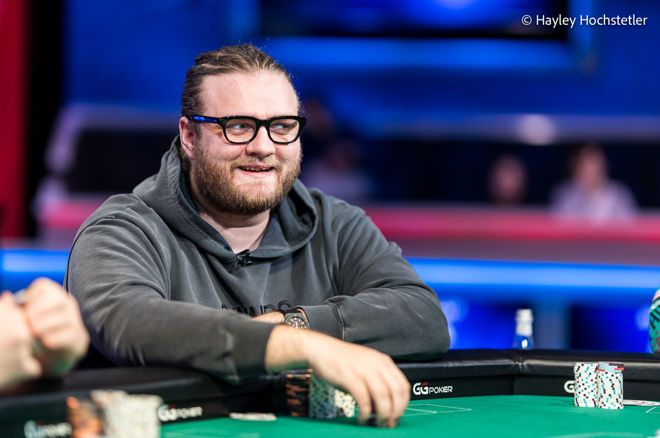 Only a week has passed since Henrik Hecklen headed to Madrid to compete in the Triton Poker Series. The Dane entered the €100,000 buy-in Main Event and walked away with a colossal €2,170,509 prize after a heads-up deal with Orpen Kisacikoglu (€2,016,491). Now Hecklen has the chance to win another seven-figure prize he is the chip leader with 40 players remaining in the $10,300 buy-in 2022 SCOOP High Main Event.
The 654 starters, who created a $6,540,000 prize pool, have been whittled to a more manageable 40 and it is Hecklen who is flying the highest. He returns to the tables with 10,736,164 chips in tow, one of only two players armed with eight-figure stacks. Bulgaria's "AchoBogdanov" is the other with 10,322,915 chips.
Each of the returning players is guaranteed at least $23,262 for the efforts, but this swells to $102,819 by the time only nine players remain, which is what will happen by the end of Day 3 which kicks off at 5:30 p.m. BST on May 31.
Hecklen may lead now but he will not have an easy ride towards the title and the $1,141,510 top prize. This is because, as is usually the case in the $10,300 SCOOP Main Event, the field is still stacked with elite professional players.
Salas Secures Second Ever SCOOP Title; Pads Bankroll With $103K
Germany's "Sintoras" will fancy their chances courtesy of returning with 9,331,928 chips. British star Andy "BowieEffect" Wilson (8,830,277) sits back down in fourth place, while Eelis "EEE27" Parssinen (5,909,325) has a top ten stack.
Further down the chip counts you find such luminaries as Pascal "Pass_72" Lefrancois (4,343,327), James "RUNSITSRANN" Rann (3,681,040), David "MissOracle" Yan (3,327,340), Yuri "theNERDguy" Dzivielevski (2,760,782), and short stack Andras "probirs" Nemeth (479,334).
Follow all the penultimate day's action from 6:00 p.m. BST only on the official PokerStars Twitch channel.
SCOOP 95-H: $10,300 NLHE Main Event Top 10 Chip Counts
PlacePlayerCountryChips 1Henrik "hhecklen" HecklenUnited Kingdom10,736,164 2AchiBogdanovBulgaria10,322,915 3SintorasGermany9,331,928 4Andy "BowieEffect" WilsonUnited Kingdom8,830,277 5BeriuzyCanada8,481,021 6Blaz "Scarmak3r" ZerjavSlovenia7,940,340 7CPUrul0rAustria7,715,148 8Kayhan "KayhanMok" RoshanfekrNorway6,959,009 9Gogac sniperAustria6,248,015 10Eelis "EEE27" ParssinenFinland5,909,325
Astedt Lurking in on Day 3 of the $1,050 NLHE Main Event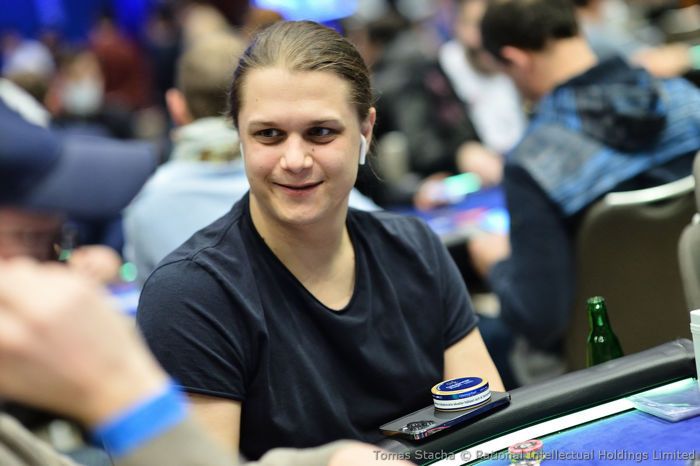 Niklas Astedt
The $1,050 NLE Main Event started with 4,408 players but only 79 of those players remain in the hunt for the $628,713 first place prize. A large percentage of the $4,408,000 prize pool is still waiting to be dished out, with the top six finishers all turning their $1,050 investment into six figures.
Malta's "000000000136" is the player to catch going into Day 3 but there is not much distance between their tournament-leading 17,283,610 stack and the 17,005,672 chips that "NikTolik" has in their possession.
Plenty of stellar names litter the chip counts, including Ben "jenbizzle" Jones (13,972,666) of the United Kingdom, and a certain Niklas "Lena900" Astedt (8,689,610) who is lurking outside the top ten chip counts in 14th place.
Throw into the mix the likes of Timothy "Tim0thee" Adams (4,937,116), Dinesh "NastyMinder" Alt (4,102,628), and Christopher "lissi stinkt" Frank (2,314,536), and you have the recipe for a thrilling Day 3.
Play resumes at 5:30 p.m. BST and continues until only nine players have chips in front of them.
SCOOP 95-M: $1,050 NLHE Main Event Top 10 Chip Counts
PlacePlayerCountryChips 1000000000136Malta17,283,610 2NikTolikKazakhstan17,005,672 3Gaston "g-man/obell" BelluscioArgentina16,770,679 4KasparovAksCanada15,886,526 5Galanthus1Croatoa14,786,197 6Ben "jenbizzle" JonesUnited Kingdom13,972,666 7Binance.comHungary12,117,020 8Sebbecenter9Denmark10,117,020 9TOBSEN_TE9Austria9,806,824 10necgaidziaiLithuania9,770,711
Schemion Completes 2022 SCOOP Hat Trick; Mattsson Does The Double
Race is on to Become the $109 NLHE Main Event Champion
There is still a lot of play left in the $109 NLHE Main Event because 158 grinders remain in contention for the $259,474 top prize. Some 25,534 players started this event with high hopes, and they created a $2,553,400 prize pool. Only 158 return for Day 3, each having locked in $1,481.
Brazilian's make up six of the current top ten, and occupy the top two places on the leaderboard. "GoianoVix" leads the way courtesy of their 16,707,659 chips, with fellow Brazilian "Mr. Havener" on 13,934,680 chips.
Only Marco "marcozevola5" Zevola (12,474,241) and "RecedevusT" of Sri Lanka (11,310,443) have more than 10 million chips.
SCOOP 95-L: $109 NLHE Main Event Top 10 Chip Counts
PlacePlayerCountryChips 1GoianoVixBrazil16,707,659 2Mr.HavenerBrazil13,934,680 3Marco "marcozevola5" ZevolaArgentina12,474,241 4RecedevusTSri Lanka11,310,443 5DonWakamayoChile9,484,519 6Ophelia741Canada9,482,981 7andre#6111Brazil8,960,653 8mellovBrazil8,400,662 9LeoAlcantaraBrazil8,236,304 10brazil5cardBrazil7,769,206
$253K Awaits the $10,300 High PLO Main Event Champion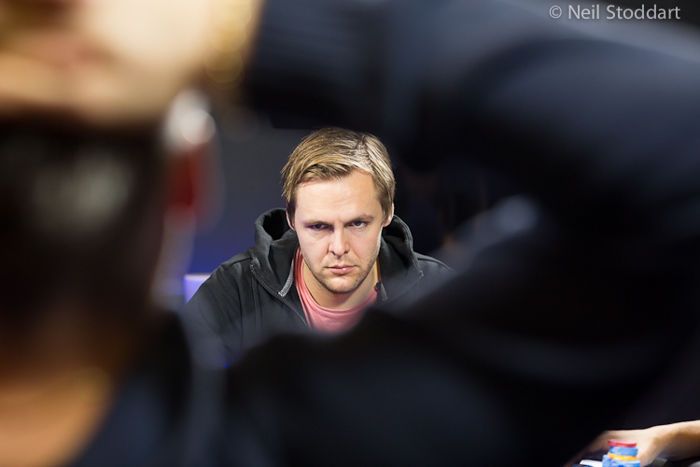 Mads Amot finds himself in the mix in another major event
Action in the $10,300 PLO Main Event resumes at 5:30 p.m. BST on May 31 with only seven of the 106 entrants battling it out for a $253,304 top prize and, of course, the title of champion.
Poland's "Stroynowski" (6,329,409) holds a narrow lead over "d.apollo777" (6,067,876) of the United Kingdom when the cards are back in the air. All the other five finalists will have a saw in where this particular title calls home at the close of play.
"PokerLoans1" is hopeful of snagging the victory for Argentina, but Mads "madsamot" Amot, Andrey "Anyeyyy" Novak, Maxi "mikki696" Lehmanski, and Linus "LLinusLLove" Loeliger have plans to spoil the evening of anyone who thinks this tournament is a done deal.
Dinesh Alt Bags $157K Bounty After Demolishing the SCOOP Titans Event
SCOOP 97-H: $10,300 PLO Main Event Final 7 Chip Counts
PlacePlayerCountryChips 1StroynowskiPoland6,329,409 2d.apollo777United Kingdom6,067,876 3PokerLoans1Argentina5,744,726 4Mads "madsamot" AmotNorway2,722,154 5Andrey "Anjeyyy" NovakUkraine2,349,972 6Maxi "mikki696" LehmanskiAustria2,230,259 7Linus "LLinusLLove" LoeligerAustria1,055,604
Leonard Hoping to Become a Six-Time SCOOP Champion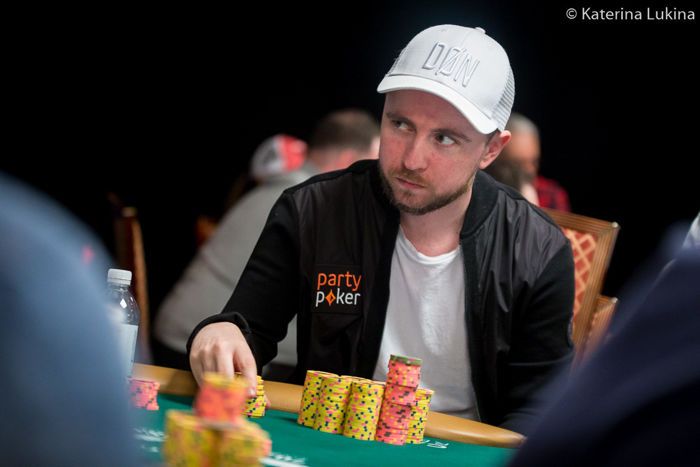 Patrick Leonard looking for SCOOP title #6
Seventeen players stand between Patrick "pads1161" Leonard and Leonard's sixth SCOOPP title. Leonard won his first SCOOP in 2017, then a brace in both 2020 and 2021, but has drawn a blank so far this series. That could be set to change because the popular Brit has navigated his way through the bulk of the 679 field in the $1,050 PLO Main Event and is currently occupying eighth place with 18 players remaining.
Canada's "uwintakeit" goes into the final day with a substantial lead. They have 13,537,441 betting tokens at their disposal with Benjamin "beastishngry" Juhasz on 7,337,413 in second place.
However, PLO is a very swingy game so don't write off the chances of Bernando "bedias" Dias (3,717,764), Leonard (3,497,631), of flying Finn Aku "Aku1206" Joentausta (3,239,335) when the cards are back in the air.
SCOOP 97-M: $1,050 PLO Main Event Top 10 Chip Counts
PlacePlayerCountryChips 1uwintakeitCanada13,537,441 2Benjamin "beastishngry" JuhaszHungary7,337,413 3Johan5390Sweden5,633,489 4untouchble10Moldova5,488,284 5DomceLithuania4,712,414 6zibrrrBrazil3,861,160 7Bernado "bedias" DiasBrazil3,717,764 8Patrick "pads1161" LeonardUnited Kingdom3,497,631 9pkr_falkSweden3,432,073 10Aku "Aku1206" JoentaustaFinland3,239,335
Poles Dominate $109 PLO Main Event
Players hailing from Poland currently occupy the top three places in the chip counts in the $109 PLO Main Event, where only 18 of the 2,797 entrants have chips in their stacks.
"MagicRoslin" must fancy their chances of glory because they hold 14,045,295 chips, and second-placed "pokerqmaster" has 8,230,644. A third Polish grinder, "NERINEJA85", takes their seat in third place with 6,923,672 chips.
Someone will walk away with $40,628 tonight, find out who in PokerNews' recap on June 1.
SCOOP 97-L: $109 PLO Main Event Top 10 Chip Counts
PlacePlayerCountryChips 1MagicRoslinPoland14,045,295 2pokerqmasterPoland8,230,644 3NERINEJA85Poland6,923,672 4SaageFinland5,284,419 5mahmuttt88Finland4,451,906 6bullennr22Sweden3,832,864 7NIzkm9Hungary3,589,048 8NadhobUkraine3,468,697 9texasilainenFinland3,177,121 10Grus/SnusSweden3,148,572