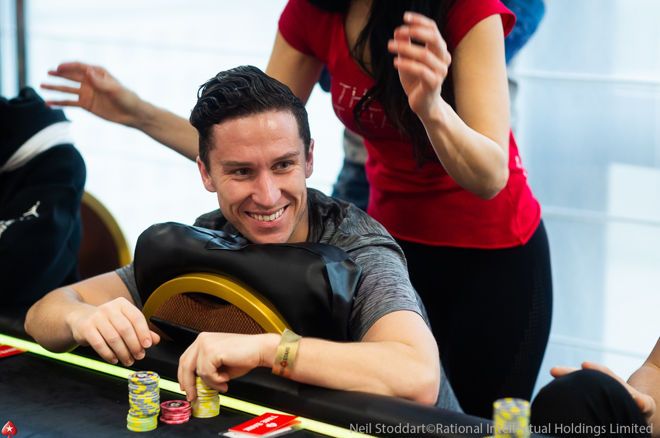 Daniel "Oxota" Dvoress reeled in yet another six-figure score on March 6 thanks to being the last man standing in the $5,200 Titans Event online at PokerStars. Dvoress outlasted 93 opponents on his way to collecting a bankroll-boosting $112,314.
The compact field meant only the top 11 finishers won a slice of the $470,000 prize pool. Team PokerStars' Parker "tonkaaa" Talbot and Artur "mararthur1" Martirosian busted around the bubble but it was Jens "Fresh_oO_D" Lakemeier who crashed out in 12th place.
Talal "raidalot" Shakerchi and "Sintoras" fell in eleventh and tenth place respectively, setting what was an incredibly talented nine-handed final table.
How To Qualify For the $10M Gtd Sunday Million From $0.50
Swedish superstar Simon "C. Darwin2" Mattsson was the first casualty of the final table. Joao "Naza114" Vieira and "Nety88" joined the Swede on the sidelines. Then came the exit of Mike "SirWatts" Watson in sixth-place, a finish worth $30,959, before "Daniiiiil" of Russia and Christoph "26071985" Vogelsang bowed out, the latter collecting $51,838 for his demise in third place.
Heads-up was set with Estonia grinder Aleksejs "APonakov" Ponakovs ran out of steam, which left Dvoress heads-up against Austria's "Gogac sniper". Dvoress got the job done and his hands on an impressive $112,314, leaving Gogac sniper to claim the $86,797 consolation prize.
$5,200 Titans Event Final Table Results
PlacePlayerCountryPrize 1Daniel "Oxota" DvoressCanada$112,314 2Gogac sniperAustria$86,797 3Aleksejs "APonakov" PonakovsEstonia$67,078 4Christophe "26071985" VogelsangUnited Kingdom$51,838 5DaniiiiilRussia$40,061 6Mike "SirWatts" WatsonCanada$30,959 7Nety88Romania$23,926 8Joao "Naza114" VieiraUnited Kingdom$18,490 9Simon "C. Darwin2" MattssonSweden$14,809
Sam Grafton Wins 2022 EPT Prague Event #1 €10,200 No-Limit Hold'em High Roller
Other PokerStars Results From March 6
aadrake17 – winner of the $109 NLHE Mini Sunday HR Bounty Builder Series for $37,717*A.Wesker999 – winner of the $215 NLHE Turbo Deepstack Bounty Builder Series for $32,356*ElioNeto – winner of the $109 NLHE Sunday Cooldown Bounty Builder Series for $31,635*Lucio "WizardOffAz" Lima – winner of the $1,050 Sunday HR for $23,504WhoAreYoux1 – winner of the $109 NLHE Sunday Kickoff Bounty Builder Series for $23,034*obrgigi – winner of the $109 Sunday Warm-Up for $19,768Vomani – winner of the $109 Bounty Builder for $14,150*el canbass – winner of the $215 Bounty Builder for $14,104*Charlie "Epiphany77" Carrel – winner of the $1,050 Sunday Warm-Up for $13,732Tauan "kylix42" Naves – winner of the $1,050 Sunday Supersonic for $13,153Ondrej "Vinkyy" Vinklarek – winner of the $215 Sunday Supersonic for $9,097Viktor "papan9_p$" Ustimov – winner of the $520 Sunday marathon for $7,612
*includes bounty payments
Rudolph Rakes in $65K Score at GGPoker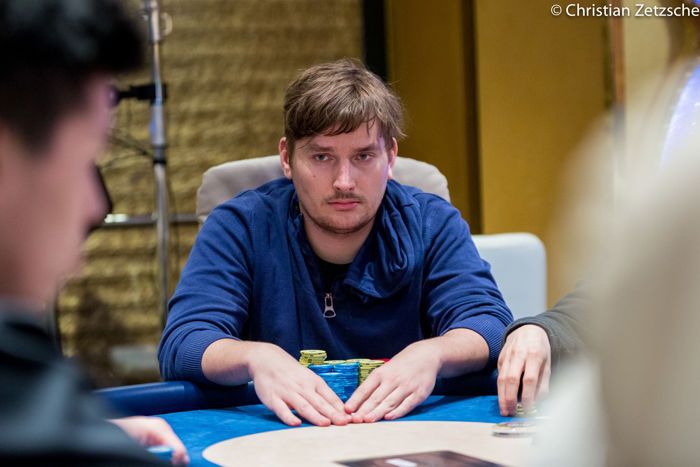 Christian Rudolph
It wasn't only Dvoress who had to battle through a star-studded final table because Christian Rudolph did the same over at GGPoker in the $5,250 Bounty Hunters Super High Roller. Only 36 players bought in but some of the best players in the world were among them.
Half the prize pool was shared with the top five finishers with the remaining 50% going on the heads of each entrant in the form of a bounty. The PKO format meant Rui Ferreira, Adrian Mateos, and Mike Watson won some prize money but only from the bounties they collected before the bust.
Marius Gierse finished in sixth place and walked away empty-handed due to not eliminating a foe. This left Damian Salas to bank the $11,704 fifth-place prize; Salas did not claim any scalps to boost his payout.
Brazilian Tauan Naves and Simon Mattsson bowed out in fourth and third, the former scooping $28,542 and the latter a slightly less $26,830. Mattsson's exit left Ole Schemion heads-up against Rudolph. Both players secured more than $30,000 from the main prize pool but the difference in bounty payments was substantial. THis meant Schemion added $10,625 worth of scalps to his payout when he fell at the final hurdle. Rudolph's haul was bolstered by a cool $35,468 for a total prize tipping the scales at $65,613.
GGPoker and FLIP Celebrate International Women's Day in Style
$5,250 Bounty Hunters Super High Roller Final Table Results
PlacePlayerCountryBountiesTotal Prize 1Christian RudolphAustria$35,468$65,613 2Ole SchemionAustria$10,625$40,747 3Simon MattssonNorway$4,843$26,830 4Tauan NavesBrazil$12,500$28,542 5Damian SalasArgentina$$11,704 6Marius GierseAustria$$ 7Rui FerreiraBrazil$4,687$4,687 8Adrian MateosMexico$3,750$3,750 9Mike WatsonCanada$3,750$3,750
Other GGPoker Scores From March 6
Elio Fox – winner of the $25,500 Sunday Super HR for $211,901AKmaki95 – winner of the $1,050 GGMasters High Roller for $140,205GTLOREM – winner of the $525 Bounty Hunters HR Main Event for $101,735*Paulo "Agorist" Brombim – winner of the $1,050 Sunday High Roller Main Event for $79,453*Akinfejev – winner of the $150 GGMasters for $55,617David "borat0" Gradic – winner of the $300 GGMasters Bounty Special Edition for $46,613*Little Pepe – winner of the $888 Sunday Crazy Eights for $44,972HarSh_985 – winner of the $250 Sunday Main Event for $38,730OwLfr0mDU – winner of the $210 Sunday Big Game for $32,785*
*includes bounty payments