The 2022 NFL Draft is over and the Buffalo Bills are still the consensus betting favorite to win Super Bowl 57 at +650 odds — according to DraftKings — but Tom Brady and the Tamp Bay Bucs are not far behind at +700 odds.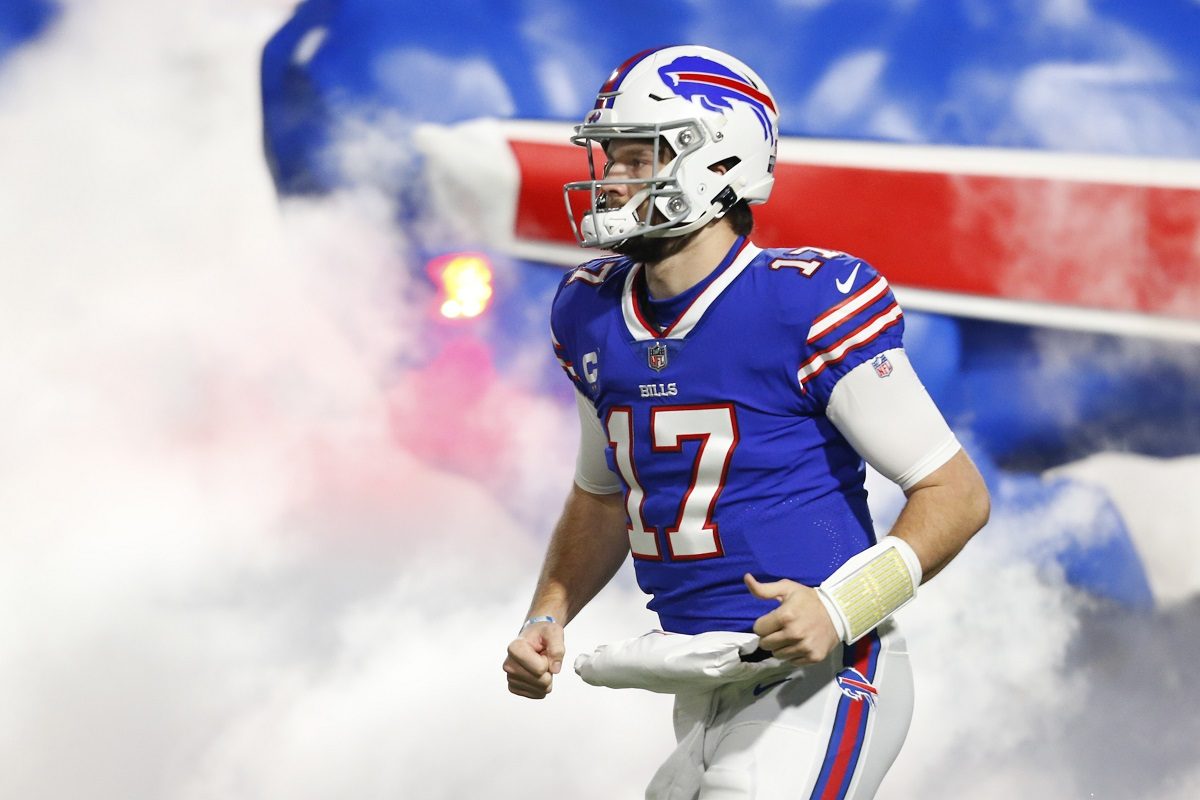 Josh Allen from the Buffalo Bills takes the field after players introductions at Orchard Park in 2021. (Image: Jeffrey T. Barnes/AP)
The Super Bowl defending champion Los Angeles Rams are +1000 odds and clustered with the Kansas City Chiefs and Green Bay Packers in a three-way tie for third-highest teams on the NFL futures board.
SUPER BOWL 57 ODDS UPDATE
NOW
3/23/2022
Buffalo Bills
+650
+650
Tampa Bay Bucs
+700
+750
Kansas City Chiefs
+1000
+900
Green Bay Packers
+1000
+900
LA Rams
+1000
+1100
San Francisco 49ers
+1400
+1500
Denver Broncos
+1600
+1500
LA Chargers
+1600
+1600
Dallas Cowboys
+1700
+1600
Cleveland Browns
+1700
+1700
Cincinnati Bengals
+1800
+1800
Indianapolis Colts
+2200
+2000
Baltimore Ravens
+2200
+2200
Arizona  Cardinals
+2500
+2200
Tennessee Titans
+3000
+2800
Las Vegas Raiders
+3500
+4000
Miami Dolphins
+3500
+4000
Philadelphia Eagles
+3500
+4500
New England Patriots
+4000
+4000
Minnesota Vikings
+4500
+4000
New Orleans Saints
+5000
+5000
Washington Commanders
+6500
+6000
Pittsburgh Steelers
+6500
+6500
New York Giants
+10000
+9000
Carolina Panthers
+10000
+10000
Chicago Bears
+10000
+10000
Seattle Seahawks
+10000
+10000
New York Jets
+10000
+20000
Jacksonville Jaguars
+13000
+10000
Atlanta Falcons
+15000
+10000
Detroit Lions
+15000
+15000
Houston Texans
+20000
+20000
The Cincinnati Bengals were the runner-up in Super Bowl 56, yet still +1800 odds to win Super Bowl 57 and saw no movement after the draft.
The Faves: Bills, Bucs, Rams, Packers, Chiefs
America loves an underdog, and the Buffalo Bills are still trying to finally win their first-ever Super Bowl. The NFL changed their overtime rules after the Bills got shafted in the greatest playoff game of all-time during a heartbreaking loss against the Kansas City Chiefs in the AFC Divisional Round. You can jump on the Bills Mafia bandwagon and back the Bills at +650 odds to win Super Bowl 57.
Tom Brady unretired and the Bucs are back to being a popular favorite along with the Bills to win Super Bowl 57 at +700 odds. Meanwhile, Bruce Arians retired and defensive coordinator Todd Bowles in the new head coach.
Patrick Mahomes and the Kansas City Chiefs were upset by Joe Burrow and the Cincinnati Bengals in the AFC Championship last year. They're on a mission to win a second Super Bowl with Mahomes under center, but they'll have to do it without the Cheetah after Tyreek Hill bolted to the Miami Dolphins. The Chiefs are a popular pick at +1000 odds to win Super Bowl 57.
Aaron Rodgers remained with the Green Bay packers after he "got the bag" with the highest-paid quarterback contract in NFL history at $200 million. However, his favorite wideout Davante Adams is now with the Las Vegas Raiders. The Packers are still in the top five on the futures board at +1000 odds to win the championship.
It's difficult to win back-to-back Super Bowl victories, but the LA Rams find themselves at +1000 odds to pull off the rare feat.
New QBs: Broncos, Browns, Colts
The Denver Broncos did not land Rodgers in a trade with the Green Bay Packers, but they snagged Russell Wilson from the Seattle Seahawks instead. The Denver Broncos saw their Super Bowl odds spike after adding Wilson and everyone in the Rocky Mountains fired away at the Broncos which is why their Super Bowl odds are now +1600.
The Cleveland Browns shocked everyone when they paid an handsome price in both salary and draft picks to acquire Deshaun Watson from the Houston Texans. The Browns also saw a spike in their Super Bowl odds at +1700.
The Indianapolis Colts parted ways with Carson Wentz because they think Matt Ryan still has some gas left in the tank. Matty Ice doesn't have to fling it like he did a decade ago in Atlanta, but simply has to hand the ball off to Jonathan Taylor and let him work his magic. The Colts settled for another potential one-year quarterback rental and they're +2200 odds to win the Super Bowl.
New Head Coaches: Raiders, Dolphins, Vikings, Saints
Josh McDaniel gambled heavily on the Las Vegas Raiders as his new employer and left Bill Belichick's staff at New England, which was a surprise considering the AFC West is stacked with high-octane offenses. The Raiders are +3500 odds to win a Super Bowl, but that's more of a pipe dream than anything else.
The Miami Dolphins fired Brian Flores, but added offensive wunderkind Mike McDaniel to help elevate Tua Tagovailoa to an elite quarterback. The Dolphins were a popular fetish pick at +3500 odds.
The Minnesota Vikings hired Kevin O'Connell after he won a Super Bowl with the LA Rams as their offensive coordinator. O'Connell believes in Kirk Cousins (as his former QB coach) but the Vikings will never win the big one with Cousins under center. The Vikes are another piper dream at +4500 odds.
Sean Payton abruptly retired from the New Orleans Saints, but they hired from within the organization and promoted defensive coordinator Dennis Allen as their new head coach. You can cast all the voodoo spells you want, but Who Dat nation knows the Saints are a long shot at +5000 odds.