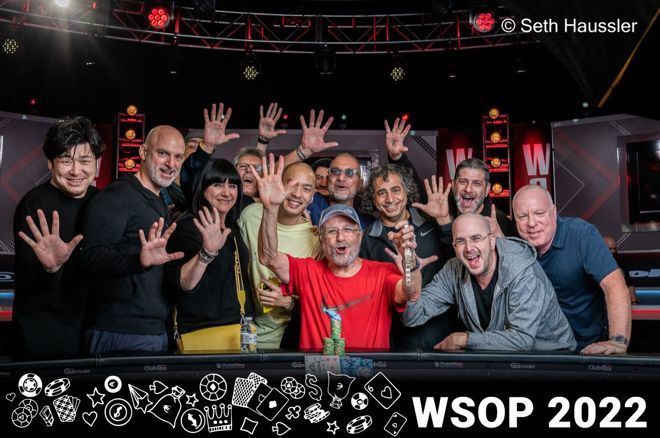 Friday was a busy day at the 2022 World Series of Poker with four players being awarded gold bracelets, including Poker Hall of Famer Eli Elezra, who tacked on his fifth WSOP title.
Elezra, the Israeli-born high-stakes legend, took down Event #63: $10,000 Omaha Hi-Lo 8 or Better Championship for $611,362, beating out 284 players, including Chino Rheem, the runner-up. He won his fifth career bracelet, further validating his 2021 Poker HOF induction.
Konstantin Angelov won a bracelet, his first, on Friday when he took down Event #64: $600 Pot-Limit Omaha Deepstack for $199,466. Shota Nakanishi was the third to win a bracelet on Day 32 when he shipped Event #60: $10,000 Short Deck No-Limit Hold'em for $277,212.
Last but not least is Massoud Eskandari, the champion of the five-day Event #59: $1,000 Super Seniors for $330,609, outlasting a field of 2,669 players.
Hof Among Final Eight in Ladies Event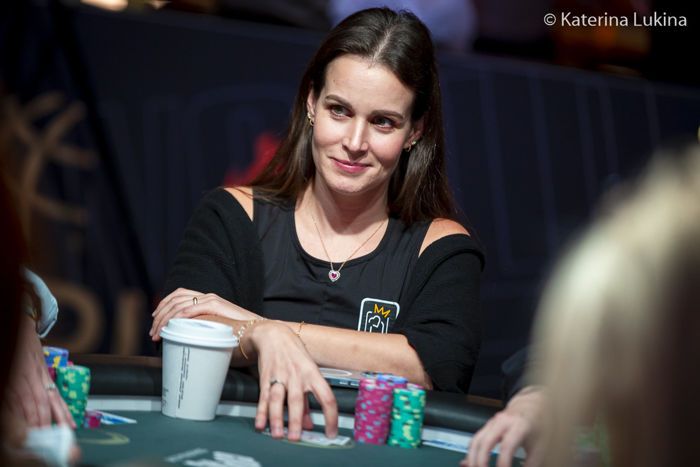 Natalie Hof
Event #61: $1,000 Ladies No-Limit Hold'em began with 1,074 entrants, second most in the history of the tournament. Heading into Saturday's Day 4 session, only eight players remain, all vying for the gold bracelet and the $166,975 that comes with it.
Natalie Hof has an opportunity to win her first bracelet and more than double her Hendon Mob results ($111,556). Play resumes at 2 p.m. and won't conclude until a champion is crowned.
Event #61: Ladies No-Limit Hold'em Championship Final Table Seat Draw
SEATPLAYERCOUNTRYCHIPCOUNTBIG BLINDS 1Natalie HofGermany965,0009 2Felisa WestermannGermany2,910,00029 3Sandy TranUnited States2,555,00025 4Meikat SiuUnited States3,020,00030 5Jessica TeuslAustria985,0009 6Lynh NguyenUnited States3,870,00038 7Christina GollinsUnited States3,845,00038 8Julie LeUnited States3,100,00031
Follow Ladies Event Final Table Action
Hellmuth Could Win 17th Bracelet on Saturday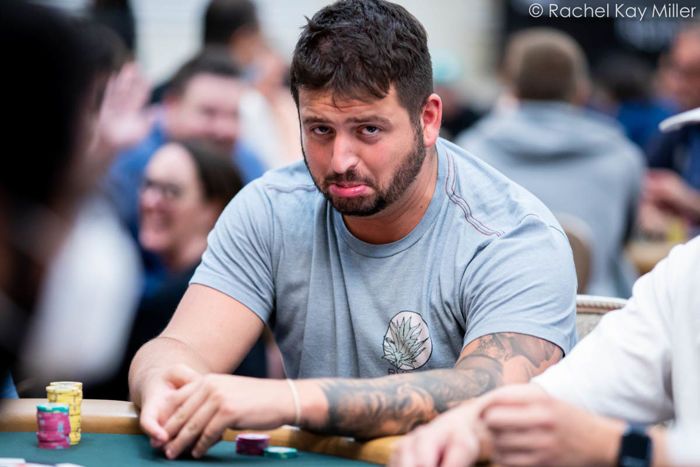 Jake Schwartz
Phil Hellmuth is among the final 26 players in Event #65: $3,000 Freezeout No-Limit Hold'em, which began with 1,359 players. The "Poker Brat" holds the record with 16 WSOP titles, and could tack on one more on Saturday.
Hellmuth is fifth in chips with 3,290,000 heading into the final day of play. Keiji Ito, a Japanese poker player, held the chip lead after Day 2, good for 80 big blinds. The action on Day 3 should move fast as the blinds are getting big. Play will continue at 2 p.m. PST in Las Vegas.
Event #65: $3,000 Freezeout No-Limit Hold'em Top Ten Chip Counts
RANKPLAYERCOUNTRYCHIPSBIG BLINDS 1Keiji ItoJapan6,360,00080 2Richard ScardinaUnited States4,835,00060 3David JacksonUnited States4,700,00059 4Jeffrey LoHong Kong4,585,00057 5Phil HellmuthUnited States3,290,00041 6Timothy SullivanUnited States2,615,00033 7Neel JoshiIndia2,215,00028 8Samy DubonnetFrance2,045,00026 9Chad BrewerUnited States1,975,00025 10Onur UnsalTurkey1,875,00023
Follow Hellmuth's Chase for #17 Here
Mini Main Event a Rousing Success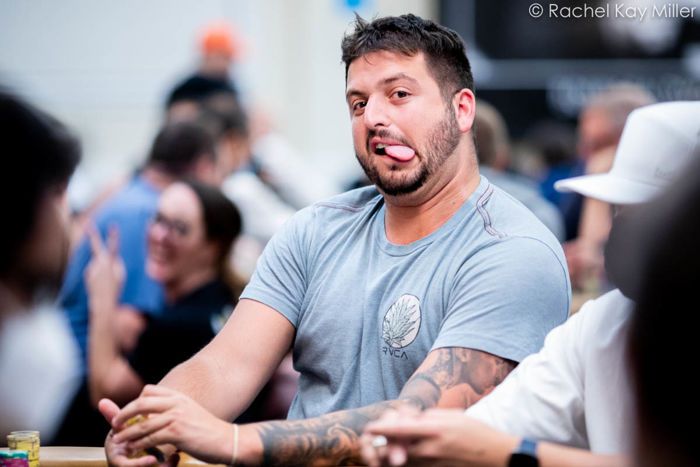 Jake Schwartz
If you spent any time at Bally's and Paris Las Vegas on Friday, you probably noticed a packed house. That's largely due to the massive field and lines in Event #66: $1,000 Mini Main Event, which attracted a whopping 5,833 entries.
At the end of the day, only 487 advanced to Day 2. Jake Bluston from the United Kingdom bagged the chip lead at 2,825,000, and James Dike, an American player, in second place with 2,505,000. Day 2 kicked off at 2,505,000.
Event #66: $1,000 Mini Main Event Day 1 Top Ten Chip Counts
RANKPLAYERCITY / STATE / COUNTRYCHIP COUNTBig Blinds 1Jake BlustonUnited Kingdom2,825,00071 2James DikeUnited States2,505,00063 3Jaeyoung ChoiSouth Korea2,380,00060 4Vincent LiChina2,315,00058 5Jake SchwartzUnited States2,275,00057 6Andres VasquezUnited States2,275,00057 7Kyle MontgomeryUnited States2,200,00055 8Kenneth O'DonnellUnited States2,100,00053 9Nektarios VasilakisGreece2,090,00052 10Victor ChoupeauxFrance2,035,00051
Mini Main Event Coverage
Barbero Leads at $10k Super Turbo Bounty Final Table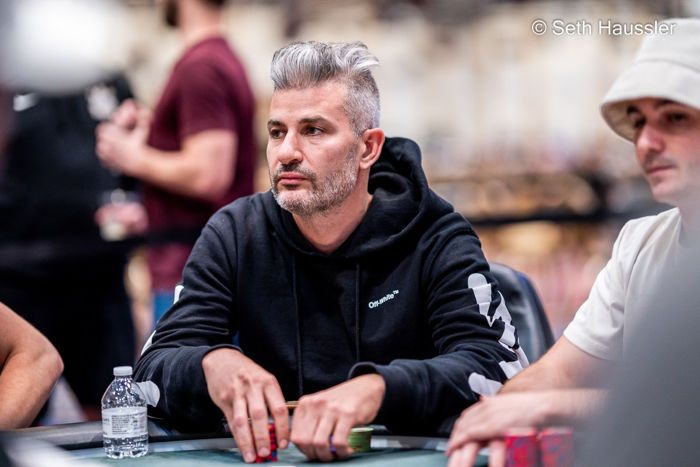 Nacho Barbero
Event #67: $10,000 Super Turbo Bounty No-Limit Hold'em kicked off Friday with 419 players and played down to the final six. The final table will take place at 2 p.m. Saturday.
Nacho Barbero bagged the biggest stack following Day 1 with 12,225,000, a massive chip lead over Ilya Nikiforov (4,875,000). But with only 49 big blinds, Barbero's lead is far from insurmountable.
Event #67: $10,000 Super Turbo Bounty No-Limit Hold'em Final Table Chip Counts
RankPlayerCountryChip CountBig Blinds 1Nacho BarberoArgentina12,225,00049 2Ilya NikiforovEstonia4,875,00020 3Rob HollinkNetherlands3,250,00013 4Andrew LichtenbergerUnited States2,500,00010 5Maria HoUnited States1,875,0008 6Fabiano KovalskiBrazil425,0002
Super Turbo Bounty Final Table Coverage
2022 World Series of Poker Hub
Bookmark this page! All you need to know about the 2022 WSOP is here.
1 2022 WSOP Day 1: Hellmuth Noticeable Absentee as WSOP Kicks Off2 2022 WSOP Day 2: First Bracelet Awarded; Ivey Records a Cash3 2022 WSOP Day 3: Peters Wins Gold; Seiver Hunting For Bracelet #44 2022 WSOP Day 4: Scott Seiver & Brad Ruben Win Bracelet #45 2022 WSOP Day 5: Smith Bags 25k Heads-Up Title; Housewarming Surpasses Guarantee6 2022 WSOP Day 6: Szecsi Reels in His Third Bracelet; O8 Event Needs Extra Time7 2022 WSOP Day 7: Dan Smith Flying High in the $50K High Roller8 2022 WSOP Day 8: Schutten Leads $50K High Roller Final Six9 2022 WSOP Day 9: Diebold, Schindler, and Moncek Strike Gold10 2022 WSOP Day 10: Bronshtein and Foxen On Course For Bracelets11 2022 WSOP Day 11: Three New Bracelet Winners Crowned, "ElkY" and Ivey Lead $10K Stud12 2022 WSOP Day 12: Two More Bracelets Won; Friedman on Fire in the $10K Stud13 2022 WSOP Day 13: Friedman Makes It Five; Two Other Champs Crowned14 2022 WSOP Day 14: Three New Champions; Big Names Turn Out In Force15 2022 WSOP Day 15: Karakitkov On Course for $50K PLO High Roller Title16 2022 WSOP Day 16: The Busiest Day Yet For Bracelets as Four Awarded17 2022 WSOP Day 17: Hastings Secures His Sixth WSOP Bracelet18 2022 WSOP Day 18: MILLIONAIRE MAKER Draws Thousands of Runners19 2022 WSOP Day 19: Hellmuth Flying High in $10K Deuce-to-Seven20 2022 WSOP Day 20: Bromfman, Stovall, and 'PmpknHead' Secure Bracelets21 2022 WSOP Day 21: Ivey Denied His 11th WSOP Bracelet22 2022 WSOP Day 22: $10K Seven Card Stud Hi-Lo Championship Finally Concludes!23 2022 WSOP Day 23: Six Events in Play, One Champion Crowned24 2022 WSOP Day 24: Ivey Bags a Big Stack in the $250K Super High Roller25 2022 WSOP Day 25: Foxen Leads $250k Super High Roller, First Bracelet for Cyprus26 2022 WSOP Day 26: HOF Nominee Liebert's Still Got It, How Foxen Won First Bracelet27 2022 WSOP Day 27: Four Bracelets Awarded as $50K PPC Kicks Off28 2022 WSOP Day 28: Kenney Leads the $50,000 PPC Event29 2022 WSOP Day 29: Dzivielevski Leads the $50K PPC; Three Bracelets Awarded30 2022 WSOP Day 30: The Best Laid Plans of Mice and Men31 2022 WSOP Day 31: Cates Crowned PPC Champ on a Crazy Day of Action32 2022 WSOP Day 32: Eli Elezra Wins Again, Hellmuth Chasing a Bracelet