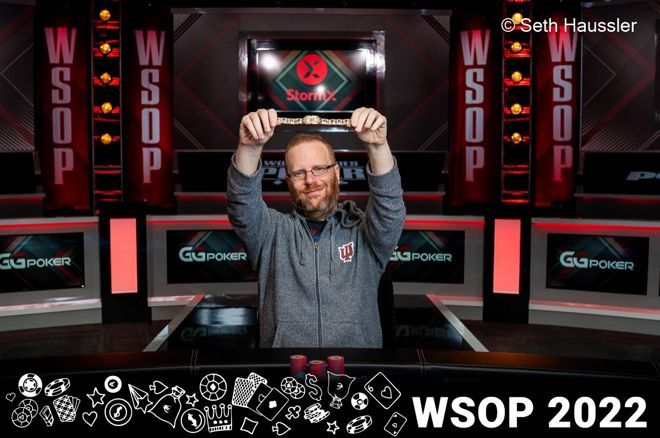 The number 13 is considered unlucky in some cultures but not to Adam Friedman, Tong Li, or Brian Altman because all three star managed to win bracelets on Day 13 of the 2022 World Series of Poker at Bally's and Paris Las Vegas.
Adam Friedman secured the fifth bracelet of his career after taking down Event #22: $10,000 Seven Card Stud Championship. Friedman sat down at the final table as the chip leader and built on that start to become a WSOP champion for the fifth time in his illustrious career. The victory came with $284,254 but Friedman was happier with the fact he'd won a title in his favorite poker variant.
Event #19: $25,000 Pot-Limit Omaha saw Tong Li come out on top and reel in a $1,467,739 top prize in addition to his first WSOP bracelet. Li's victory meant Josh Arieh's ait for a fifth WSOP title must wait a little longer; Arieh was the third-place finisher. Li of Shanghai, China, said it was a dream to win a WSOP bracelet and that he never expected to become this event's champion.
There was also a maiden bracelet for Brian Altman in the $400 No-Limit Hold'em Ultra Deepstack, part of the online poker bracelet schedule. Altman, playing as "JackBogle," outlasted 1,640 opponents to bank $110,662 and that all-important gold bracelet.
2022 World Series of Poker Hub
Bookmark this page! All you need to know about the 2022 WSOP is here.
Calvin Anderson Bags Chip Lead in the Monster Stack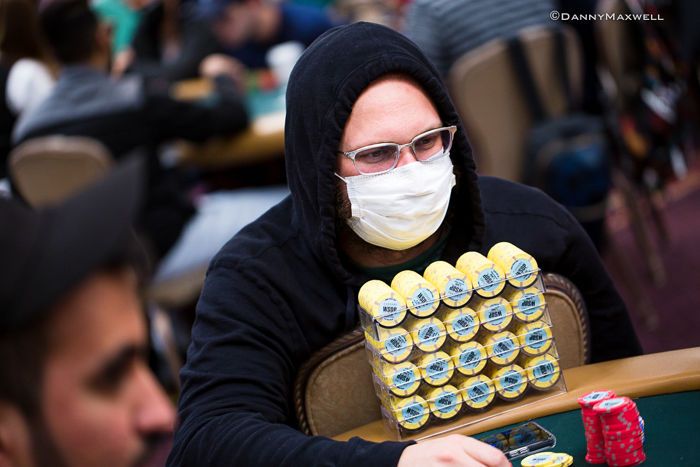 Calvin Anderson
Event #21: $1,500 Monster Stack No-Limit Hold'em has reached Day 3 after the 2,053 players who sat down on Day 2 were reduced to 271 on June 12. Leading those surviving players back into battle is Calvin Anderson who has 4,040,000 chips in his stack or an impressive 135 big blinds.
Fellow American John Simonian thought they had done enough to become the tournament's chip leader, but they fell just shy with a stack of 4,020,000 chips.
Among the returning 271 Day 3 players are the likes of Joao Simao (3,490,000), Ryan Leng (2,615,000), Anthony Spinella (1,670,000), and James Mackey (1,555,000).
Play resumes at 10:00 a.m. on June 13, and play is scheduled to span another ten 60-minute levels. Join PokerNews then for all the updates.
Event #21: $1,500 Monster Stack No-Limit Hold'em Top 10 Chip Counts
PlacePlayerCountryChipsBig Blinds 1Calvin AndersonUnited States4,040,000135 2John SimonianUnited States4,020,000134 3Sebastian ToroColombia3,520,000117 4George Abi-ZeidUnited States3,495,000117 5Joao SimaoBrazil3,490,000117 6Josh WeissUnited States3,465,000116 7Joseph BartholdiUnited States3,340,000111 8Aditya AgarwalIndia3,240,000108 9Nishant SharmaIndia3,135,000105 10Rahul DeevaraUnited States3,065,000102
Check out all the Monster Stack updates here
Michael Rocco Leads Stacked Final Nine in the $3K FLHE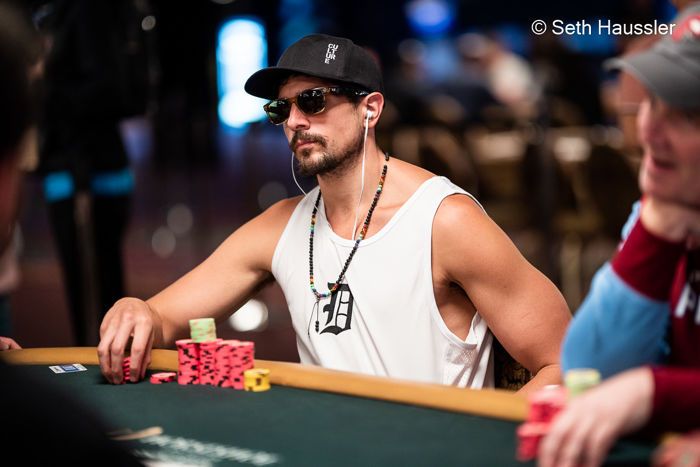 Michael Rocco
Only nine players remain in the hunt for the Event #23: $3,000 Limit Hold'em 6-Handed bracelet, and it is Michael Rocco who leads them back into battle. Rocco finished Day 2 with 1,675,000 chips, and a significant advantage over the chasing pack.
Jeremy Ausmus (1,170,000), Andrew Kelsall (1,145,000), and Gabe Ramos (1,100,000) are the other players with seven-figure stacks. Five-time WSOP bracelet winner Shaun Deeb is lurking out side the top five with a 715,000 stack.
Cards are back in the air from 1:00 p.m. local time on June 13 and continues until only one player has all the chips in play. Will it be Rocco? Return to PokerNews to find out.
Event #23: $3,000 Limit Hold'em 6-Handed End of Day 2 Chip Counts
PlacePlayerCountryChipsBig Bets 1Michael RoccoUnited States1,675,00034 2Jeremy AusmusUnited States1,170,00023 3Andrew KelsallUnited States1,145,00023 4Gabe RamosUnited States1,100,00022 5Mike LancasterUnited States975,00020 6Shaun DeebUnited States715,00014 7Zachary GreenUnited States600,00012 8Robert ComoUnited States585,00012 9Kevin EriksonUnited States570,00011
Tune into the $3K Limit Hold'em 6-Max updates here
Galen Hall Flying High in the FLIP & GO Event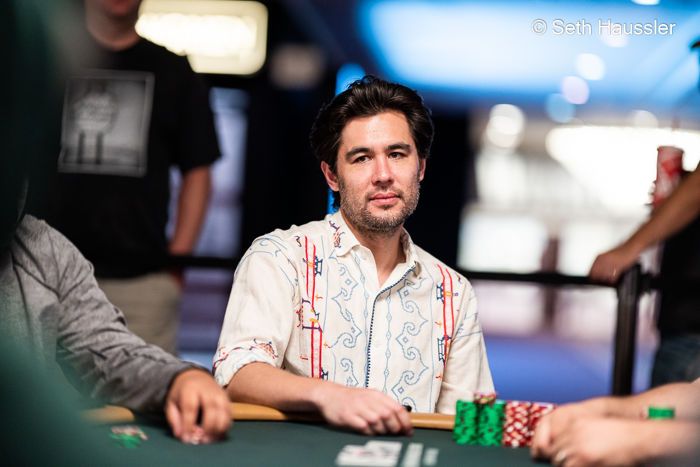 Galen Hall
The $1,000 FLIP & GO No-Limit Hold'em event saw 157 players make it through the luck-based flip stage of the tournament before they were whittled to only 27 players over the course of 12 levels on Day 1.
Christopher Chatman began his quest for glory in style, bagging up 2,320,000 chips and claiming the overnight chip lead. Galen Hall (1,470,000) is hot on the heels of Chatman, as are fellow bracelet winners Ian Steinman (1,665,000), Georgios Sotiropoulos (695,000), and Mike "The Mouth" Matusow (520,000).
Each of the returning players have locked in $6,030 but one of them will walk away with $187,770 and a gold WSOP bracelet. Find out who by following the PokerNews live updates from this exciting tournament.
Event #24: $1,000 FLIP & GO No-Limit Hold'em Top 10 Chip Counts
PlacePlayerCountryChipsBig Blinds 1Christopher ChatmanUnited States2,320,00058 2Ian SteinmanUnited States1,665,00042 3Randall WebbUnited States1,530,00038 4Galen HallUnited States1,470,00037 5Austin ApicellaUnited States1,420,00036 6Perry ZhaoUnited States1,360,00035 7Rafi ElhararIsrael1,300,00033 8Brek SchuttenUnited States1,300,00030 9Han ChengUnited States1,215,00028 10Reiji KonoJapan1,105,00025
Flip & Go your way to the updates from this exciting event
Ahmed Nimer Tops $800 Deepstack Day 1 Counts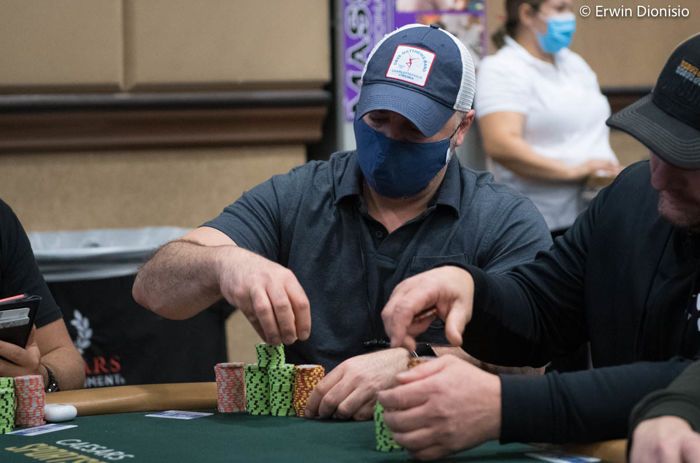 Ahmed Nimer
A whopping 4,062 players bought into Event #25: $800 No-Limit Hold'em Deepstack and created a $2,859,648 prize pool. However, only 240 of those players still had chips in front of them when the curtain came down on the day's action.
Ahmed Nimer finished Day 1 of this event with 2,385,000 chips, the only player to break through the two-million barrier. Alexander Tafesh (1,915,000) and Zachary Andrews (1,830,000) came close to catching Nimer but will have to wait on Day 2 to overtake him.
Others who are still in the mix include the likes of Maxime Duhamel (1,670,000), Will Givens (1,060,000), Anatolii Zyrin (1,000,000), Stephen Song (920,000), and Melanie Weisner (665,000).
The 240 returning players will be reduced to a single person on June 13, with the action resuming at 1:00 p.m. at Bally's. Whoever that last person standing is, they receive $358,346 and this event's bracelet.
Event #25: $800 No-Limit Hold'em Deepstack Top 10 Chip Counts
RankPlayerCountryChip CountBig Blinds 1Ahmed NimerUnited States2,385,00079 2Alexander TafeshUnited States1,915,00064 3Zachary AndrewsUnited States1,830,00061 4Jeremy JosephUnited States1,740,00058 5Maxime DuhamelCanada1,670,00056 6Ryan AwwadUnited States1,665,00056 7Ranganath KanchiUnited States1,600,00053 8Juan ElizondoUnited States1,480,00049 9Eyyal AltarUnited States1,460,00048 10Gregory WallerusUnited States1,420,00047
Check out all of the $800 Deepstack action
Marco Johnson Leads the $10K FLHE; Neymar Makes an Appearance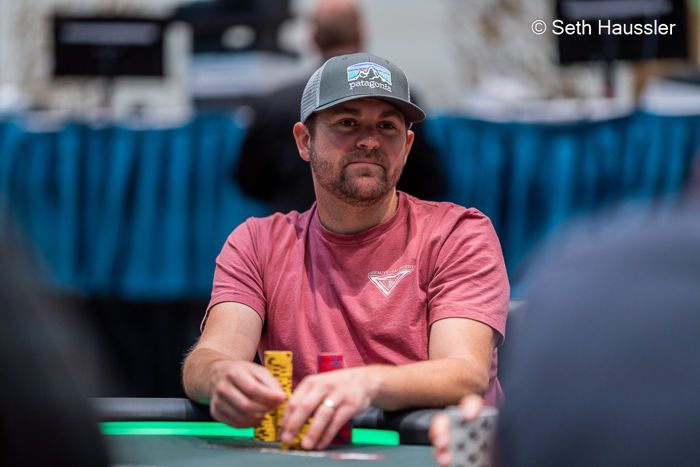 Marco Johnson
Marco Johnson is looking for this third career bracelet in Event #26: $10,000 Limit Hold'em Championship, which saw 74 players reduced to 29 on Day 1. Johnson was one of only two players to turn their starting stack into more than 300,000 chips. He bagged up 354,000 chips with Amir Shayesteh (319,000) being the other.
Plenty of stellar names progressed to Day 2, including Joey Couden (255,000), Robert Campbell (24,000), Yuval Bronshtein (188,000), Brian Rast (134,000), and Anthony Zinno (93,000).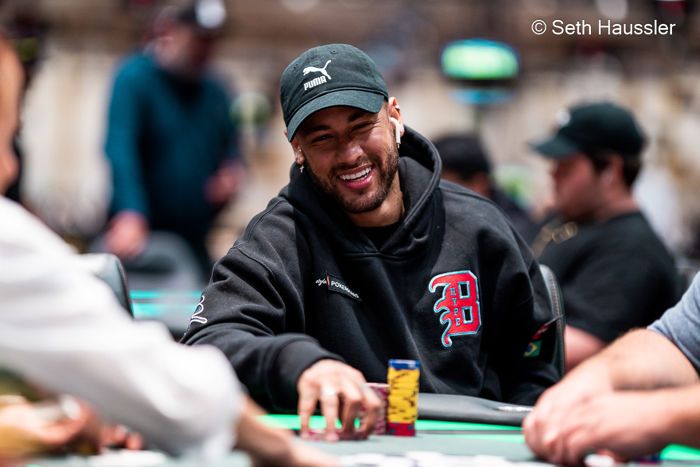 Neymar in action at the 2022 WSOP
One player who won't becoming this event's champion is the PokerStars Ambassador Neymar. The Paris Saint-Germain and Brazil star bought in, splashed around in plenty of pots, ran up a decent stack, but then fell by the wayside. No doubt we'll see Neymar again before the series finishes.
Day 2 kicks off at 2:00 p.m. on June 13 with late registration open until the day begins.
Event #26: $10,000 Limit Hold'em Championship Top 10 Chip Counts
PlacePlayerCountryChipsBig Bets 1Marco JohnsonUnited States354,00044 2Amir ShayestehUnited States319,00040 3Joey CoudenUnited States255,00032 4Jesse LonisUnited States245,00031 5Kyle DilscheniderUnited States244,00031 6Matthew RightnourUnited States237,00030 7Robert CampbellAustralia224,00028 8Nick PupilloUnited States213,00027 9David LiebermanUnited States189,00024 10Yuval BronshteinIsrael188,00024
Discover if Johnson wins his third WSOP bracelet