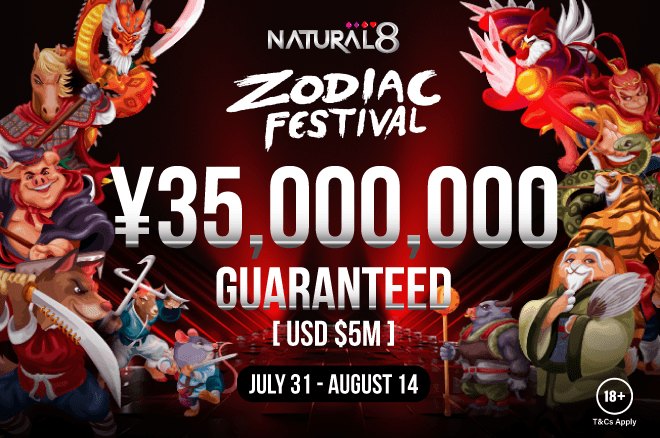 This season, celebrate the 2022 Qixi Festival with the popular Zodiac Tournament Series on Natural8. With some of the biggest prizes in Asia, special Mystery Bounty events, and ¥35,000,000 ($5,000,000) in guarantees across all events, the Zodiac Festival is set to wow!
The series began on July 31 and runs until August 14, and you will be able to participate in the remaining events where there are special Zodiac avatars waiting to be added into your collection. With buy-ins that start from ¥50 to ¥5,500, there will be something for every budget.
Zodiac Festival Highlights
While the Zodiac Festival features a host of exciting events, there are a few tournaments that stand out from the crowd; in particular, the daily Zodiac Festival Main Events, Superstack HR and Mystery Bounty Events.
The Zodiac Festival Main Event runs every day, and comes with a buy-in of ¥388. From Monday to Saturday, the guarantee is ¥300,000, with the minimum prize pool doubling for the Sunday Main Event editions.
Poker's elite players will be all over the most expensive event, Superstack HR, which has a buy-in of ¥5,500 and like the Main Event has a guaranteed prize pool of ¥300,000, which also doubles in size on Sundays.
There are also two mystery bounty events scheduled throughout the Zodiac Festival, with the first having its final stage on Sunday, August 7. Starting flights are currently underway for this tournament, with the buy-in costing ¥210 while the guarantee stands at ¥2 million.
The second mystery bounty event is catered towards those with bigger bankrolls, and has its final stage a week later on Sunday, August 14. The entry fee is slightly higher at ¥2,100, but that means a bigger guarantee of ¥5 million.
Take advantage of the Zodiac satellites, which are now readily available in the tournament lobby, if you want to buy into the events at a fraction of the cost.
Natural8 Welcomes Back 2022 WSOP Main Event Runner Up Adrian Attenborough
Zodiac Festival Featured Events Schedule
DayTime (UTC)Time (HKT)EventBuy-inMon-Sat GuaranteesSunday Guarantees Mon-Sun5 a.m.1 p.m.Daily Opener¥550¥50,000¥40,000 Mon-Sun5 a.m.1 p.m.Rat Good Fortune Bounty¥84¥30,000¥25,000 Mon-Sun6 a.m.2 p.m.Ox Strong Stack¥330¥50,000¥40,000 Mon-Sun7 a.m.3 p.m.Tiger King Bounty¥105¥50,000¥40,000 Mon-Sun8 a.m.4 p.m.Rabbit Lucky Bounty¥84¥40,000¥35,000 Mon-Sun9 a.m.5 p.m.Dragon High Roller¥800¥100,000¥100,000 Mon-Sun9:30 a.m.5:30 p.m.Snake Bounty [6-Max]¥63¥40,000¥40,000 Mon-Sun10 a.m.6 p.m.Horse Marathon¥110¥30,000¥30,000 Mon-Sun11 a.m.7 p.m.Goat High Roller¥2,022¥188,000¥350,000 Mon-Sun11:30 a.m.7:30 p.m.Monkey King Bounty¥210¥100,000¥150,000 Mon-Sun12 p.m.8 p.m.Zodiac Festival Main Event¥388¥300,000¥600,000 Mon-Sun12:40 p.m.8:40 p.m.Short Deck Bounty¥525¥25,000¥30,000 Mon-Sun1 p.m.9 p.m.Rooster Sunset Special¥50¥30,000¥50,000 Mon-Sun1 p.m.9 p.m.Superstack HR¥5,500¥300,000¥600,000 Mon-Sun1:40 p.m.9:40 p.m.PLO-NL Main Event¥525¥25,000¥40,000 Mon-Sun2 p.m.10 p.m.Dog Ultra Deepstack¥110¥40,000¥650,000 Mon-Sun2:30 p.m.10:30 p.m.Pig Bounty Feast¥315¥150,000¥250,000 Mon-Sun3 p.m.11 p.m.Daily Closer¥550¥75,000¥125,000
Six Awesome Things You Can Do With PokerCraft on Natural8
Join Natural8 with a 200% Match Bonus
Natural8 is Asia's largest online poker room and geared towards recreational players. A skin on the reputable GGPoker Network, Natural8 is fully licensed and authorised. Anyone can join for free, and there are no hidden fees. On top of the $120 million guaranteed prize pool for tournaments every month, Natural8 also offers players extra incentives in the form of monthly promotions and cashback programs.
There are plenty of promotions available for players new to Natural8, including the $8 Instant Deposit Bonus (with a minimum deposit of $10) as well as the First Deposit Bonus – where players can choose between a 200% match bonus (up to $1,000) or $100 in instant rewards. New user specials on Natural8 amount to a total of $1,608 – easily one of the best in the online poker scene.