Bad news for Da Bulls, who will miss two starters in a must-win elimination game tonight against the defending champions. Zach LaVine and Alex Caruso will not suit up for the #6 Chicago Bulls with their team down 3-1 against the #3 Milwaukee Bucks and on the brink of elimination from the first round of the 2022 NBA Eastern Conference Playoffs.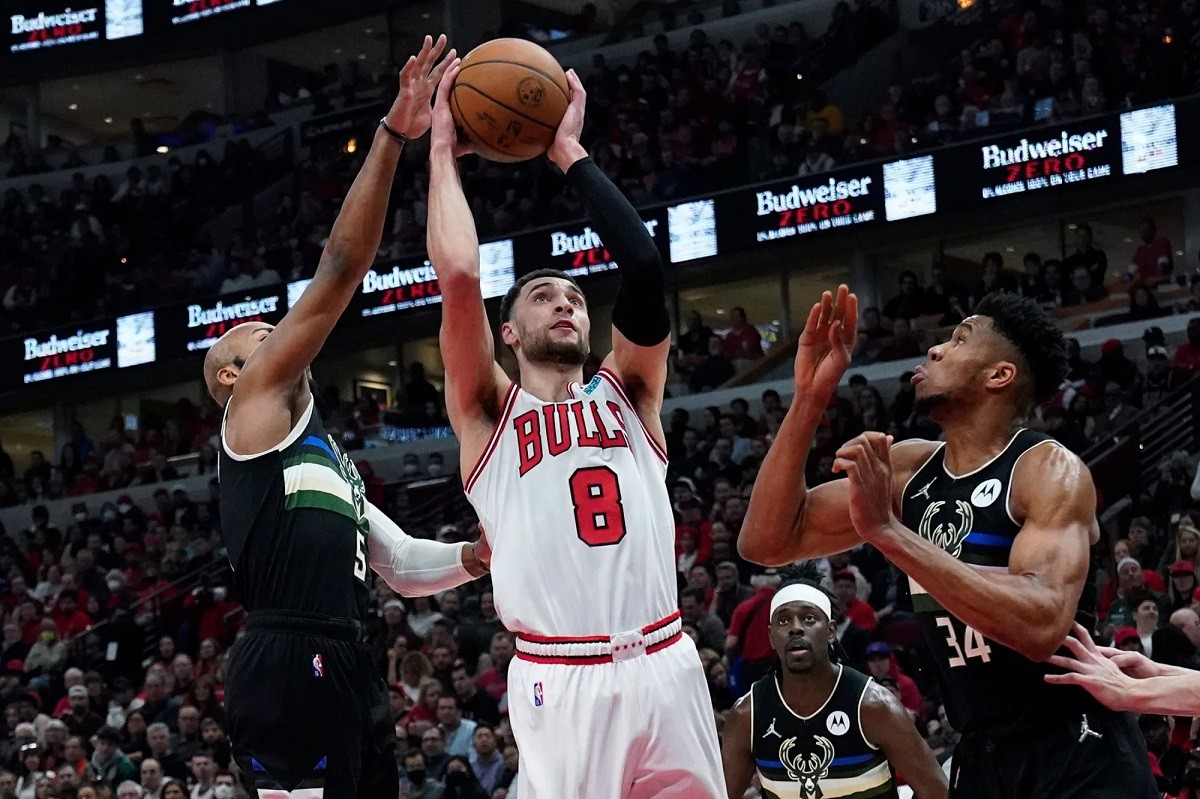 Zach LaVine from the Chicago Bulls drives to the basket against Giannis 'Greek Freak' Antetokounmpo from the Milwaukee Bucks in Game 4. (Image: Getty)
LaVine entered COVID-19 health and safety protocols yesterday and he's listed as out for Game 5 tonight. In four postseason games, LaVine is the Bulls third-best scorer averaging 19.3 ppg. He leads the team in assists with six per game.
Caruso entered concussion protocol after catching an inadvertent elbow in the face in Game 4 during a pick-and-roll with Milwaukee's Jevon Carter and the Greek Freak. Caruso averages 6.3 points and 4.3 assists for the Bulls this postseason.
Billy Donovan will most likely tap Coby White and Ayo Dosunmu to start in replace of LaVine and Caruso. White started 17 games this season, but averaged 12.7 ppg off the bench as the Bulls' Sixth Man. Dosunmu started 40 games this season as a rookie, but averages just 8.8 ppg this season. Without any postseason  experience, Dosunmu saw his minutes shrink under Donovan's reduced playoff rotation.
Betting Info: Game 4 Bulls/Bucks
The Bulls opened as a -10 underdog in Game 5, but the line moved to -12.5 on news that LaVine tested positive for COVID. Both the Bulls and Bucks are 2-2 ATS in the playoffs.
"We've still got an opportunity," said Chicago's leading scorer DeMar DeRozan. "All it takes is one game at a time."
The Bulls are +3000 odds to pull off an insane comeback down 3-1 to win the series. The Bucks are -10000 odds to advance to the Eastern Conference Semifinals.
After dropping Game 1 by seven points in Milwaukee, the Bulls pulled off a four-point victory in Game 2 to even the series. However, they failed to win again during two home games in Chicago. The Bucks held the Bulls to just 81 points in a Game 3 loss, then limited the Bulls to 95 points in a 26-point blowout in Game 4.
The winner of the Bucks/Bulls series will square off against the #2 Boston Celtics, who swept the #7 Brooklyn Nets in four games.
The Bucks are +750 odds to win the 2022 NBA championship and secure back-to-back titles.
Check out more of OG's coverage of the 2022 NBA Playoffs.