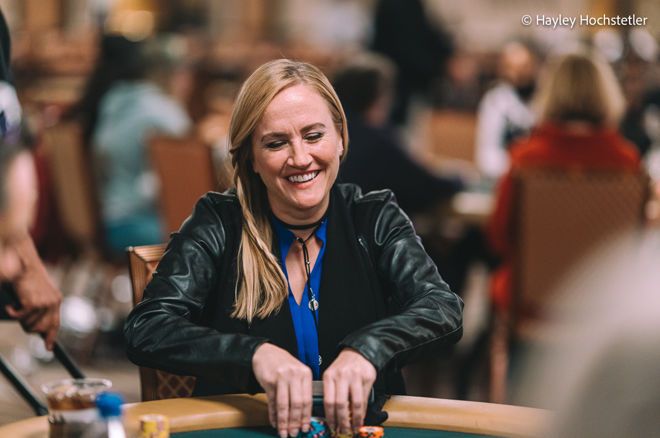 Two-time World Series of Poker (WSOP) bracelet winner Ari Engel and iconic poker commentator and Twitter personality Jamie Kerstetter are among the most recent players to a win a gold ring online in WSOP.com Circuit events.
The latest WSOP.com Circuit Series is made up of 12 ring events in late February and early March with buy-ins ranging from $215 to $2,000, with winners also earning a seat to the Tournament of Champions during the 2022 WSOP.
Kerstetter Gets It Done In Ladies' Room
You may recall how poker vlogger Ryan Depaulo became an overnight legend in July 2020 when he won his first WSOP bracelet while playing inside his car in a New Jersey Whole Foods parking lot.
Less than two years later, it seems Jamie "DanBilzerian" Kerstetter, already a legend in the poker community, is following in Depaulo's footsteps as she took down Event #9: $320 NLH Double Stack to earn her first gold ring and $19,872 — all while playing on her cell phone in a women's bathroom at the Wynn in Las Vegas.
Just won my first ever @WSOP circuit # on my phone, while charging it in a casino bathroom—got some real… https://t.co/ojqNaGiCpt
— Jamie Kerstetter (@JamieKerstetter)
Kerstetter, known for her commentary at tournaments including the WSOP Main Event, told VegasSlotsOnline she had been multi-tabling on her phone after busting out of the Wynn Mystery Bounty as part of the 2022 Wynn Millions. She built up a stack in the online Circuit event and finished the tournament from the Wynn bathroom as she charged her phone.
"During the final table, my phone got really low on battery so I needed a wall outlet somewhere quiet so that's where I was when it ended," Kerstetter told VegasSlotsOnline. "They say women spend too much time in the restroom. Maybe they're just grinding online."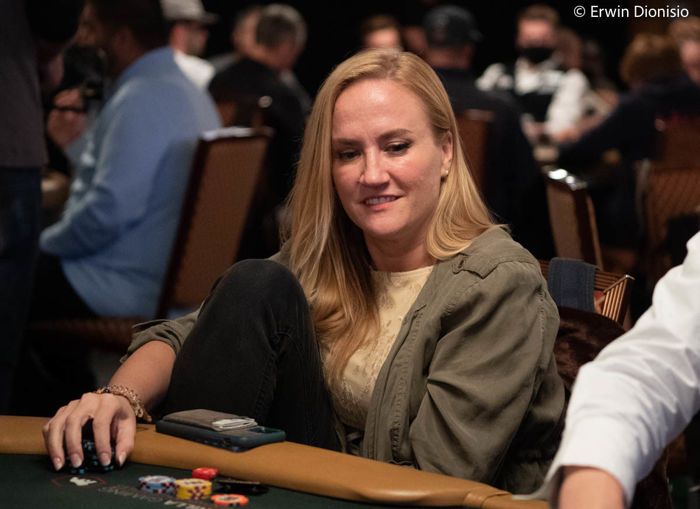 Jamie Kerstetter
Kerstetter got through a field of 246 players and locked up the victory after flushing heads-up opponent Alfred "5ktonight" Gillette, who was denied his first ring while earning a cash of $14,832. Other players at the final table included Andrew "ISeeFoodTuna" Campbell (3rd – $11,095), Michael "MMenz08816" Menzer (4th – $8,280) and Steve "gborooo" Gross (5th – $6,365).
Just weeks ago, Kerstetter was honored at the third annual Global Poker Awards in Las Vegas, where she was awarded Best Twitter Personality for the second year in a row. She was also in the running for Best Broadcaster, though the award ultimately went to fellow PokerGO commentator Jeff Platt.
While it may not be the Mothership, a casino bathroom seems as good a place as any to lock up a coveted piece of WSOP jewelry. Just wash your hands before putting that ring on, Jamie.
WSOP.com Circuit Event #9: $320 NLH Double Stack Full Results
 PLACEPLAYERCOUNTRYPRIZE (IN USD)  1Jamie "DanBilzerian" KerstetterUnited States$19,872  2Alfred "5ktonight" GilletteUnited States$14,832  3Andrew "ISeeFoodTuna" CampbellUnited States$11,095  4Michael "MMenz08816" MenzerUnited States$8,280  5Steve "gborooo" GrossUnited States$6,365  6Anthony "Flawlessbink" MaioUnited States$4,864  7Brien "neirb2021" LeeUnited States$3,674  8Guo Liang "Ct188" ChenUnited States$2,722  9″Stripey"United States$2,049
See winners from the WSOPC Harrah's Cherokee here!
Engel Wins 11th Ring in Event 11
Ari "PalmTreeB" Engel finished out the month by earning his 11th career Circuit ring in Event #11: $500 PLO BIG $500, which earned him a cash of $14,412. The Canadian pro got through a field of 70 entrants and defeated John "Macallan25" Riordan during heads-up play, who Engel later called "a far more skilled opponent heads up."
Won my 11th @wsop circuit ring in an online 500 plo tournament beating a far more skilled opponent heads up (John Riordan)
— Ari Engel (@AriEngelPoker)
Riodan, a four-time ring winner from Florida with $1.4 million in live tournament earnings, earned $10,913 for his runner-up finish. Other players who final tabled the PLO tournament include Daniel "WinSOPure44" Bertaccini (3rd – $8,155), Adrian "sacakewalk" Sacher (4th – $6,109), Ian "ApokerJoker2" Steinman (5th – $4,490), Mark "Nostradonkus" Liedtke (6th – $3,298) and popular poker vlogger Ethan "Rampunts" Yau (7th – $2,444).
The online victory keeps Engel in his fourth-place spot on the all-time Circuit ring list, trailing only Maurice Hawkins (14), Valentin Vornicu (12), and Josh Reichard (12). Jeffrey Trudeau Jr. recently earned his tenth Circuit ring at WSOP Circuit Isle Casino Pompano Park to tie Engel, but he'll now have to win another to keep up with "PalmTreeB."
Ari Engel
Engel had an 11th ring sweat earlier this year when he finished second in Event #8: $25,000 GTD PLO BIG $500 for $7,320 as part of the WSOP.com Pennsylvania January Online Circuit. Engel couldn't get it done heads-up against Richard Ali of Oakdale, PA, who earned $9,892 and his third gold ring.
Last fall, Engel won his second bracelet and $317,076 in Event #9: $10,000 Omaha Hi-Lo 8 or Better Championship after getting through a final table that included all-time bracelet leader Phil Hellmuth, who finished in fifth place for $80,894.
At this rate, it's only a matter of time before Engel wins another ring or bracelet as he continues to crush both live and online Omaha tournaments.
WSOP.com Circuit Event Event #11: $500 PLO BIG $500 Full Results
 PLACEPLAYERCOUNTRYPRIZE (IN USD)  1Ari "PalmTreeB" EngelCanada$14,412  2John "Macallan25" RiordanUnited States$10,913  3Daniel "WinSOPure44" BertacciniUnited States$8,155  4Adrian "sacakewalk" SacherUnited States$6,109  5Ian "ApokerJoker2" SteinmanUnited States$4,490  6Mark "Nostradonkus" LiedtkeUnited States$3,298  7Ethan "Rampunts" YauUnited States$2,444  8Joseph "MegolaMan1ac" LibertaUnited States$1,779  9Stanton "stonniepokes" TentowskiUnited States$1,376
The next stop on the WSOP Circuit will be at The Bicycle Casino in Los Angeles from March 5-16.