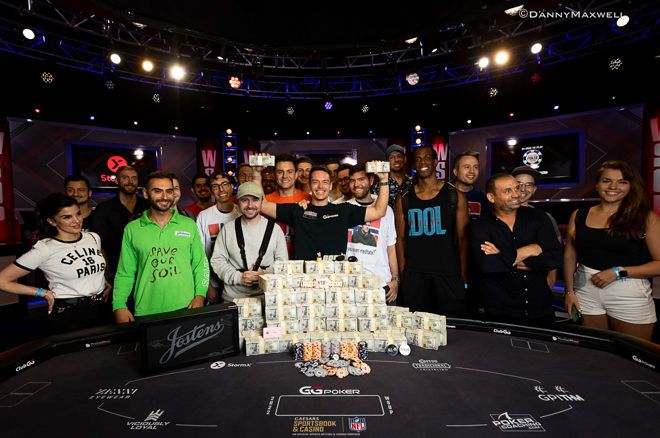 Norwegian Espen Jorstad has won the 2022 World Series of Poker Main Event for $10,000,000 after an enthralling final day display at Paris & Bally's, Las Vegas. He defeated Australian Adrian Attenborough heads-up to top a field of 8,663 players, the second-largest in WSOP history.
Attenborough would have to settle for $6,000,000 while third-place finisher Michael Duek takes home $4,000,000.
Jorstad becomes the first Norwegian to win the WSOP Main Event, going one better than compatriot Felix Stephensen who finished as runner-up in 2014, overtaking Stephensen at the top of the Norwegian all-time money list in the process.
2022 WSOP Main Event Final Table Results
PlaceWinnerCountryPrize (in USD) 1Espen JorstadNorway$10,000,000 2Adrian AttenboroughAustralia$6,000,000 3Michael DuekArgentina$4,000,000 4John EamesUnited Kingdom$3,000,000 5Matija DobricCroatia$2,250,000 6Jeffrey FarnesUnited States$1,750,000 7Aaron DuczakCanada$1,350,000 8Philippe SoukiUnited Kingdom$1,075,000 9Matthew SuUnited States$850,675 10Asher ConniffUnited States$675,000
Winner's Reaction
The first thing Jorstad did after clinching victory? Call his mother.
"She was crying and had trouble speaking. She's my biggest fan so it was kind of emotional," Jorstad told a crowd of reporters. "It feels really good."
Jorstad said that on Day 6 he told eventual heads-up opponent Attenborough that the Australian was the one player he didn't want to play heads-up against.
"But I did," said Jorstad. "I just got better cards than him today."
The $10,000,000 question is, what will Jorstad do now?
"My goal has been to reach into the High Roller scene and play more $25,000 tournaments and stuff like that. I've dipped my toes, but now I have a bigger bankroll to take some shots in those tournaments. I need to get in the lab and make sure I'm good enough to play them.
"And make some very sensible investments — cryptocurrencies and tech stocks, probably."
Check out our interview table side with Sarah Herring.
Tomasz Gluszko Leads Event #84: $3,000 H.O.R.S.E. Final Three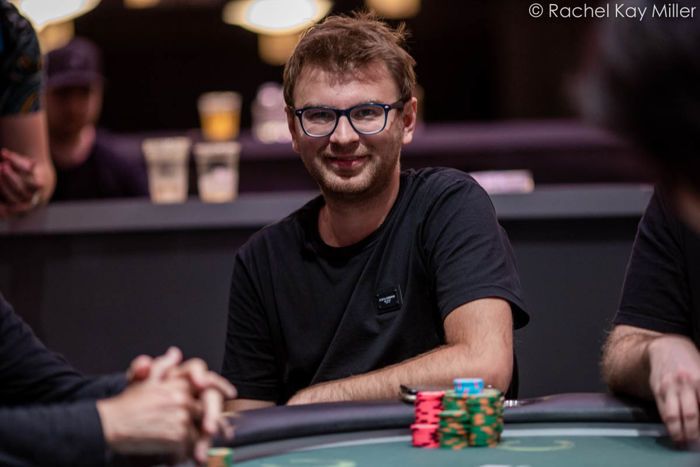 Event #84: $3,000 H.O.R.S.E. will need a fourth day, with three players remaining after Saturday's 10 hours of play.
Poland's Tomasz Gluszko will take 5,320,000 chips and the lead into Day 4, with Roberto Marin (4,465,000), and Lawrence Brandt (3,300,000) not far behind.
Sunday's winner will take home $205,139 and the final mixed-game bracelet of the 53rd World Series of Poker.
Final Table Payouts
PLACEPLAYERCOUNTRYPAYOUT 1TBA $205,139 2TBA $126,895 3TBA $87,687 4Richard TatalovichUnited States$61,789 5Kevin GerhartUnited States$44,415 6Kristan LordUnited States$32,583 7Perry FriedmanUnited States$24,403 8Yarron BendorUnited States$18,669
Recap of the Day
It didn't take long for the field to start to be thinned, with Mauricio Ferreira Pais the first out the door, quickly followed by several others including John Racener in 20th place ($6,835), Andrew Brown in 18th ($6,835), and a Razz double elimination at the final two tables courtesy of Brandt.
Lena Wang's quest for the title ended in 14th place, as did Andre Akkari's in 11th place ($11,664). Not long after that, Greg Mascio was sent home in 10th place ($11,664) to set up the unofficial final table.
After starting the Day 3 in the chip lead, David Bach's surprising crash ended his day in 9th place, as Gluszko left the "gunslinger" short, and he was then finished off shortly after by Kevin Gerhart.
The eliminations would slow significantly from there, with another bust out not coming until after the dinner break with the elimination of Yarron Bendor in 8th ($18,669), who fell in nasty fashion to running jacks on sixth and seventh against Brandt.
Following that however, Perry Friedman (7th – $24,403), Kristan Lord (6th – $32,583), and Gerhart (5th – $44,415) would be eliminated in quick succession, leaving just four players.
After a brief unscheduled break for discussion of how to proceed due to the rumors of an active shooter situation on the Las Vegas strip, which caused panic throughout various casinos, including Bally's and Paris, play continued, and Richard Tatalovich would be the day's final elimination in 4th place ($61,789).
The final three players would then trade chips back and forth until the day was called at the end of level 30, with Gluszko in the chip lead.
They will return to the Bally's Event Center at 2 p.m. local time to play to a winner. Action will start with level 31 and the first hand of a round of Razz.
Follow the H.O.R.S.E. Updates here
Fred "staeks" Li Wins [Online] $777 Lucky 7's No-Limit Hold'em Second Chance for $159,060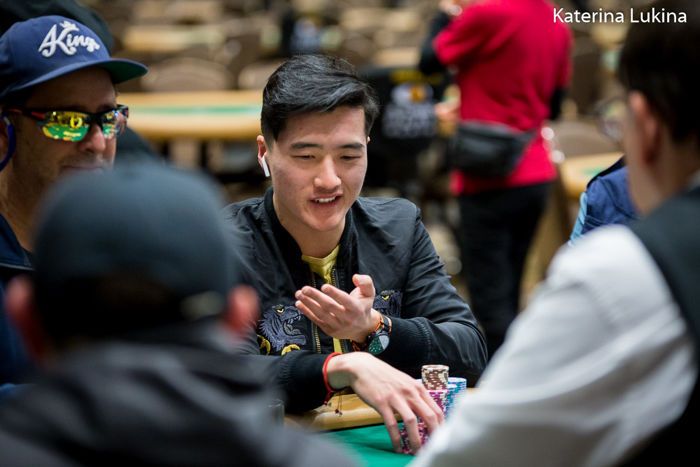 The eleventh online WSOP Bracelet event of the 2022 World Series of Poker has come to a close on WSOP.com with Fred "staeks" Li coming out on top, winning the WSOP Gold Bracelet and $159,060.
Li outlasted 781 opponents (including reentries) who generated a prize pool of $854,700. Among the notable players who made it into the cash were bracelet winners Dominick "flow_cold" Sarle, Jason "TheBigGift" Gooch, and none other than high stakes crusher and four-time bracelet winner David "dpeters17" Peters.
After 11 hours of play and a roughly 30-minute heads-up battle between Li and Zach "zoks7" Okin all the chips went in when Li held ace-ten against the pocket-eights of Okin. The flop was safe for Okin, but Li took the lead when the ten hit the turn. The river bricked for Okin and Li was victorious.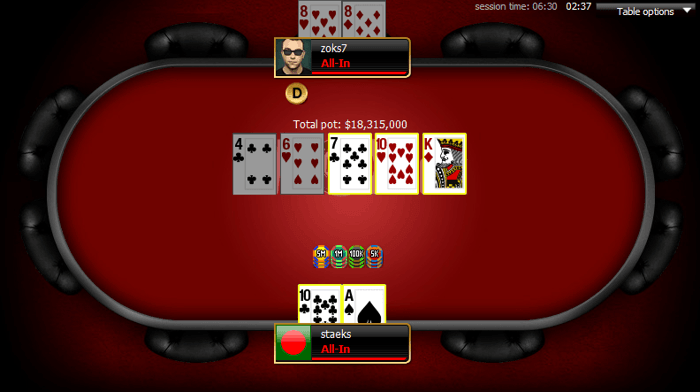 [Online] $777 Lucky 7's No-Limit Hold'em Second Chance Final Table Results
PlacePlayerCountryPrize 1stFred "staeks" LiUnited States$159,059 2ndZach "zoks7" OkinUnited States$98,290 3rdMichael "Mike916" GuzzardiUnited States$69,572 4thBobby "Ericartmenez" OboodiUnited States$49,914 5thRyan "doyouliftbro" JonesUnited States$36,239 6thDominick "flow_cold" SarleUnited States$26,666 7thMichael "LatinoLoco" AcevedoUnited States$19,914 8thDaniel "IGetLost" DizenzoUnited States$15,042
Final Table Action
Daniel "IGetLost" Dizenzo was first to exit on the eight-handed official final table when he ran ace-queen very short stacked into the big blind of Okin with nine-five who made a pair to eliminate Dizenzo. A few hands later Michael "LatinoLoco" Acevedo found pocket-fives but ran into the big stack of Okin with jacks and could not improve, sending him to the rail in 7th place.
Next to go was bracelet winner Dominick "flow_cold" Sarle who ran ace-five into the queens of Li and could not find an ace, sending him out in 6th place. The 5th place finisher was Ryan "doyouliftbro" Jones, who was all in with tens but ran into a cooler when Li picked up kings.
Bobby "Ericartmenez" Oboodi was all in with pocket-sixes but again ran into a monster when Okin picked up pocket jacks and sent them packing in 4th. Michael "Mike916" Guzzardi was involved in one of the biggest coolers of the tournament when he picked up jacks preflop and was all in against kings and queens of his opponents, putting him out in 3rd place.
The heads-up play started with Li having an almost 4-1 lead on Okin, but a few pots went the way of Okin, and they became dead even. Li battled back to win some crucial pots and regain the chip lead, and in the final hand, the ace-ten scored a pair to eliminate the eights of Okin in 2nd place and win the tournament.
Early End of Day's Play in Three Events
As mentioned above, rumors of an active shooter situation on the Las Vegas strip spread to Bally's and Paris and meant that play was paused for an hour in Event #85: $1,500 The Closer, Event #86: $10,000 6-Handed No-Limit Hold'em Championship, and Event #87: $5,000 8-Handed No-Limit Hold'em.
Players were able to safely return to their tables and bag their chips for the day. All three events will resume at Noon on Sunday, 17 July.