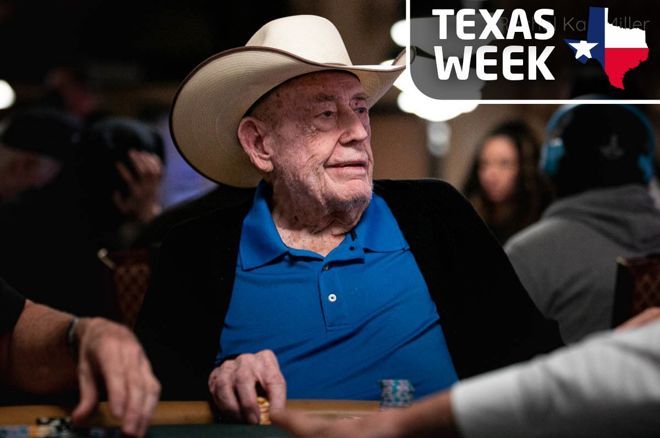 Doyle Brunson, a track and basketball star in the 1950s, was left out of the Hardin-Simmons Athletics Hall of Fame for many years because of his chosen career path. In 2009, the Baptist college's current president, Eric Bruntmyer, went to bat for the poker legend and convinced the school to let him in.
PokerNews recently stopped by the small college in Abilene, 50 miles from Doyle's hometown of Longworth, during our Texas Week road trip across the state. Mr. Bruntmyer showed us around the modern basketball gym, which is in the same location Brunson, now 88, played at from 1951-1953, although the old facility has since been demolished and completely renovated.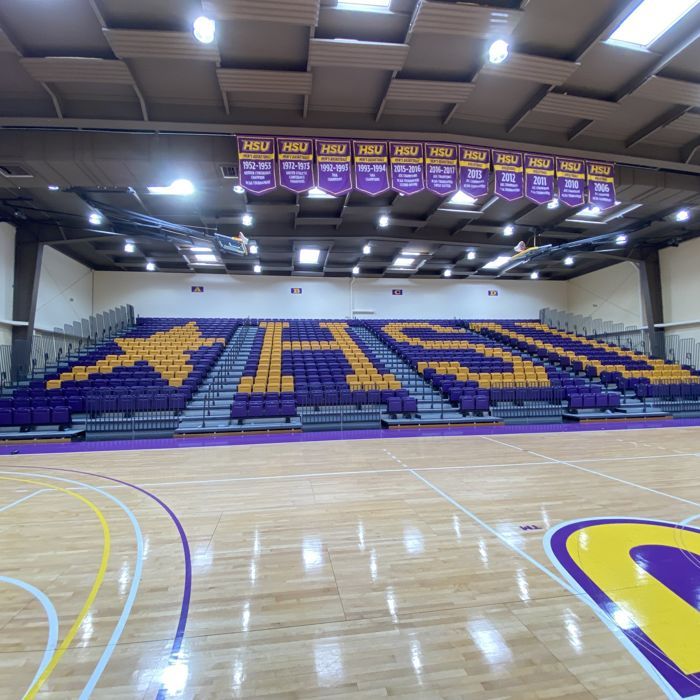 Inside the Mabee Complex, home to the Hardin-Simmons University Cowboys.
Convincing the School that Doyle Brunson Isn't a Sinner
Bruntmyer, a proud man of faith, said he understood why most faculty and members of the Hardin-Simmons community opposed Brunson's HOF induction. After all, many Christians believe gambling is a sin. But there's more to Doyle's life story than just his poker career.
"Before I become president here, I looked up all the famous alumni, and Doyle was one of them," Bruntmyer told PokerNews on the Hardin-Simmons campus. "I learned a little more about him. I thought that's odd for a Baptist school, a Christian school, to have a poker player as one of their most famous graduates."
When the university's leader began his tenure at Hardin-Simmons, he decided to learn some more about the 10-time World Series of Poker (WSOP) bracelet winner. He wanted to find out if "Texas Dolly" was simply just a poker player, or if he had more going on in his life.
"I ended up getting his book, Godfather of Poker, and I just thought I'm going to read up on it," the school president continued. "I will tell you that is one of the most amazing books I've ever read because it really tells you his life story."
What Bruntmyer discovered from reading the book was that Doyle was also a man of faith. He still needed to find out who the real Doyle Brunson is before pushing for the poker legend's induction into the school's athletics hall of fame, so he reached out to the poker player by phone to have a conversation.
"I talked to him about his faith journey because that's what I really wanted to know, and I think a lot of our alumni wanted to know," Bruntmyer said. "They all had heard about Doyle, but they didn't really know him because they hadn't read the book."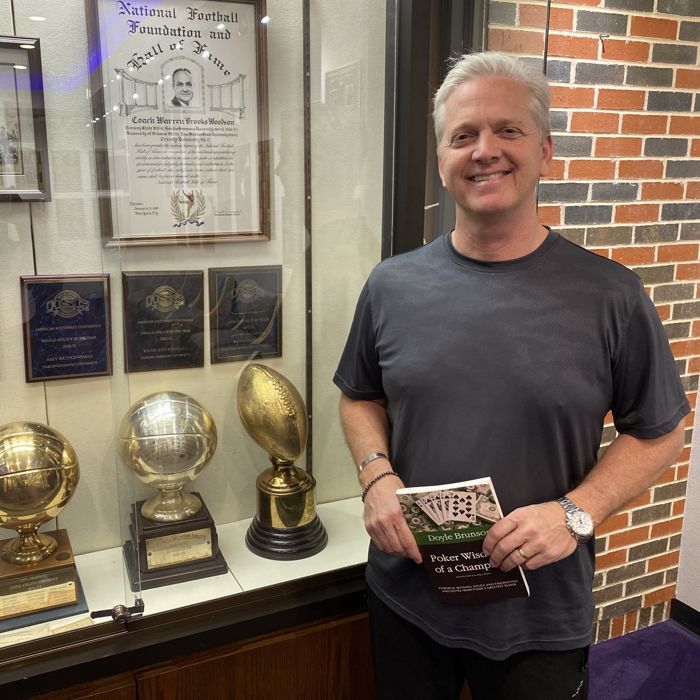 HSU President Eric Bruntmyer in front of Doyle Brunson's 1953 conference championship trophy.
Upon reading Brunson's autobiography, he began to see the Texan as more than just a poker player. He admired that Doyle's wife, Louise, was a devout Christian who would often pray for her husband's safety and well-being while he played in some sketchy poker games during the 1960s and 1970s.
"Doyle told me a story that a lot of people don't know," Bruntmyer shared. "He said, 'we'd have Meadowlark Lemon come in and we would do a Bible study together.'"
Brunson, Lemon, and other poker pros back in Doyle's early years would battle it out on the felt, sometimes even in dangerous games without security present. But that didn't stop some players from expressing their spiritual beliefs. Bruntmyer was blown away by Brunson's stories on how lives were changed and marriages were saved because of the Bible sessions before the poker games.
"People don't mix those two together — poker and faith," Bruntmyer said. "And I will tell you, as the president of this university, I have seen this story applied in a lot of different areas. Hardin-Simmons students do not do things normally. They can't come in normally, they don't leave normally."
Still, despite sharing Brunson's full life story with board members, some weren't convinced letting him in the Hall of Fame was the right decision. He was a sinner in their eyes, and no proclaimed faith in the almighty was going to sway change their opinions.
One woman within the community once called to complain to the school president about his pro-Brunson stance. She wanted Doyle to quit poker or for Hardin-Simmons to refrain from honoring the poker icon.
"I said ma'am, his story's not done," Bruntmyer recalls of the interaction. " I don't know what it is and he may never, but at least you know this part of the story, and you know about this faith journey. Let him be him and let him do his thing."
Free to Play Slots in the US
Doyle Brunson the Athlete
Bruntmyer said the Hardin-Simmons community now understands more about Brunson as a person beyond his poker career.
"He has an amazing mathematical mind," Bruntmyer said of the the Poker Hall of Famer. "I've noticed that a lot of folks who love math and statistics love poker."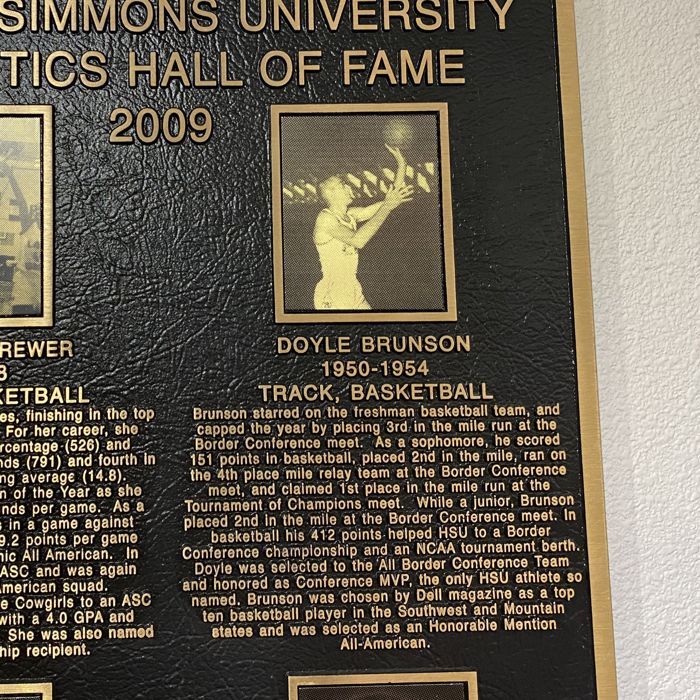 Doyle Brunson's HSU plaque.
Bruntmyer isn't a poker player and he's never met Doyle in person, but he has spoken with "Texas Dolly" a handful of times on the phone. He's impressed with Brunson's commitment to his Christian faith, but also how well-spoken the lifelong poker player is.
Brunson was finally inducted into the Hardin-Simmons Athletics Hall of Fame in 2009 for his success as a basketball and track star in the early 1950s. He averaged 9.2 points per game in 61 games at the small Texas college.
As a junior, he helped HSU to a Border Conference Championship and an NCAA Tournament berth. He appeared to be on the verge of becoming a professional basketball player — the Minneapolis Lakers even considered drafting him — but a devastating knee injury ended any hopes of playing the game he loved at the next level. So he fell in love with a different game — poker.
PokerNews also visited the Mall of Abilene, not far from campus, to snap pictures of another Doyle Brunson plaque. In 2017, the high-stakes poker pro was inducted into the Big Country Athletic Hall of Fame, which honors star athletes who grew up in West Texas.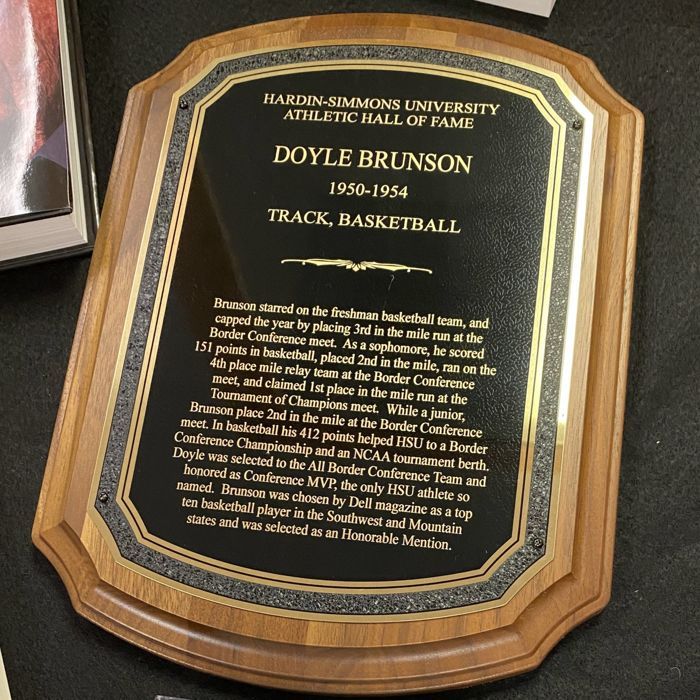 Doyle Brunson's plaque at the Big Country Athletic Hall of Fame.
For more on Brunson, listen to the latest episode of the PokerNews Podcast:

Texas

Last update: April 1, 2022
Online Poker is forbidden
Online Casino is forbidden
Sports Betting is forbidden