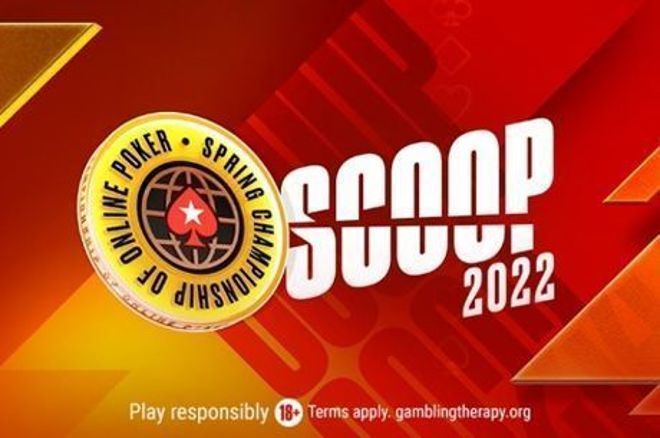 The 2022 PokerStars Spring Championship Of Online Poker (SCOOP) is running alongside the GG Online Championship, giving tournament players a massive choice of events and the potential to massively increase their bankrolls in time for the upcoming 2022 World Series of Poker (WSOP).
Both the SCOOP and the GG Online Championship (GGOC) shuffled up and dealt over the weekend and there have already been plenty of big scores in both. GGPoker has poked fun at PokerStars on social media due to the GGPoker series having $150 million worth of combined guaranteed prize pools, almost double that amount offered during SCOOP. However, with the completion of the first 2-Day events at SCOOP, who do you think had the better opening weekend? Check out these latest PokerStars SCOOP results to help you make your decision.
Andre Marques Takes Down $2,100 Sunday High Roller Freezeout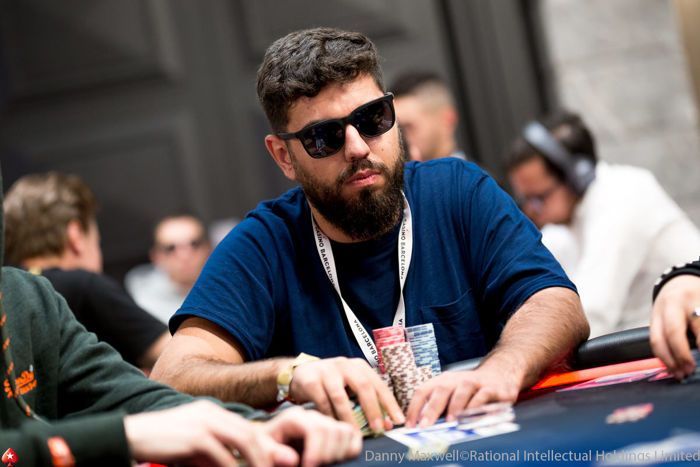 Andre Marques
The SCOOP 04-H: $2,100 NLHE 8-Max PKO Sunday HR Freezeout drew in a crowd of 296 high stakes specialists who created a $592,000 prize pool, which surpassed the advertised $500,000 guarantee. Half of the prize pool went on the heads of each entrant with the top 34 finishers sharing the other half.
With bounties included, all but one of the nine players at the final table banked at least five figures, and the one who didn't almost did!
"julianpanda" saw their quest for a SCOOP title end in a ninth-place finish worth $12,234. Eighth-place finisher Josip "Jozinho6" Simunic collected $9,375, less than the previously eliminated player due to the PKO element of this event.
Any of the remaining players would have made a worthy champion; the payout list reads like a who's who of the online poker world. First, Jamil "Jamil11" Wakil busted in seventh for $17,500 before Brazilian star Pablo Brito "pabritz" Silva bowed out in sixth for $23,244.
FishOnHeater Kicks Off 2022 SCOOP In Style by Banking $68K
Team PokerStars' popular pro Lex "L. Veldhuis" Veldhuis came close to securing a SCOOP title but ultimately had to make do with a $19,237 fifth place prize. From this point on, the pay jumps were quite something.
Japanese grinder "Merlin19871009" ran out of steam in fourth and walked away with $34,929 to show for their efforts. Then Brazil's "pinguinho" was eliminated in third, a finish good for $42,624. That exit left Andre "PTFisherman23" Marques heads-up against Pedro "gusmaa" Gusma for the lion's share of the prize pool. Both locked in $49,395 from the main prize pool and were playing for the now huge bounties. The one-on-one battle went Marques' way and he added a gigantic $73,820 bounty payment to his main prize for a total score worth $122,765. Gusma headed into the night with $74,871 reasons to be happy with his performance.
SCOOP 04-H: $2,100 NLHE 8-Max PKO Sunday HR Freezeout
PlacePlayerCountryBountiesPrizeTotal Prize 1Andre "PTFIsherman23" MarquesMalta$73,820$49,395$122,675 2Pedro "gusmaa" GusmaBrazil$25,476$49,395$74,871 3pinguinhoBrazil$10,968$31,656$42,624 4Merlin19871009Japan$11,234$23,695$34,929 5Lex "L. Veldhuis" VeldhuisBelgium$1,500$17,737$19,237 6Pablo Brito "pabritz" SilvaBrazil$9,968$13,276$23,244 7Jamil "Jamil11" WakilCanada$7,562$9,938$17,500 8Josip "Jozinho6" SimunicAustria$1,937$7,438$9,375 9julianpandaMexico$5,875$6,359$12,234
"wdmm" Secures SCOOP Title For Montenegro
The special editions of the PokerStars Sunday Million are always extremely popular, and the 2022 SCOOP edition was no different. PokerStars placed a $1 million guarantee on the prize pool, but thanks to 7,974 players parting company with $215, the prize pool tipped the scales at an impressive $1,594,800.
Nobody at the final table won less than $12,457 for their $215 investment, with the final two players scooping six-figure prizes for their troubles. That heads-up duo was "piton832" of Argentina and "wdmm" of Montenegro. They entered the one-on-one stage having secured no less than $96,092 from the main prize pool, but the final bounty payments in PKOs are massive because the champion also wins the bounty on their heads.
The Montenegrin came out on top and saw their payout bolstered by a $54,287 bounty payment, which was more than the total prize money fourth-place finisher "bizool" walked away with! Wdmm's PokerStars account swelled by $150,384 while runner-up piton832 reeled in $108,010.
How to Win a PokerStars Players Championship Platinum Pass; Mega Path and Road to PSPC Details
SCOOP 04-M: $215 NLHE 8-Max PKO Sunday Million
PlacePlayerCountryBountiesPrizeTotal Prize 1wdmmMontenegro$54,287$96,097$150,384 2piton832Argentina$11,918$96,092$108,010 3grimepokerKazakhstan$3,466$57,014$60,480 4bizoolBelgium$7,407$40,461$48,048 5PigaooBrazil$5,322$28,970$34,292 6Morrison830Argentina$7,044$20,651$27,695 7Luis "luis_faria" FariaPoland$5,539$14,720$20,259 8Alucard1009Montenegro$2,151$10,493$12,644 9Sion08Mexico$4,977$7,480$12,457
Shepel Denies Muehloecker a Titans Victory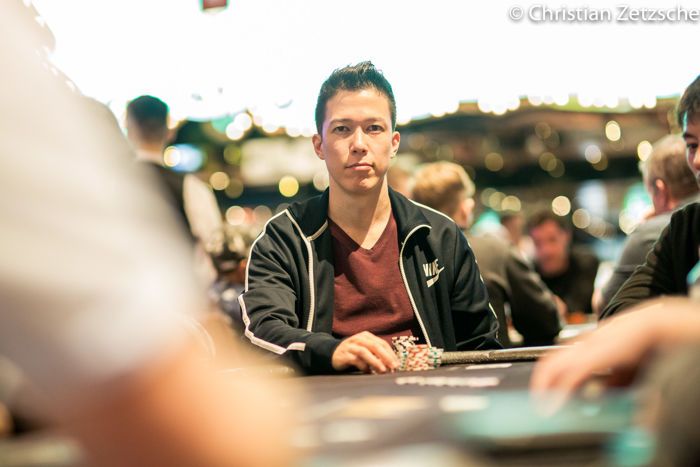 Thomas Muehloecker ultimately finished second in the Titans Event
The $5,250 buy-in Titans Event is popular with high rollers each Sunday but the SCOOP edition was even more so with 127 players creating a $635,000 prize pool.
Elio "smokrokflock" Fox was the unfortunate soul who burst the money bubble, his demise in 16th place putting the surviving players into the money. Such luminaries as Patrick "pads1161" Leonard and Ilya "Leqenden" Anatsky were among those who cashed.
PokerStars SCOOP 2022 Schedule Features First Ever Women's Event
As you would expect from a $5,250 buy-in tournament, the final table was something of a star-studded affair. South Korea's Sung Joo "KoreanMonkey" Hyun, one of our Asian players to watch in 2022, was eliminated in ninth before former world number one Conor "1_conor-B_1" Beresford joined Hyun on the rail, doing so with $23,328 in tow.
Juan "Malaka$tyle" Pardo and Pedro "pvigar" Garagnani were the next casualties. They walked away disappointed not to win the event but with $30,108 and $38,860 to help numb the pain of defeat.
Sweden's "JoseGuti" tripped up in fifth, a finish good for $50,156, and was joined on the rail first by Jans "Graftekkel" Arends and Romanian cash game guru Liviu "0Human0" Ignat. That recently departed pair hauled in $64,735 and $83,551 respectively.
Nobody would have blamed Thomas "WushuTM" Muehloecker or Aleksandr "Alex Shepel" Shepel for making a heads-up deal because the difference in prize money was almost $32,000. However, there was no deal and that meant Muehloecker collected $107,837 when he bit the dust in second place, resulting in Shepel getting his hands on $139,183 after leaving a trail of superstars in his wake.
SCOOP Side Event 01: $5,250 Titans Event
PlacePlayerCountryPrize 1Alexsandr "Alex Shepel" ShepelArmenia$139,183 2Thomas "WushuTM" MuehloeckerAustria$107,837 3Liviu "0Human0" IgnatRomania$83,551 4Jans "Graftekkel" ArendsAustria$64,735 5JoseGutiSweden$50,156 6Pedro "pvigar" GaragnaniBrazil$38,860 7Juan "Malaka$tyle" PardoAndorra$30,108 8Conor "1_conor_b_1" BeresfordUnited Kingdom$23,328 9Sung Joo "KoreanMonkey" HyunSouth Korea$18,484
Other Recently Completed SCOOP Events
EventEntrantsPrize poolChampionPrize #02-L: $5.50 NLHE 8-Max12,722$62,337bergue12$7,917 #02-M: $55 NLHE 8-Max5,491$274,550Mr. Havener$39,036 #02-H: $530 NLHE 8-Max825$412,500Robin "robinho" Ylitalo$52,158 #03-L: $11 NLHE 8-Max14,394$141,061cautiioN$14,802 #03-M: $109 NLHE 8-Max4,921$492,100retro_cheetah01$70,058 #03-H: $1,050 NLHE 8-Max560$560,000Pedro "gusmaa" Gusma$98,853 #04-L: $22 NLHE 8-Max PKO Mini Sunday Million14,028rickroger10$23,073*  #04-M: $215 NLHE 8-Max PKO Sunday Million7,974$1,594,800wdmm$150,384* #04-H: $2,100 NLHE 8-Max Sunday HR Freezeout296$592,000Andre "PTFisherman23" Marques$122,675* #05-L: $11 PLO 6-Max5,360$60,000Mutinio$8,535 #05-M: $109 PLO 6-Max1,415$150,000PRISON MIKE$23,020 #05-H: $1,050 PLO 6-Max276$276,000#Naktro91$52,682
*includes bounty payments