The 2022 Tour de France has its final rest day today before heading into the rugged Pyrenees Mountains amidst a brutal heat wave, but Jonas Vingegaard saw his title odds slip from -360 to -225 after a disastrous Sunday for his team Jumbo-Visma. Vingegaard had a minor crash and two of his teammates withdrew from Le Tour due to injuries. Meanwhile, two-time defending champion Tadej Pogacar (UAE TEam Emirates) coughed up the yellow jersey last week in the French Alps, yet saw a bump in his Tour de France odds from +300 to +175 with a golden opportunity to leverage Jumbo-Visma's current drama.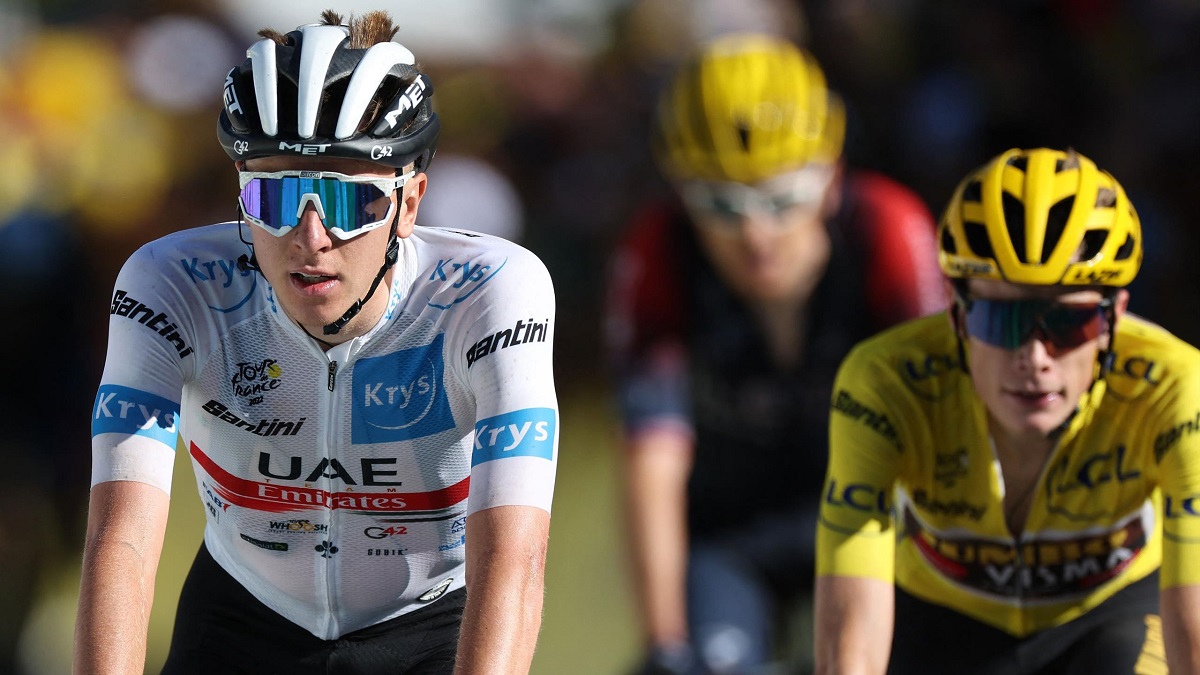 Tadej Pogacar (left) trails Jonas Vingegaard by 2:22 heading into Stage 16 of the 2022 Tour de France. (Image: Reuters)
Vingegaard won his first-ever stage with a victory in Stage 11 when Pogacar cracked on the ascent of Col du Granon. Pogacar fell behind by 2:22 and there has not been any time change in the last four stages.
2022 TOUR DE FRANCE ODDS UPDATE
NOW
7/16/2022
7/13/2022
7/7/2022
Jonas Vingegaard
-225
-360
-330
+300
Tadej Pogacar
+175
+300
+300
-400
Geraint Thomas
+1600
+1600
+2000
+2000
Geraint Thomas — the 2018 champion from Ineos Grenadiers — has been lurking in third place, but he's 2:43 back. It looks like Thomas is going to let Vingegaard and Pogacar slug it out in the Pyrenees, while trying to preserve his third-place spot on the final podium in Paris next Sunday. Thomas saw his odds move from +2000 to +1600 to win the 2022 Tour de France.
Bloody Sunday in Carcassonne
Vingegaard successfully defended the yellow jersey over the weekend during transition stages from the Alps to the Pyrenees, but Jumbo-Visma suffered a terrible turn of events when they lost two vital climbers — Primoz Roglic and Steve Kruijswijk — on Sunday.
Roglic dropped out of Le Tour shortly before the start of Stage 15 on Sunday.
"To allow my injuries to heal properly, we have decided that I won't start today," tweeted Roglic.
The tweet baffled everyone in the peloton, especially with a day off on Monday and easy sprint stage slated for Stage 15. However, the injuries caught up to him after he crashed in the first week on the dreaded cobblestones in Stage 5.
Kruijswijk suffered a nasty crash in the middle of Stage 15. He was spotted clutching his shoulder and arm and Jumbo-Visma's medics quickly called for an ambulance. He dropped out with a separated shoulder.
Without two strong climbers to protect Vingegaard in the Pyrenees for the final mountain stages, Vingegaard is susceptible for attacks from his GC rivals. After losing two veterans, the betting momentum swung from Vingegaard to Pogacar, which was reflected in the latest odds update.
Jumbo-Visma will rely on American Sepp Kuss and Belgian superstar Wout van Aert to provide Vingegaard with support in the Pyrenees. You can expect Kuss to help Jumbo-Visma control the mountains stages with a breakaway, while van Aert will provide super domestique duties fetching water and food for Vingegaard.
Stage 18 of the 2022 Tour de France in the French Pyrenees could determine this year's champion. (Image: LeTour.com)
Pogacar Pounce in Pyrenees?
UAE Team Emirates sees an opportunity to make back as much time as possible before the individual time trial in Stage 20. Two years ago, Roglic was in the yellow jersey heading into Stage 20 when Pogacar smoked him in the ITT to win the stage and seize the coveted maillot jaune. Pogacar hopes the time trial will provide him with the final opportunity to retake the yellow jersey, but he's down 2:22 and needs to cut into at least two more minutes in the Pyrenees.
The next couple stages are crucial for UAE Team Emirates versus a short-handed Jumbo Visma. Expect Pogacar to launch long-range attacks against Vingegaard, which is why the champ's Tour de France odds bumped.
Of course, Vingegaard is well aware of what's coming. In the last couple of stages, he stuck on Pogacar's wheel whenever the Slovenian Wunderkind tried to pull away from the stoic Dane.
Stage 16 on Tuesday has a steep 3 km climb to the ascent of Mur de Peguere, before a downhill finish in Foix. Pogacar will look to drop Vingegaard on that climb and try to trim a few seconds off the lead.
On Wednesday, Stage 17 has three Category 1 climbs in the heart of the Pyrenees including a mile-high, summit finish at Peyragaudes.
The tour could be decided on Thursday during Stage 18 from Lourdes to Hautacam. There's two vicious HC ascents (beyond categorized) and a hellacious Category 1 climb at Col de Spandelles. Stage 18 concludes with a punishing summit finish at the picturesque ski resort of Hautacam.
Check out more coverage of the 2022 Tour de France.