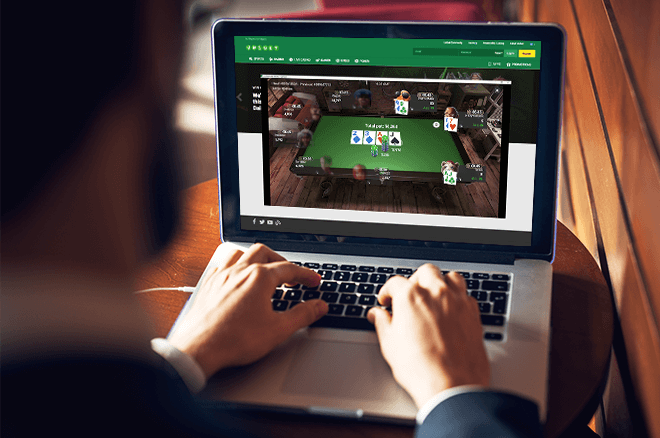 From July 31 to August 7, Unibet Poker is rolling out the red carpet for tournament players with their Summer Games series. Over €45,000 is guaranteed across the online festival and is headlined by the €10,000 Summer Games finale, which gets underway on August 7.
Two championship events will take place each day, with all events starting at 7 p.m. BST. Players with all types of bankrolls will be able to take part as buy-ins alternate between €50 and €5. There are also plenty of opportunities to play each event on the cheap as there is a plethora of affordable satellites running which can help you preserve your poker funds.
Those who like to build massive virtual chip towers, will be pleased that a Deepstack tournament kicks off the Summer Games. Turbo's, PKO's and Omaha tournaments are also running while the series unfolds.
Unibet Poker Summer Games Schedule
DateTime (BST)Buy-InEventGuarantee July 317 p.m.€50Summer Games Deep€6,000 July 317 p.m.€5Summer Games Deep€1,000 August 17 p.m.€50Omaha Summer Games€3,000 August 17 p.m.€5Omaha Summer Games€500 August 27 p.m.€50Summer Games€4,000 August 27 p.m.€5Summer Games€750 August 37 p.m.€50Summer Games Turbo€4,000 August 37 p.m.€5Summer Games Turbo€800 August 47 p.m.€50Summer Games€5,000 August 47 p.m.€5Summer Games€800 August 57 p.m.€50Summer Games Deep€5,000 August 57 p.m.€5Summer Games Deep€800 August 67 p.m.€50Summer Games Turbo€3,000 August 67 p.m.€5Summer Games Turbo€600 August 77 p.m.€50Summer Games€10,000 August 77 p.m.€5Summer Games€1,000
Unibet Poker Spices Things Up With the Exciting Daily Specials
Don't Miss Out on Unibet's Summer Bootcamp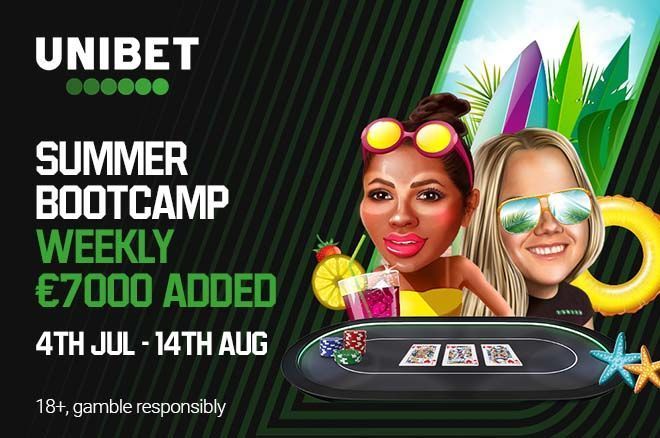 If poker tournaments aren't your thing, there's still plenty to get excited about in Unibet's cash game streets. Running until August 14 is the platform's Summer Bootcamp, where €42,000 is up for grabs in cash prizes.
All players need to do to be in with a chance of winning is complete easy challenges, which you can see in the table below. By ticking off each task, players earn leaderboard points and the further you climb the league table, the greater your reward will be.
AchievementPoints at NLHEPoints at PLO Reach the flop with at least three other players21 Reach the flop in two consecutive hands42 Play a hand from the button and win or split the pot33 Lose with AA at showdown208 Reach a flop showing three cards of the same rank5025 Be dealt seven-deuce as your starting hand42 Be dealt a straight flush1,000300
Find Out More
Help Yourself to €20 Extra and a €200 Bonus
Now is the time to join the fun and games at Unibet Poker because signing up for a free account via PokerNews' links gives you an awesome welcome package.
If you don't have an account already, download Unibet Poker via PokerNews. Create your account, and make a deposit of at least €10. Doing so entitles you to €20 worth of tickets, plus entry into up to four €500 weekly welcome freerolls.
Your new Unibet Poker account comes with a €200 playthrough bonus. Play real money cash games, tournaments and HexaPro games, and your bonus money releases into your playable account balance at the frequencies shown below:
LevelRakeCash rewardReward % 1€2€150% 2€10€440% 3€50€1530% 4€150€4027% 5€588€14025%

Calum Grant
Editor & Live Reporter
Calum has been a part of the PokerNews team since September 2021 after working in the UK energy sector. He played his first hand of poker in 2017 and immediately fell in love with the game. Calum's proudest poker achievement is winning the only tournament he has ever played in Las Vegas, the prestigious $60 Flamingo evening event.