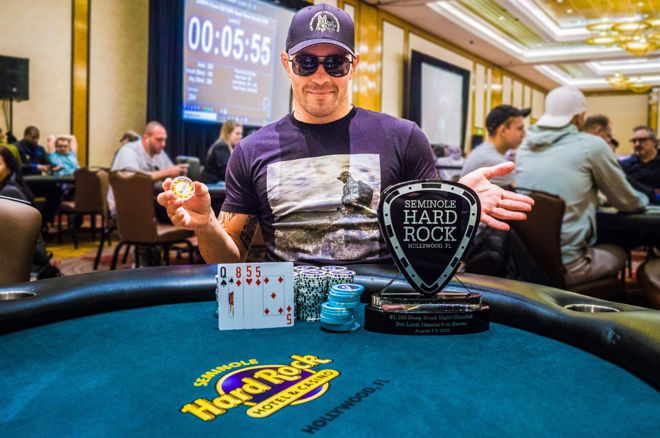 Colby Covington, one of the top welterweights in the UFC, is having quite a week at the poker tables during the 2022 Seminole Hard Rock Poker Open.
On Thursday, he won his third-ever Hendon Mob recorded live poker tournament, this one at the Seminole Hard Rock Hotel & Casino in Hollywood, Florida, a $25,875 score in a $1,100 buy-in pot-limit Omaha/8 event.
Plenty of Knockouts for UFC Fighter
The tournament attracted 84 entrants, none of whom were able to knockout a skilled mixed martial artist. This wasn't the first large score of the week for the South Florida local. Covington took seventh place for $48,295 for finishing in seventh place in the largest field poker tournament in the Sunshine State's history — $400 Deep Stack No-Limit Hold'em (7,703 entries).
"I wanted to come back and prove that wasn't just a fluke," said Covington, "And show that I could play with the best players in the world."
He certainly did prove he can compete at a high level in more than just mixed martial arts. The new poker champ was ecstatic to have won the tournament so close to home.
"It's a surreal feeling," Covington said of his win. "It's been a long journey to finally get a trophy here at Seminole Hard Rock. This is my home casino, and I love playing here."
The second ranked UFC welterweight was one of 11 players who cashed. He defeated David Shmuel, who received $15,890 for second place, heads up to win the title outright.
Covington said following his victory that part of his strategy was to avoid entering pots against three-time WSOP bracelet winner Phil Hui, who ended up in fourth place for $6,680. The strategy worked like a charm as the athlete won his first recorded poker tournament since 2018 when he shipped a $150 daily in Pompano Beach, Florida for $2,702.
2022 SHRPO Event #22 Final Table Results
PlacePlayerPrize 1Colby Covington$25,875 2David Shmuel$15,890 3Salvatore Pipitone$9,985 4Phil Hui$6,680 5Tony Cousineau$5,095 6Aaron Schaff$4,075 7Errol Massey$3,380 8Damjan Radanov$2,850
Learn More About the Seminole Hard Rock Hotel & Casino Hollywood Here!
Covington in the Octagon
As a UFC fighter, Covington has been almost unbeatable, so long as he isn't facing Kamaru Usman, whom he's lost to twice. Outside of those defeats, he's 17-1 in the octagon.
The 34-year-old is one of the toughest and also most controversial fighters around. His open support of former US president Donald Trump has made Covington a love-him-or-hate-him fighter. Whichever side you site on (love or hate), you can't deny his talents.
Covington also has a highly publicized feud with his former close friend and fellow MMA fighter, Jorge Masvidal, whom Covington defeated via unanimous decision at UFC 272 back in March, his most recent fight.
The two UFC stars had an infamous fallout over Masvidal disrespecting the poker player by saying he was "being a b***h.[" Over the past year, the feud has become perhaps the nastiest spat in UFC history.
"I'll f*****g kill you, bro," Masvidal told ESPN that Covington shouted. "Don't ever talk to me like that."
A decade ago, Masvidal had taken Covington under his wings and helped the young fighter grow. They held a strong bond for quite some time, but those days are long gone.
2022 SHRPO Winners Thus Far
*DateTournamentEntriesPrize PoolWinnerPrize*      July 27-August 1Event #1: $400 NLH Re-Entry7,703$2,541,990Andrew Pecina$225,906      27-JulEvent #2: $400 Seniors NLH 50+272$91,120Robert Garcia$15,364      27-JulEvent #3: $400 Big Stack Big O129$43,215Hal Rotholz$11,860      27-JulEvent #4: $200 Quad Stack Double Green Chip Bounty212$23,320Eric Halpern$5,495      28-JulEvent #5: $600 Limit Omaha 8109$57,225Aaron Kupin$17,015      28-JulEvent #6: $400 8-Handed PLO144$48,240Kahlil Francis$13,220      28-JulEvent #7: $150 Big Stack NLH297$35,046Darrell Carril$7,196      29-JulEvent #8: $400 Omaha 8/Stud 881$27,135Chris Labrie$5,328      29-JulEvent #9: $600 Double Black Chip Bounty NLH188$61,100Steve Olivier$12,478      29-JulEvent #10: $600 Black Chip Bounty 5-Card PLO149$63,325Vincent Fiorenza$17,240      30-JulEvent #11: $400 Pot-Limit Omaha 8124$41,540Sheila O'Connor$10,000      30-JulEvent #12: $300 Ladies NLH66$17,160Mica Lamar$5,000      31-JulEvent #13: $400 Deep Stack NLH505$169,175Donna Stutts$19,197      July 31-August 1Event #14: $1,100 Six-Max NLH262$254,140Vincent Chauve$58,030      July 31-August 2Event #15: $600 Deep Stack PLO500$260,000Duff Charette$48,075      31-JulEvent #16: $600 NLH Turbo100$53,000Jennifer Borsini$12,500      August 1-2Event #17: $1,100 Seniors 50+137$132,890Neil Blumenfield$31,670      August 1-3Event #18: $200 Big Stack NLH2,532$405,120Carlos Pino$54,720      August 1-2Event #19: $600 HORSE86$45,150Phil Hui$14,460      1-AugEvent #20: $400 NLH Turbo86$29,240Rob Brown$9,320      2-AugEvent #21: $600 Deep Stack 6-Max NLH257$134,925Nick Yunis$31,415      August 2-3Event #22: $1,100 Pot-Limit Omaha 884$81,480Colby Covington$25,875      3-AugEvent #25: $600 Double Black Chip Bounty PLO158$52,930Brandon Duvdivani$13,660      3-AugEvent #26: $200 Double Green Chip Bounty NLH395$43,500Jarett Minkoff$8,460      3-AugEvent #27: $1,100 Deep Stack Turbo NLH97$97,000James Rodriguez$29,185     
*Images courtesy of SHRPO.