Flavien Prat, who has had a hammerlock on the Southern California riding titles for the last several years, announced he would leave California and ride on the East Coast beginning next month.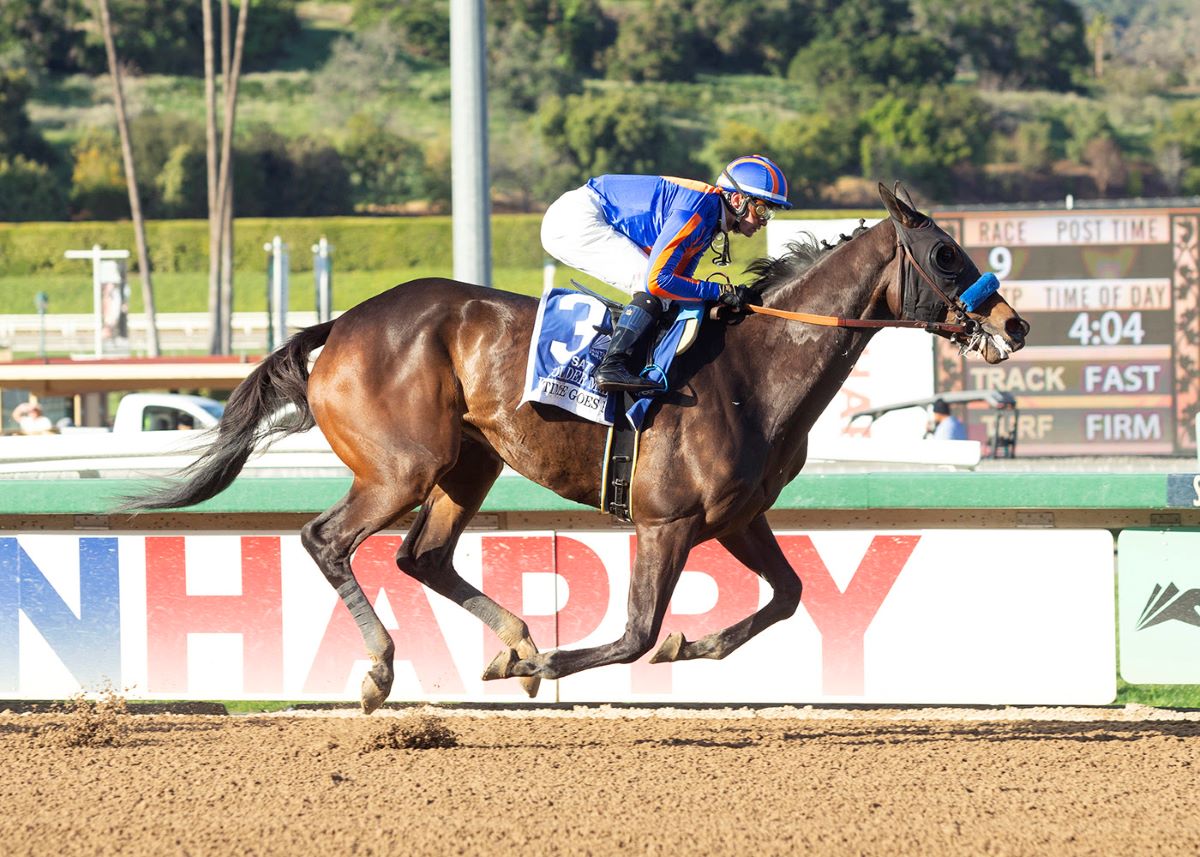 Top jockey Flavien Prat, seen here piloting As Time Goes By to the Grade 1 Beholder Mile win at Santa Anita Saturday, is leaving California for lucrative races in Kentucky and New York. (Image: Benoit Photo)
The Daily Racing Form broke the news that Prat would relocate to Kentucky for the Keeneland spring meet, then take his tack to New York for the duration of the year. That puts the 2021 Eclipse Award finalist in line to replace "finalist" with "winner." Prat lost the 2021 Eclipse for Outstanding Jockey to Joel Rosario, who primarily rides on the Eastern circuit.
"It feels like if you want to give yourself a chance to get an Eclipse Award that you need to go to New York," Prat told the DRF. "That's just the way it is. I never thought I'd leave here, to be honest."
His fellow Southern California jockeys probably won't miss Prat. After winning two of Santa Anita's three Grade 1s – along with a Grade 2 – Saturday, Prat is off to the races again. For the current winter/spring meet, he's leading Juan Hernandez, his closest pursuer, 57-35. Prat is winning races this meet at an incendiary 33% clip. A win rate above 20% is considered good for riders, a figure Prat has surpassed every year since 2017. Last year, Prat won 27% of his races.
Prat's mounts hit the board 69.1% of the time.
Prat won three of Santa Anita's six Saturday stakes
On one of Santa Anita's biggest race days of the season Saturday, Prat won the Grade 1 Beholder Mile aboard As Time Goes By and the Grade 1 Frank E. Kilroe Mile aboard Count Again. He added a Grade 2 victory in the San Carlos Stakes aboard Cezanne. That gives the 29-year-old native of France his ninth graded stakes score of the season at Santa Anita.
Prat owns the last five Santa Anita Winter/Spring riding titles, a record that enables him to cherry-pick big stakes races out of town. Last week, he was in Saudi Arabia, riding Country Grammer to a runner-up finish in the Saudi Cup. He won last year's Preakness Stakes aboard Rombauer and piloted Hot Rod Charlie to runner-up finishes in the Kentucky Derby and Belmont Stakes. With his victory via disqualification aboard Country House in the 2019 Derby, Prat needs the Belmont Stakes for a riding career Triple Crown.
Prat won six races in a day three times in the last two years at Santa Anita, most recently New Year's Day.
Riding at Belmont Park and Saratoga now, Prat will be at the regular disposal of A-list Eastern trainers such as Chad Brown and Todd Pletcher. As one of Bob Baffert's go-to jockeys, Prat will be available for horses Baffert periodically ships to New York.
Rispoli heading East as well
This news came on the heels of Umberto Rispoli announcing he was leaving Southern California for New York in April. The Naples, Italy native is currently seventh among Santa Anita riders with 14 wins from 106 mounts. His 49 victories during Del Mar's 2020 Summer Meet fell one shy of Prat's 50 for the meet riding title.
Last year, Rispoli won 94 of his 130 victorious races on grass, where his win percentage was 21%. Overall, he won 19% of his 2021 races.
Considered one of the top turf riders in the country, Rispoli began riding full time in the US in 2019.
The moves run counter to New York-based, Hall of Fame rider John Velazquez taking his tack to California this year. With Prat and Rispoli leaving the Southern California colony, Velazquez figures to pad his stats significantly this spring.