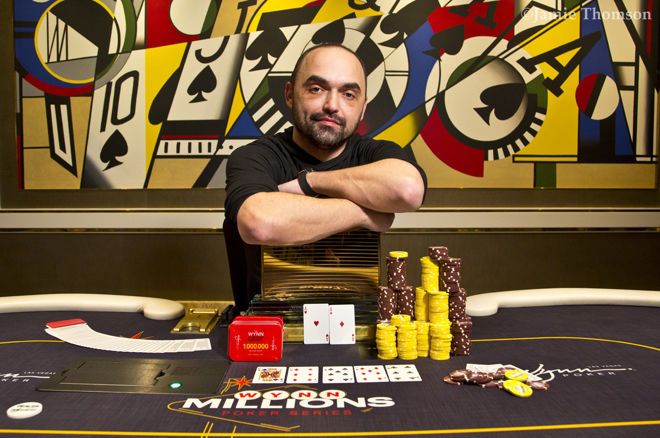 The 2022 Wynn Millions Main Event wrapped up early Saturday morning with New York's Tony Sinishtaj defeating Isaac Kempton during heads-up play to win the massive first-place prize of $1,655,952 and the Wynn golden trophy. Kempton also took home seven figures with a score of $1,093,314.
The prestigious $10,000-buy-in tournament lasted for six days and attracted a total of 1,075 runners to generate a huge $10,105,000 prize pool, surpassing the $10 million guarantee. The event had three starting flights and saw many of the biggest names in poker competing on the blue Wynn felt, including Daniel Negreanu, Jason Koon, Erik Seidel, Alex Foxen and Dan Smith.
Defending champion Andrew Moreno, who won the first-ever Wynn Millions Main Event in 2021 for 9$1,460,105, was looking to earn his second million-dollar score and made a deep run that ended with a 23rd-place finish for $71,657.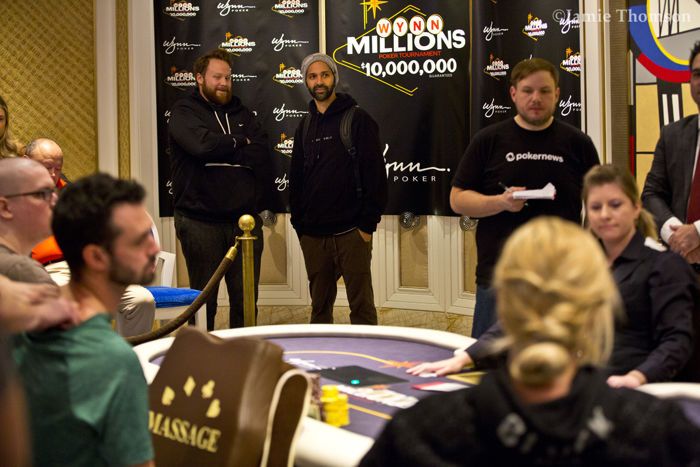 Defending champ Andrew Moreno takes in the action.
Play on Day 6 went on for more than 12 hours as the nine players who started the day were gradually eliminated. Those players include Alex Livingston (3rd – $745,749, Vanessa Kade (4th – $527,481), Tony Tran (6th – $304,161) and Sean Perry (8th – $202,9080).
Sinishtaj, who previously had $1,765,042 in tournament earnings, according to The Hendon Mob, including a victory at the 2017 Seminole Hard Rock Poker Showdown for $661,283, told PokerNews that his latest win is his sweetest.
"It has to be first," Sinishtaj said. "This is awesome."
2022 Wynn Millions Final Table Results
PlacePlayerCountryPayout (USD) 1Tony SinishtajUnited States$1,655,952 2Isaac KemptonUnited States$1,093,314 3Alex LivingstonCanada$745,749 4Vanessa KadeCanada$527,481 5Michael StemberaUnited States$390,053 6Tony TranUnited States$304,161 7Roland ShenUnited States$244,541 8Sean PerryUnited States$202,908 9Neng LeeUnited States$171,280
Final Table Action
Kade, a 2021 GPI Breakout Player nominee, entered the final table as chip leader and wasted no time putting her opponents in difficult situations, including an early hand where she shoved on Livingston, who was second in chips at the time.
Kade maintained the lead throughout most of the day but her run was tragically cut short when she called off with pocket aces in a pot against Sinishtaj, who had recently become the big stack, and saw the bad news when the eventual champion tabled a flush.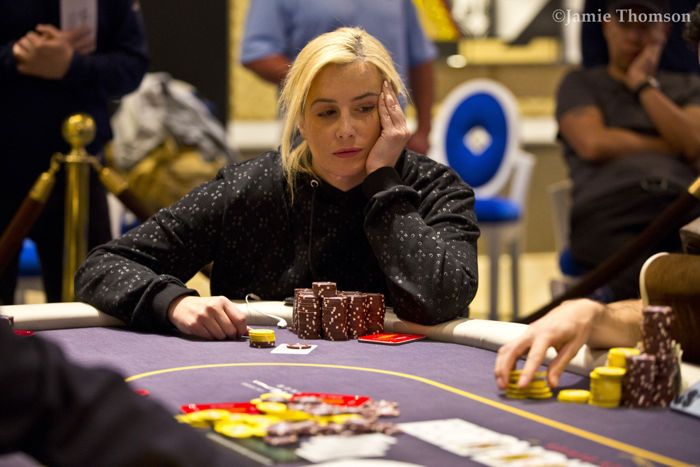 Vanessa Kade
After three hours of four-handed play, Livingston, who finished third in the 2019 World Series of Poker (WSOP) Main Event, was next out after losing most of his stack to Kempton in a hand where Livingston's two pair couldn't hold against the straight draw of Kempton, who doubled up and took the chip lead. Not long after, Livingston ran king-jack into the ace-king of Sinishtaj to bust.
Heads-up play lasted only a few minutes despite both players having deep stacks. Just three hands in, Kempton four-bet in position, and Sinishtaj check-called the whole way down. Kempton's last chips went in the middle on the river and Sinishtaj quickly called, showing pocket aces to defeat the pocket jacks of Kempton.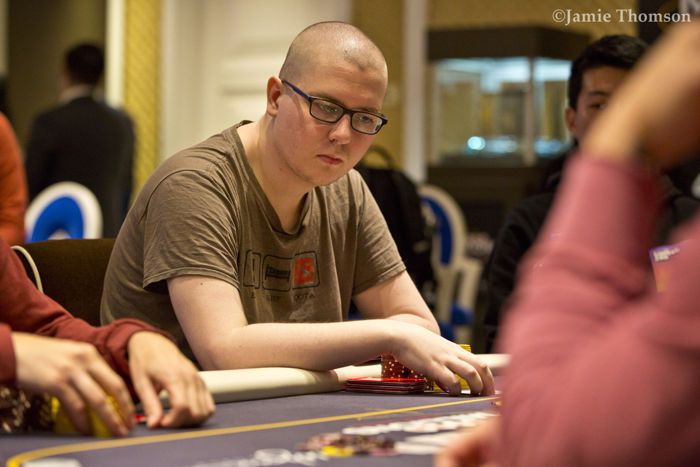 Isaac Kempton
"We were pretty deep. He opened, I three-bet, and then when he four-bets I'm going to just call there. If I shove, maybe he could get away from some big hands," Sinishtaj said when asked about his strategy in the hand.
Sinishtaj further elaborated on his strategy going into the final table: "Coming in I had a bad seat with the chip leaders to my left, so I played tight and kind of tried to ladder, play tighter than normal. But then once I got the chip lead, I kind of tried to switch it around on them a little bit."
Sinishtaj described how it felt to win a career-best $1,655,952 and the coveted Wynn trophy:
"Amazing," he said simply.
That does it for PokerNews coverage of the 2022 Wynn Millions Main Event, but there the series rolls on for another week. Here's a look at the remaining schedule:
Remaining 2022 Wynn Millions Schedule
Date(s)Buy-InTournamentGuarantee 3/11-3/14$3,500No-Limit Hold'em$2,000,000 3/13$5,200NLH Progressive Bounty$250,000 3/14-3/16$400No-Limit Hold'em$100,000 3/16$400No-Limit Hold'em$40,000 3/17-3/20$1,000No-Limit Hold'em$500,000 3/20$550No-Limit Hold'em$50,000
Is this the funnest hand from the 2022 Wynn Millions?
Here's a look at all those who've captured titles thus far at the 2022 Wynn Millions:
*DateTournamentEntriesPrize PoolWinnerHometown/CountryPrize*  2/21/22$400 NLH $40K GTD313$107,985Gabriel Jin GohNew Zealand$17,000  2/22/22$400 NLH $40K GTD261$90,045Ray TeasdaleChula Vista, CA$14,047  2/22/22$400 Limit Omaha 8/B $25K GTD140$48,300Wesley GronhoudNekoma, ND$11,961  2/23/22$400 NLH Seniors $40K GTD348$120,060Lawrence BeachDecatur, GA$19,290  2/24-2/27/22$1,600 Wynn Mystery Bounty2,103$3,049,350Eddy KonarskeEnglewood, CO$222,072  2/28-3/1/22$1,100 NLH Seniors $100K GTD246$239,850Mark SeifLas Vegas, NV$60,610  3/1/22$400 PLO $25K GTD191$65,895Rishi MakkarCanada$18,229  3/1/22Event #1: $10K NLH High Roller49$490,000Jake SchindlerLas Vegas, NV$166,600  3/2/22Event #2: $15K NLH High Roller40$600,000Daniel NegreanuLas Vegas, NV$216,000  3/7/22Event #3: $10K NLH High Roller60$600,000Ali ImsirovicBosnia$180,000  3/8/22Event #4: $10K NLH High Roller73$730,000Bin WengUSA$189,800  3/9/22Event #5: $15K NLH High Roller43$645,000Brekstyn SchuttenUSA$219,300  3/8-3/9/22$1,600 PLO/NLH $100K GTD194$282,270Maziar KeshavarziUSA$61,698  3/9-310/22$3,000 6-Max NLH $200K GTD276$759,000Cliff JosephyUSA$154,670  3/10-3/11/22$3,000 NLH $1k Bounty $200K GTD200$350,000Ben DieboldUSA$96,810  3/4-3/11/22$10,000 Wynn Millions $10M GTD1,075$10,105,000Tony SinishtajUSA$1,655,952 
Sharelines
Tony Sinishtaj topped a 1,075-entry field to win @WynnPoker 2022 #WynnMillions for $1,655,952.