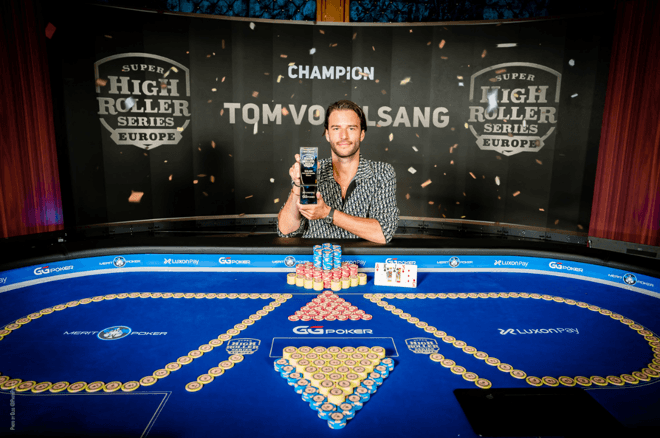 Tom Vogelsang defeated Laszlo Bujtas in heads-up play to win Event #1: $25,000 Pot-Limit Omaha and claim the $360,000 top prize as well as the first title of the 2022 Super High Roller Series Europe (SHRS).
The SHRS has returned to Europe to the Merit Crystal Cove Resort and Casino in North Cyprus for 10 tournaments with buy-ins ranging from $25,000 to the $250,000 Super High Roller Bowl Main Event.
The Nederlander finally took one down after a near-miss in the $100,000 No-Limit Hold'em event during the Triton Poker Special Edition Series that preceded the SHRS Europe. Hungarian runner-up Butjas grabbed $240,000 for falling to Vogelsang in second, while Rok Gostisa won $160,000 for third.
Raphael Schreiner, Ali Imsirovic, and Eelis Parssinen rounded out the top-six paying spots, and Imsirovic added a few points to his lead on the PokerGO Tour leaderboard with another high roller finish in the money.
SHRS Europe Event #1: $25,000 Pot-Limit Omaha Final Table Results
PlacePlayerCountryPrize 1Tom VogelsangNetherlands$360,000 2Laszlo BujtasHungary$240,000 3Rok GostisaSlovenia$160,000 4Raphael SchreinerAustria$110,000 5Ali ImsirovicBosnia and Herzegovina$80,000 6Eelis ParssinenFinland$50,000
With the win, Vogelsang jumped to fifth on the overall SHRS Europe leaderboard, currently led by Phil Ivey. The overall leaderboard will track the number of PokerGo Tour points earned throughout the series and the top finisher will win the SHRS Championship and a $25,000 bonus.
SHRS Europe Championship Standings
RankPlayerCountryPoints 1Phil IveyUnited States1,039 2Andras NemethHungary700 3Winfred YuHong Kong700 4Elton TsangHong Kong653 5Tom VogelsangNetherlands616 6Laszlo BujtasHungary606 7Ivan LeowMalaysia537 8Mike WatsonCanada528 9Wai Kiat LeeUnited States504 10Teun MulderNetherlands450
Best Free to Play Slots
Event #2 Gets Underway
The $50,000 Short Deck tournament kicked off on the second day of the series and drew 42 entries to generate a prize pool of $2.1 million. Each of the returning players is guaranteed at least $105,000, with the winner taking home the top prize of $756,000.
Mikita Badziakouski holds a commanding chip lead over the rest of the final table, with more than double that of Jason Koon in the second position. Koon is looking to finish strong and pass Ivey, who sits at the top of the overall SHRS leaderboard thanks to securing his fourth cash of the series in the Short Deck event.
Ivey is followed by Wai Kiat Lee in fourth and Stephen Chidwick in fifth. Lun Loon rounds out the remaining six players that will return on Saturday for their shot at the title.
SHRS Europe Event #2: $50,000 Short Deck Final Table Seat Draw
SeatNameCountryChip Count 1Wai Kiat LeeMalaysia1,215,000 2Stephen ChidwickUnited Kingdom1,110,000 3Lun LoonMalaysia515,000 4Jason KoonUnited States2,620,000 5Mikita BadziakouskiBelarus5,660,000 6Phil IveyUnited States1,480,000
Click for live updates from the PokerGO Live Reporting team
Where to Watch the Final Table?
The final six players of Event #2 will return at 1 p.m. EEST on Saturday, April 9 and the final table will air with David Tuchman and Brent Hanks doing the commentary on the PokerGO YouTube channel at 7 a.m ET and 4 a.m. PT.
*Images courtesy of Merit Poker
Save $20 on an annual subscription to PokerGO by using the code "EU22WEB" at check out. Sign up here.

Matt Hansen
Live Reporting Executive
Las Vegas-based PokerNews Live Reporting Executive, originally from Chicago, IL