The Denver Broncos pulled off a huge blockbuster trade with the Seattle Seahawks to acquire quarterback Russell Wilson and they saw a bump in their Super Bowl 57 odds from +1800 to +1200. Meanwhile, the Green Bay Packers also saw improvement in their Super Bowl 57 odds from +1500 to +750 after they signed Aaron Rodgers to the richest contract in NFL history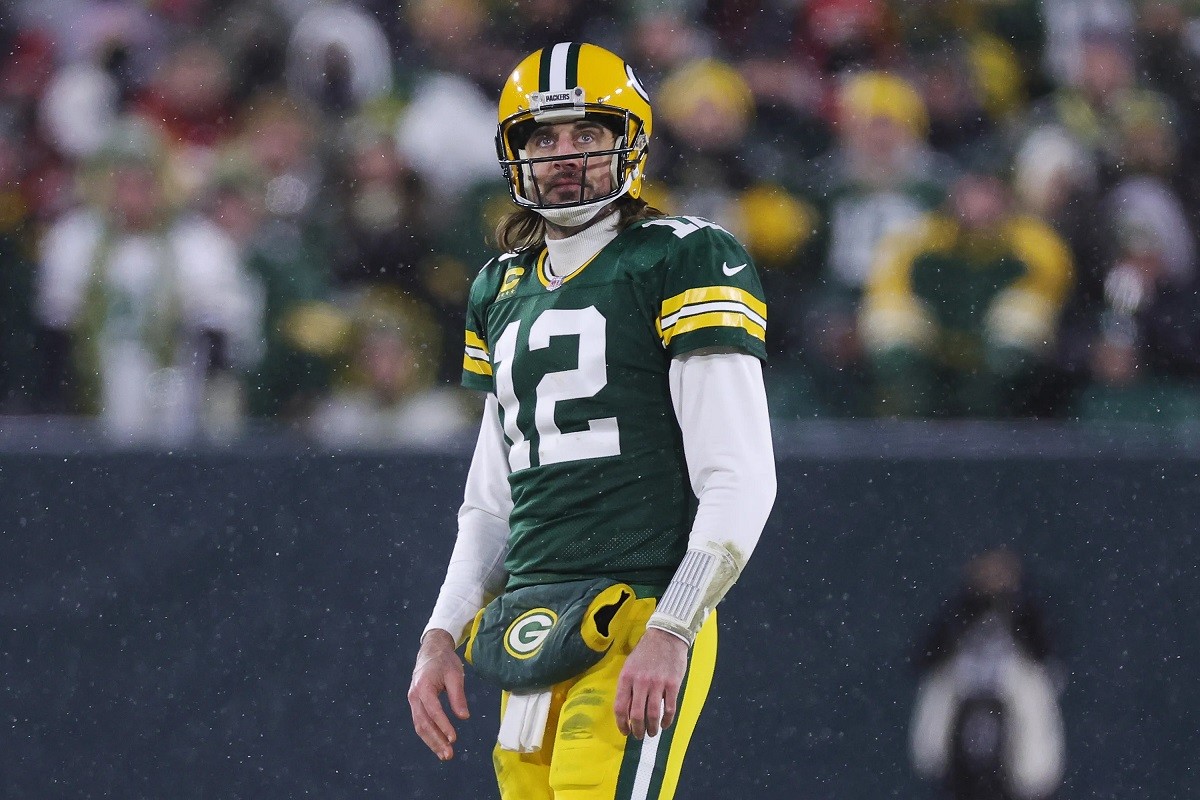 Aaron Rodgers stayed with the Green Bay Packers for $200 million, and they saw a huge surge in their Super Bowl 57 odds. (Image: Getty)
Right after Super Bowl 56 ended, oddsmakers installed the Kansas City Chiefs and Josh Allen as co-favorites at +700 odds. That has not changed.
NOW
2/14/2022
Kansas City Chiefs
+700
+700
Buffalo Bills
+700
+700
Green Bay Packers
+750
+1500
LA Rams
+1000
+1000
Denver Broncos
+1200
+1800
San Francisco 49ers
+1300
+1400
Dallas Cowboys
+1400
+1400
Cincinnati Bengals
+2200
+1200
Baltimore Ravens
+2200
+1800
Tennessee Titans
+2200
+2200
Arizona  Cardinals
+2200
+2500
LA Chargers
+2500
+2500
Tampa Bay Bucs
+3000
+2200
Indianapolis Colts
+3000
+2500
New England Patriots
+3500
+2500
Minnesota Vikings
+3500
+3500
Cleveland Browns
+3500
+3500
New Orleans Saints
+4000
+3000
Washington Commanders
+4000
+5000
Philadelphia Eagles
+4500
+4000
Miami Dolphins
+5000
+4000
Pittsburgh Steelers
+6000
+4000
Las Vegas Raiders
+6000
+5000
Carolina Panthers
+6000
+5000
Atlanta Falcons
+8000
+5000
Chicago Bears
+9000
+6500
New York Giants
+9000
+6500
Seattle Seahawks
+10000
+3500
Jacksonville Jaguars
+13000
+8000
Detroit Lions
+15000
+15000
New York Jets
+20000
+15000
Houston Texans
+20000
+15000
The defending-champion LA Rams were installed at +1000 odds to repeat, and their Super Bowl 57 odds did not move.
Moving Up: Packers, Broncos, Commanders
The Green Bay Packers won 13 games in each of the last three seasons. Rodgers won the MVP in each of the last two seasons, but the Packers failed to reach the Super Bowl once again. They were upset by the San Francisco 49ers in the NFC Divisional Round, after they had consecutive losses in the NFC Championship Game in the two previous seasons.
With Rodgers locked up for the next four seasons for $200 million, the onus is on him to deliver another trip to the Super Bowl and a championship. The Packers jumped from +1500 odds to +750 odds in the last 48 hours since news broke that Rodgers will return to the frozen tundra of Lambeau Field.
The Denver Broncos still have a long way to go before they win the Super Bowl, but at least the addition of Wilson puts them in a position to compete in the AFC West. Patrick Mahomes and the Kansas City Chiefs owned the Broncos the last few seasons, so it will be fun to watch a Mahomes/Wilson shootout in the next few years. With that said, the Broncos saw their Super Bowl 57 odds move from +1800 to +1200 after word got out about the Wilson trade with the Seahawks.
The Washington Commanders whiffed in their pursuit of Wilson, and the did not get Jimmy G even though they were rumored to acquire him in a trade with the San Francisco 49ers. It feels like the Commanders had no choice but to settle on renting Carson Wentz for a season. At any rate, he's better that Taylor Heinicke. The Commanders saw a bump in their Super Bowl 57 odds from +5000 to +4000, but it's nothing close to the movement from the Packers or Broncos.
Downtick: Bengals, Seahawks, Bucs
After the Seahawks shipped Wilson to the Broncos in exchange for Drew Lock, their Super Bowl futures tanked. The Seahawks were only +3500 odds with Wilson at quarterback, but plummeted to +10000 with Lock under center.
At +10000 odds, the Seahawks were demoted and lumped into the bottom five with the bottom feeders like the Jacksonville Jaguars (+13000), Detroit Lions (+15000), New York Jets (+20000), and Houston Texans (+20000).
The Cincinnati Bengals saw downward movement in their Super Bowl 57 odds in the last couple of weeks. Joe Burrow and the Bengals were +1200 odds shortly after their loss to the Rams in Super Bowl 56, but you can now back them at +2200 odds.
The Tampa Bay Bucs dropped from +2200 to +3000 odds after Tom Brady retired. The Bucs were interested in acquiring Wilson, but they knew they were longshots. Bruce Arians and the Bucs now set their sights on Deshaun Watson. But how much will they have to overpay the Houston Texans to give up their troubled and disgruntled quarterback?
The New Orleans Saints dropped from +3000 to +4000 over the last few weeks. Their new number accounted for head coach Sean Payton abruptly retiring, in addition to their shaky quarterback situation.
The New York Giants have a new general manager and head coach, but their Super Bowl odds slipped from +6500 to +9000. I wonder what will happens when the Giants sign Mitchell Trubisky? I can see an argue for their odds getting a bump up and down with Trubisky vying for a starting QB job against Daniel Jones.