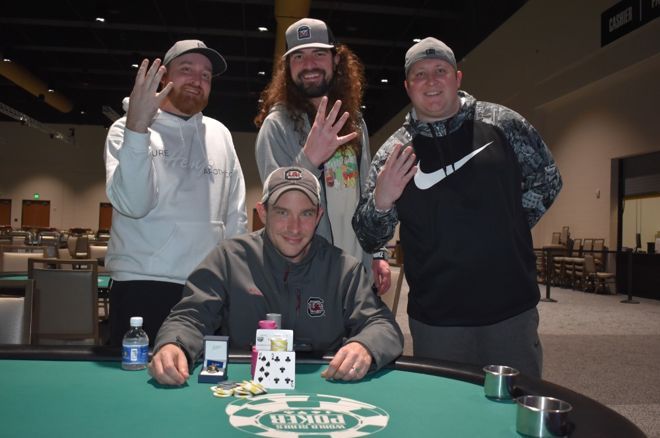 The World Series of Poker (WSOP) Circuit Harrah's Cherokee in North Carolina wrapped up this week and saw Mark Davis of Birmingham, Alabama winning Event #12: $1,700 Main Event to earn his first gold Circuit ring and a massive payday of $334,678.
The latest WSOP Circuit stop consisted of 16 ring events with buy-ins ranging from $250 to $1,700 to generate $6.4 million in prize money. The Main Event generated the largest prize pool of the series, $2.1 million, with 1,402 entrants.
Davis defeated Adam Ney after entering heads-up play with a significant chip disadvantage. Davis was able to hang on and eventually took the chip lead from Ney, who was eliminated when his pocket deuces couldn't hold up against the ace-nine of Davis. For his second-place finish, Davis earned a cash of $206,844.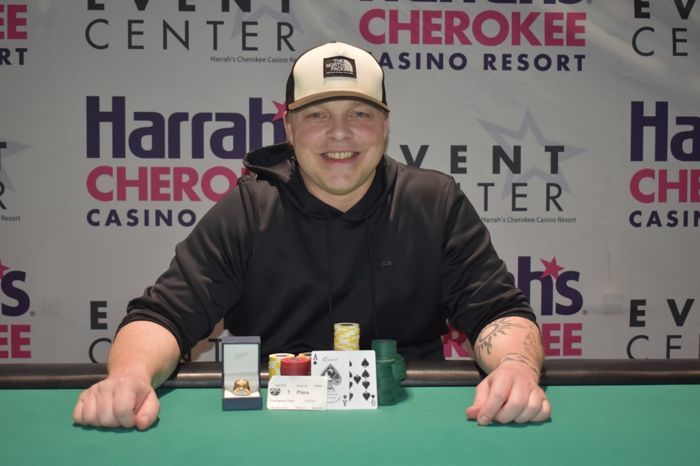 Mark Davis
WSOPC Harrah's Cherokee Main Event Full Results
 PlacePlayerHometownPrize  1Mark DavisBirmingham, AL$334,678  2Adam NeyAtlanta, GA$206,844  3Chris GeorgeRockwell, GA$157,423  4Scott DobbsCovington, GA$120,760  5Kevin MorrisElmira, NY$93,376  6Dale RoeselHixson, TN$72,783  7Nicholas PowerMcdonough, GA$57,192  8Pawley ThomasFayetteville, NC$45,309  9Todd BartlettDallas City, IL$36,191
Other players who cashed in the Main Event include Will Jaffe (20th – $16,016), Eric Salazar (38th – $6,107), Kenneth Aldridge (73rd – $3,844) and all-time ring leader Maurice Hawkins (87th – $3,504).
Albrinck Wins Third Ring
An early highlight of the series occurred in Event #2: $400 NLH when Cincinnati's Brad Albrinck got through a massive field to win $141,330 and his third career WSOP Circuit ring.
The event attracted a total of 3,334 entrants and generated an impressive $1.1 million in prize pool money, making it the largest event of the series and the only tournament outside of the Main Event to generate seven figures.
Albrink defeated Michael Suggs of Carmel, Indiana during heads-up play after dominating a final table that he entered as chip leader. Suggs earned $86,958 for his runner-up finish, while other players at the final table included Joshua Dean (3rd – $65,732), Raymond Brint (4th – $51,787) and Daniel Vo (5th – $38,591).
Brad Albrinck
Albrinck, who has $1.4 million in tournament earnings, according to The Hendon Mob, got his first gold ring in 2013 when he took down the WSOPC Horseshoe Cincinnati Main Event for $221,994. Just a few years later, the Cincinnatian won the 2016 WSOP Harrah's Cherokee Main Event to earn his biggest WSOP score to date worth $275,877.
"It feels really good to get back on a big score, it's been a long time coming," Albrinck said after his most recent victory.
Sullivan Wins 6-Max Event Back-to-Back
Later in the series, Russell Sullivan of West Columbia, South Carolina earned his fourth ring by winning Event #6: $400 NLH 6-Max for $44,390, giving him back-to-back victories in the only 6-max event of the series.
The 6-max tournament attracted 721 runners to generate $237,930 in prize money. Richard Myers finished in second for $27,436, ahead of Casteel Veasley (3rd – $19254), Kevin Blewitt (4th – $13,723), Ryan McAllister (5th – $9,935) and Nicholas Drake (6th – $7,308).
Sullivan's third ring came just months after he took down Event #5: 6-Max No-Limit Hold'em at the 2021 WSOP Circuit Harrah's Cherokee for $43,132, just shy of the score he received with his latest victory.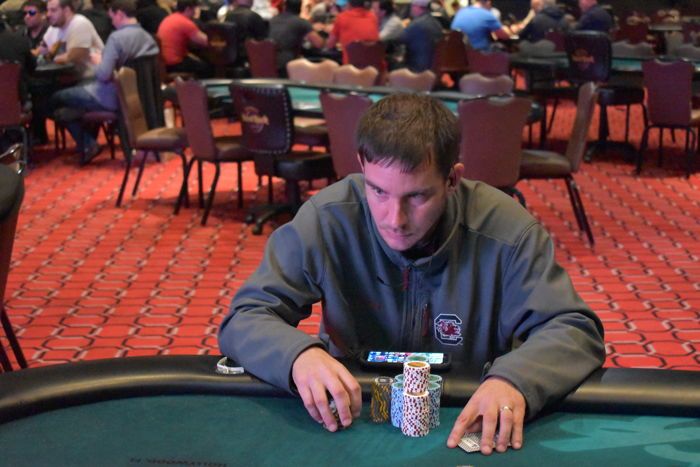 Russell Sullivan
Sullivan, a business owner and regular on the Circuit scene, dedicated his latest ring to his wife, who he said: "has backed and been behind me with everything including my business."
"My wife and three beautiful children were here for a few days which was absolutely amazing, without their support I wouldn't be able to do this, I wouldn't be winning any rings."
Little Continues Hot Streak
Closing out the WSOP Circuit stop, Timothy Little of Hyattsville, Maryland won the second Seniors Event of the series to earn his second ring and $27,186. Little took down the $250-buy-in tournament after defeating Michael Musselwhite during heads-up play, who earned $16,804.
Little, who has $1.1 million in tournament earnings, has had a fantastic run of cards the last six months that included a third-place finish worth $210,004 in Event #43: Double Stack No-Limit Hold'em, which was eventually won by Anthony Denove for $446,983.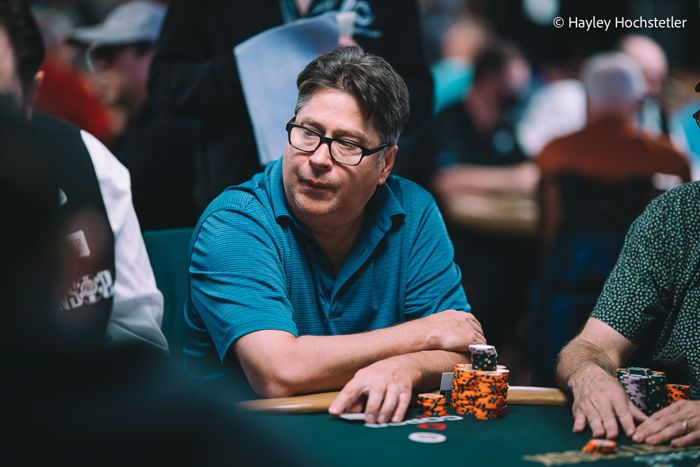 Timothy Little
Just weeks ago, Little finished fourth in the 2022 WSOP Circuit Isle Casino Pompano Park Main Event to earn $69,842.
Little earned his first Circuit ring in 2015 at WSOP Circuit Horseshoe Baltimore when he took down Event #12: $365 No-Limit Hold'em Turbo for $11,844.
A full list of winners at 2022 WSOP Circuit Harrah's Cherokee is available below.
The next stop on the WSOP Circuit will be at The Bicycle Casino in Los Angeles from March 5-16.
2022 WSOPC Harrah's Cherokee Ring Winners
 TournamentEntriesPrize PoolWinnerHometownPrize  Event #1: $400 NLH Double Stack475$156,750Charles HeplerLexington, NC$30,629  Event #2: $400 NLH3,334$1,100,220Brad AlbrinckCincinatti, OH$141,330  Event #3: $400 NLH706$232,980Robert BourkneyN Collins, NY$42,410  Event #4: $400 NLH Seniors781$257,730David GoreMarietta, GA$45,608  Event #5: $600 NLH430$221,450Jack SheaPfafftown, NC$44,492  Event #6: $400 NLH 6-Max721$237,930Russell SullivanWest Columbia, SC$44,390  Event #7: $400 Pot-Limit Omaha353$116,490Braxton MooreKnoxville, TN$24,732  Event #8: $400 NLH Monster Stack2,264$747,120Rush SmithAtlanta, GA$106,113  Event #9: $400 NLH452$149,160Richard VielhakSmyrna, GA$29,602  Event #10: $1,100 NLH387$377,325Raul GarzaAlton, TX$74,995  Event #11: $250 NLH Ladies196$39,200Barbara SmithChattanooga, TN$9,450  Event #12: $1,700 Main Event1402$2,124,030Mark DavisBirmingham, AL$334,678  Event #13: $400 NLH396$130,350Albert PeterlinDurham, NC$26,744  Event #14: $400 NLH543$179,190Cristian TuicaLawrenceville, GA$33,799  Event #15: $250 NLH Seniors763$152,600Timothy LittleHyattsville, MD$27,186  Event #16: $400 NLH Double Stack658$217,140Lonny WeitzelTexarkana, TX$40,234
*Images courtesy of WSOP.