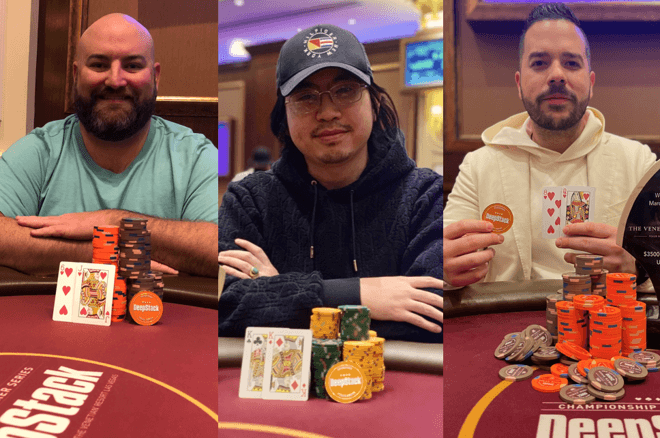 In the month of March, Venetian Las Vegas played host to the 2022 March DeepStack Showdown, which was comprised of 34 events. The series catered to a combined 5,963 entrants and awarded $4,757,159 in prize money.
Among the winners throughout the series were Laurette Thurber (Event #14: $600 NLH Monster Stack for $22,565), Kao Saechao (Event #19: $600 NLH Monster Stack for $18,658), Peter Hengsakul (Event #21: $1,100 NLH Ultimate Stack for $60,193), Roland Israelashvili (Event #24: $400 NLH Bounty for $4,127), Orlando Barrera (Event #29: $400 NLH Monster Stack for $47,892), and Michael Hack (Event #33: $400 NLH Seniors for $14,745).
Here's a look at a few other notable winners from the series.
Scott Stewart Victorious in Monster Stack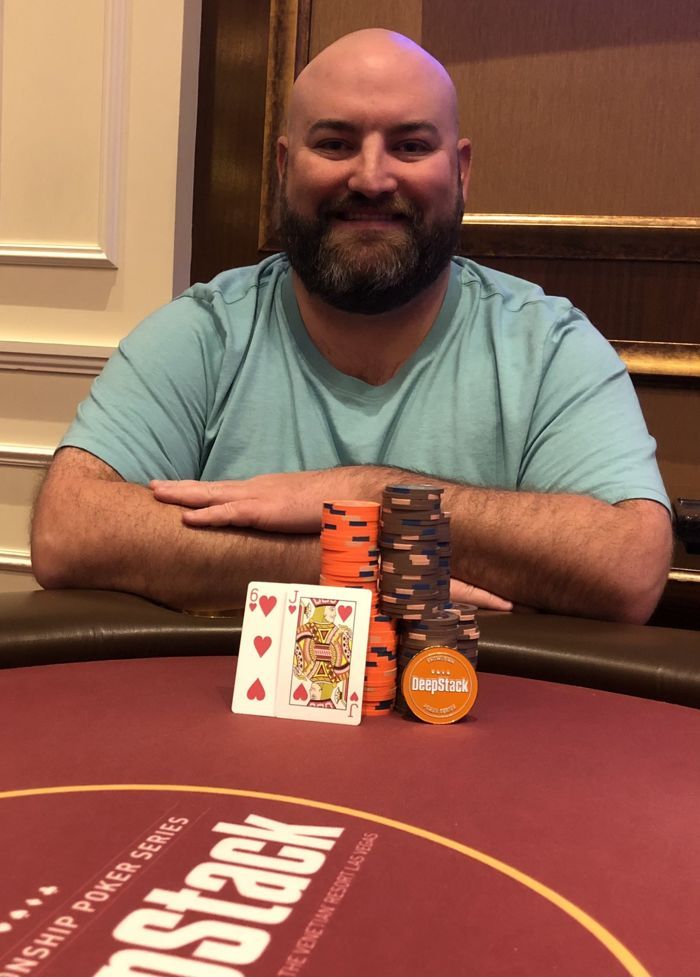 Scott Stewart victorious!
On March 3, Event #5: $1,100 NLH Monster Stack saw 252 players generate a $244,440 prize pool, which was paid out to the top 27 finishers. Among those to cash were Ben Palmer (4th – $17,844), Hyo Joo (6th – $10,022), Lucas Braden (11th – $4,498), David Coleman (17th – $3,324), Said El Harrak (21st – $2,982), and Bin Weng (26th – $2,444).
The final two players worked a deal that saw Florida's Ronald Sullivan finish in second place for $45,000 while well-known poker pro Scott Stewart, a six-time World Series of Poker (WSOP) Circuit ring winner, claim the title for $51,752 and the trophy.
Event #5 Final Table Results
PlacePlayerHometownPrize 1Scott StewartLakewood, California$51,752* 2Ronald SullivanRiverview, Florida$45,000* 3George LongLas Vegas, Nevada$27,133 4Ben PalmerLas Vegas, Nevada$17,844 5Andrew RodgersAnchorage, Alaska$13,444 6Hyo JooPalisades Park, New Jersey$10,022 7Eshaan BhallaSan Francisco, California$7,871 8Peter AsmuthBozeman, Montana$6,111 9Laurette ThurberMurrieta, California$5,182
Bracelet Winner Kenny Huynh Captures Venetian Title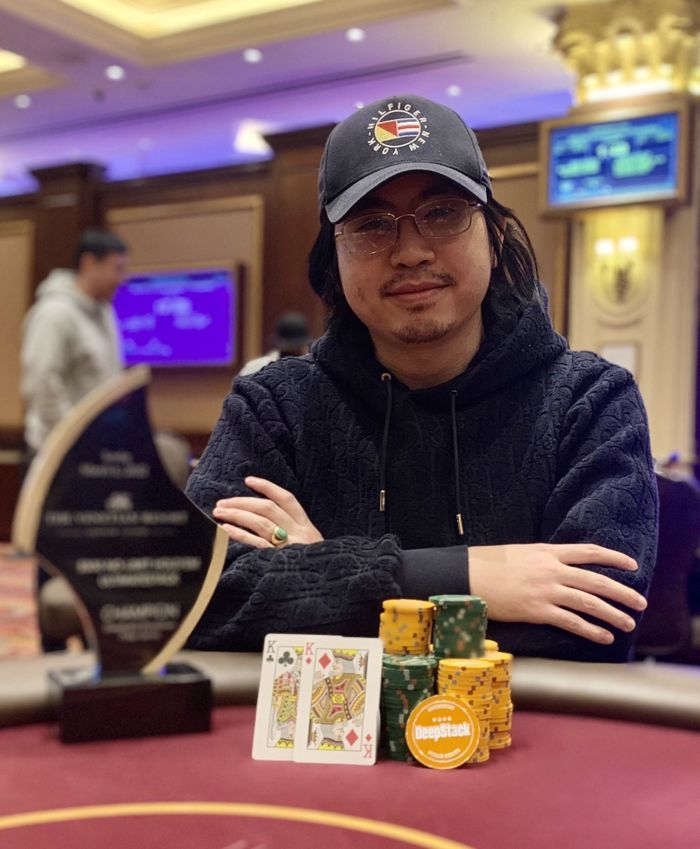 Kenny Huynh gets the job done!
On March 6, Event #7: $800 NLH Ultimate Stack had 464 entrants compete for their share of a $320,160 prize pool. Only the top 54 finishers got paid including Rishi Makkar (5th – $16,648), Josh Turner (8th – $7,044), Raffaele Sorrentino (17th – $3,362), Michael Lacy (22nd – $2,561), Spencer Simpson (32nd – $1,921), Dalton Smith (41st – $1,761), and Peter Hengsakul (49th – $1,601).
The tournament ended in a heads-up deal that saw Timothy Pai take second for $51,669 in prize money while Kenny Huynh took first for $56,224. Back in 2020, Huynh, who plays online as "Chopuh", won a gold bracelet when he took down the WSOP Online Event #19: $400 No-Limit Hold'em for $133,857.
Event #7 Final Table Results
PlacePlayerHometownPrize 1Kenny HuynhSewell, New Jersey$56,224* 2Timothy PaiSan Jose, California$51,669* 3Julian ManolioVienna, Virginia$30,895 4David YonnottiLas Vegas, Nevada$22,091 5Rishi MakkarCanada$16,648 6Rupesh PattniDuarte, California$12,486 7Josh MokSan Diego, California$9,285 8Josh TurnerMissouri City, Texas$7,044 9Ricardo GonzalezBakersfield, California$5,763
*Denotes heads-up deal.
Farid Jattin Continues His Winning ways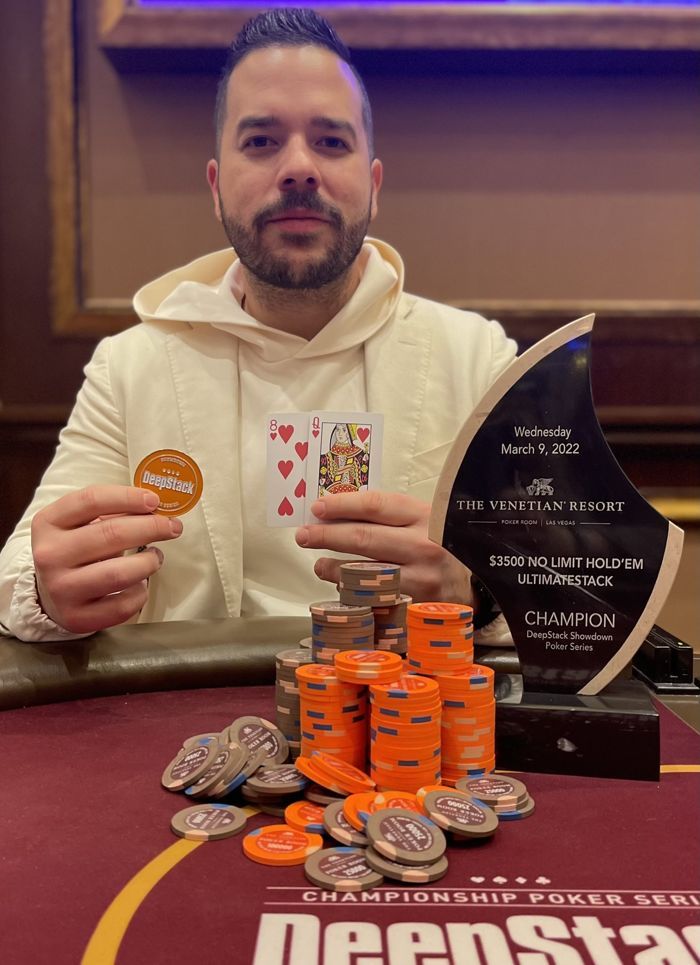 Farid Jattin
On March 9, Event #10: $3,500 NLH Ultimate Stack attracted 409 runners and offered up a $1,288,350 prize pool. That was paid out to the top 45 finishers, and among those to cash but fall short of the final table were Ravi Raghavan (45th – $7,730), Michael Wang (38th – $7,730), Ryan Laplante (36th – $8,374), Kenny Huynh (31st – $8,374), Bin Weng (18th – $15,074), Anthony Zinno (15th – $17,393), Nick Pupillo (11th – $19,969), and final table bubble boy David Coleman (10th – $23,834).
The final table had some accomplished players such as James Romero (8th – $28,988), Adam Hendrix (4th – $90,185), and Padraig O'Neill (3rd – $127,547), but ultimately it was well-known poker pro Farid Jattin defeating Jeff Tanouve in heads-up play to win the tournament for a $272,357 payday.
Event #10 Final Table Results
PlacePlayerHometownPrize 1Farid JattinMiami, Florida$272,357 2Jeff TanouveLas Vegas, Nevada$181,657 3Padraig O'NeilIreland$127,547 4Adam HendrixAnchorage, Alaska$90,185 5Zachary DonovanHenderson, Nevada$67,638 6Antonio HerediaSpain$50,890 7Jacob FerroCrystal River, Florida$38,651 8James RomeroLas Vegas, Nevada$28,988 9Curt KohlbergBoston, Massachusetts$23,834
Free to Play Slots in the US
2022 March DeepStack ShowdownWinners
DateTournamentEntriesPrize PoolWinnerHometownPrize  Event #1: Mega Satellite      3/2/22Event #2: $2,500 NLH Ultimate Stack393$894,075Ankit AhujaUnited Kingdom$189,013 3/1/22Event #3: $300 NLH Survivor90$22,5009 winnersN/A$2,500  Event #4: Mega Satellite      3/3/22Event #5: $1,100 NLH Monster Stack252$244,440Scott StewartLakewood, CA$51,752 3/3/22Event #6: $400 NLH Survivor72$26,3347 winnersN/A$3,400 3/6/22Event #7: $800 NLH Ultimate Stack464$320,160Kenny HuynhSewell, NJ$56,224 3/4/22Event #8: $400 NLH Survivor85$29,0708 winnersN/A$3,400  Event #9: Mega Satellite      3/9/22Event #10: $3,500 NLH Ultimate Stack409$1,288,350Farid JattinMiami, FL$272,357  Event #11: Mega Satellite       Event #12: Mega Satellite      3/8/22Event #13: $300 NLH Bounty132$33,000Richard MullenCanada$4,006 3/9/22Event #14: $600 NLH Monster Stack179$91,290Laurette ThurberMurrieta, CA$22,565 3/9/22Event #15: $400 Pot-Limit Omaha 8/B78$26,520Leonard AugustNorth Bergen, NJ$7,727 3/13/22Event #16: $800 NLH Ultimate Stack543$374,670Matthew LuiHenderson, NV$54,047 3/10/22Event #17: $300 NLH Survivor65$16,2506 winnersN/A$2,500 3/11/22Event #18: $300 Pot-Limit Omaha66$22,440Rupresh PattniDuarte, CA$7,000 3/13/22Event #19: $600 NLH Monster Stack211$107,610Kao SaechaoRenton, WA$18,658  Event #20: Mega Satellite      3/16/22Event #21: $1,100 NLH Ultimate Stack285$273,600Peter HengsakulLos Angeles, CA$60,193  Event #22: Mega Satellite      3/16/22Event #23: $600 NLH Monster Bounty179$91,290Michael FioritoManalapan, NJ$19,236 3/16/22Event #24: $400 NLH Bounty53$18,126Roland IsraelashviliForest Hills, NY$4,127 3/17/22Event #25: $400 NLH Monster Stack118$39,530David HirschlerMarietta, GA$9,017 3/17/22Event #26: $400 NLH Bounty56$19,152Matthew LevineLas Vegas, NV$4,113 3/21/22Event #27: $600 NLH Double Stack572$288,860Junghyun CheonSouth Korea$56,763 3/21/22Event #28: $400 NLH Monster Stack118$39,530Michael BestLone Tree, CO$10,212 3/27/22Event #29: $400 NLH Monster Stack1,074$357,642Orlando BarreraLas Vegas, NV$47,892 3/22/22Event #30: $300 NLH Bounty63$15,750Cindy SpierNewton, MA$3,309 3/21/22Event #31: $300 NLH Survivor71$17,7507 winnersN/A$2,500 3/22/22Event #32: $300 NLH Survivor72$18,0007 winnersN/A$2,500 3/27/22Event #33: $400 NLH Seniors182$60,970Michael HackNorth Las Vegas, NV$14,745 3/27/22Event #34: $300 NLH Bounty81$20,250John HullUnited Kingdom$3,887
The next tournament series is already underway at Venetian in the DeepStack Extravaganza II. It began on March 28 and will run through May 1 offering more than $1.7 million in guaranteed prize pools along the way. Click here for a look at the full schedule.
*Images courtesy of Venetian Poker.

Chad Holloway
Executive Editor U.S.
Executive Editor US, PokerNews Podcast co-host & 2013 WSOP Bracelet Winner.