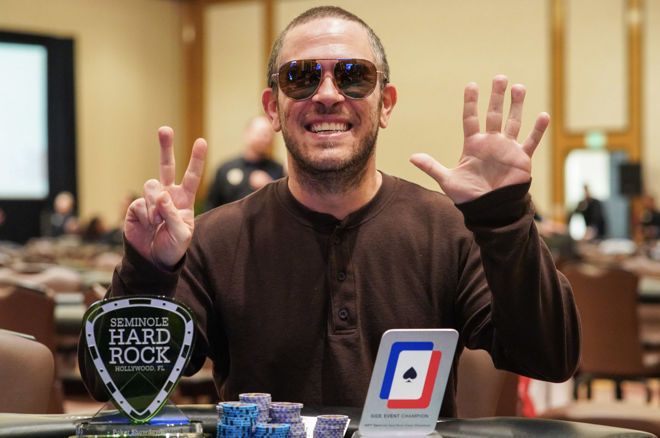 Israeli poker pro Yuval Bronshtein has had a magnificent series at the WPT Seminole Hard Rock Poker Showdown that has brought him two titles so far for a total of seven SHRP victories.
With the latest victory, Bronshtein, who recently moved to South Florida and became a regular in the local mixed game scene, first took down a $600 Eight-Max Pot-Limit Omaha event for $20,630 and later shipped the $1,100 H.O.R.S.E. Championship to win $21,645.
Bronshtein, who has $2.1 million in Hendon Mob-reported cashes, is now tied in second on the all-time SHRP title list with David Prociak and Gabe Ramos, with Raminder Singh out in front after winning his eighth title earlier this series.
Still alive in Day 2 of the Championship Event as he looks for an eighth title, Bronshtein took a moment on Saturday to chat with PokerNews about his tremendous run thus far.
Third Time Winning Two Series Titles
On April 5, Bronshtein got through a field of 126 players to take down Event #24, $600 Eight-Max Pot Limit Omaha, defeating Eugene Kotlyarevskiy during heads-up play, who in turn took home $12,800.
Event #24, $600 Eight-Max Pot Limit Omaha Final Results
 PLACEPLAYERPRIZE (IN USD)  1Yuval Bronshtein$20,630  2Eugene Kotlyarevskiy$12,800  3Albert Barney Jr.$7,840  4Brendan Shiller$4,760  5James Chen$3,695  6Jairo Velasquez$3,050  7Sanharib Mikhaiel$2,665  8Michael Newman$2,385
Just days later, the six-time SHRP champion took down Event #33: $1,100 H.O.R.S.E. Championship, getting through a field of 62 players and defeating heads-up opponent Nick Pupillo to win the seventh title.
Event #33: $1,100 H.O.R.S.E. Championship Final Results
 PLACEPLAYERPRIZE (IN USD)  1Yuval Bronshtein$21,645  2Nick Pupillo$12,720  3Leonard August$7,970  4Jerry Wong$5,415  5Ari Engel$4,210  6Filippos Stavrakis$3,310  7Long Nguyen$2,705  8Maury Barrett$2,165
Already an amazing feat, the two victories were made more impressive by the fact that they mark the third time Bronshtein has won two titles in a single series at this very venue. His first victory was at the 2021 Lucky Hearts Poker Open, while he later earned two titles at next year's LHPO and the 2021 and 2022 Seminole Hard Rock Poker Opens.
"I mean, all it is, for me, is just (having) fun," Bronshtein told PokerNews about his recent victories. "I live here, I like playing tournaments, it's just enjoyable for me. Especially like the mixed games and stuff. And just kind of good practice and preparation for the World Series of Poker."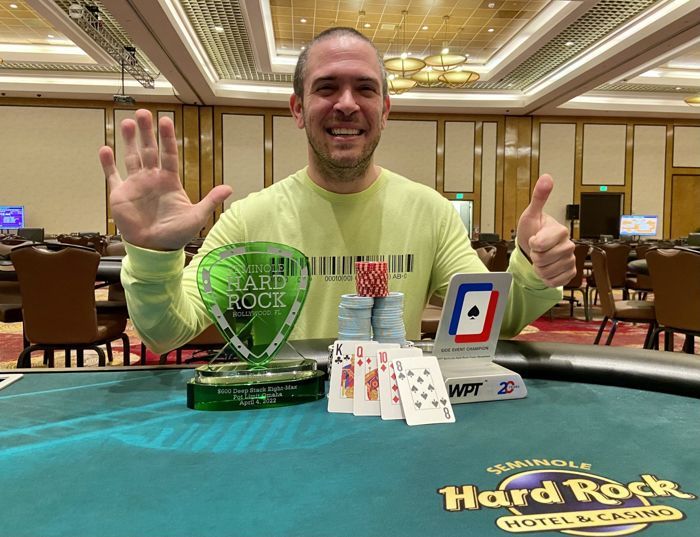 Yuval Bronshtein
While many have reacted to Bronshtein's recent feat (one player even came up to congratulate Bronshtein in the middle of his PokerNews interview), he insisted that he is "not all into the records or number of wins."
"But I am super competitive," he added. "So if I jump in a tournament I'm playing it to win, I know that if you want to profit in playing tournaments you have to go for the wins. I take pride in the fact that I close the tournaments, when I get to the end I have a really high percentage of wins."
Mixed Game Master
Notably, all seven of Bronshtein's SHRP titles have been in mixed games, including Pot-Limit Omaha, Omaha 8 or Better and Omaha 8/Stud 8.
"I've been playing mixed games a long time," the seven-time champion said. "I started off playing no-limit Hold'em and then I got into mixed games simply by opening Full Tilt one day and just seeing a Razz game going on or something and jumped in."
All these years later, with Full Tilt long gone, Bronshtein has stuck with the poker variants because "it's fun to just mix it up and play different games, as opposed to just playing the same game all the time."
"Especially nowadays. The no-limit Hold'em tournaments are really tough, a lot tougher than they used to be. So I feel like there's more of an edge in mixed games also if you're really good. And yeah, I've found success with it so just stuck with it, pretty much."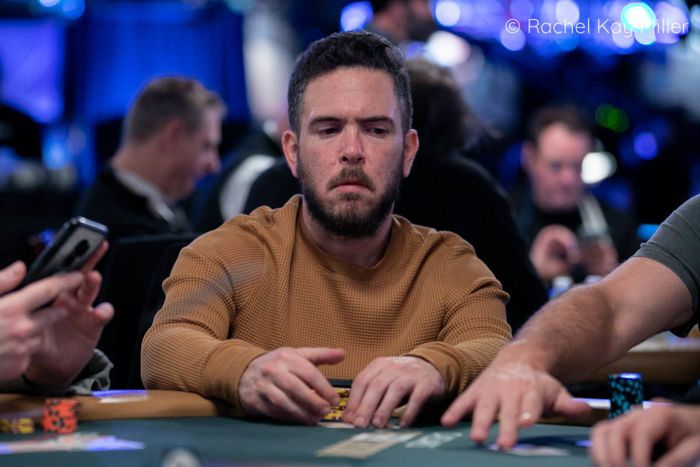 Yuval Bronshtein
Does the mixed game expert have any advice for novices interested in branching out beyond no-limit Hold'em? Read Doyle Brunson's Super System 2 "just to kind of understand a lot of basics" of mixed games."
"Obviously you can't really found your game on that, but if you're someone who's just kind of looking to learn the rules and basics, that's a really good starting point," he advised.
Bronshtein further recommended scavenging poker streams for mixed game content and learning by watching.
"I didn't do all that," he admitted. "I kind of just jumped in and learned as I went along. But by now, I've played hundreds of thousands of hands, so I just kind of trained myself that way."
No Limit to His Poker Talent
Though Bronshtein's recent victories have led him to be painted as a mixed game specialist, the poker pro pointed out that he has had plenty of success in no-limit Hold'em tournaments as well. In fact, his largest cash came from a 23rd-place finish in the 2012 WSOP Main Event that earned him $294,601.
"I started playing no-limit Hold'em before any other games," he said. "I feel like my no-limit game is great. I don't feel like I'm way better at mixed games."
That said, Bronshtein said he mainly plays the mixed games because "it works easier with my schedule" and "more laid back, it's less people."
Follow the action in the WPT Seminole Hard Rock Poker Showdown by checking out WPT's live updates.