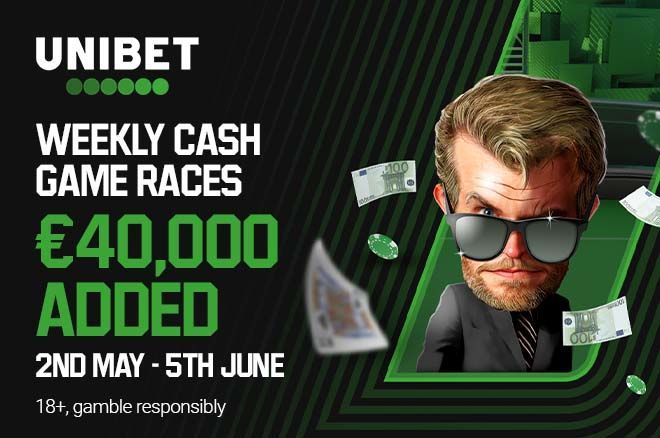 Cash games at Unibet Poker already have a reputation for being on the softer side and that is especially true throughout May and up to June 5 thanks to the Unibet €40,000 Flop Race promotion.
The Unibet €40,000 Flop Race encourages players to see more flops in cash games. You earn leaderboard points by seeing flops in No-Limit Hold'em and Pot-Limit Omaha cash games, so the more flops you see, the more points you earn!
Please note: Banzai games are not eligible for this promotion
Three leaderboards, split by the cash games' stakes, are waiting for you to climb each week. See flops at NL/PL10 and NL/PL25 tables to earn points for the Low leaderboard. Jump into NL/PL50 and NL/PL100 games to compete in the Medium leaderboard, and NL/PL200 and NL/PL400 games to earn points for the High leaderboard.
The Best 5 Online Poker Tournaments on Unibet for €10 or Less
In addition, the points you earn are multiplied depending on the game and stakes you play for, so bear this in mind when you decide to get your grind on in your flop seeing mission!
MultipluerLowMidHigh* 1NL10NL50NL200 1.5PL10, NL25PL50, NL100PL200, NL40 2PL25PL100PL400
You can grab some bonus points and consolation points each day, too. Reach 100 flops in a single day and you receive 30 free leaderboards points. Endure a losing day and Unibet Poker gives you 1 point for each big blind lost up to 100 big blinds each day! Low stakes are limited to 10 points, Mid to 50 points, and High to 200 points.
Unibet Poker Launches All Encompassing GameLab Feature
The leaderboards run on a weekly basis from Monday through to Sunday before resetting at midnight. This continues until the promotion concludes on June 5 having paid out €40,000 to Unibet Poker cash game players.
Finish in the money places on the leaderboards to win a cash prize ranging from €5 right up to a cool €1,000. Imagine winning up to €1,000 just for splashing around in pots and seeing flops! Sounds like fun to us!
Low PlaceLow PrizeMid PlaceMid PrizeHigh PlaceHigh Prize 1€2001€7001€1,000 2€1502€5002€800 3€1253€3503€600 4€1004€2754€450 5€755€2005€300 6€506€1506€200 7€407€1007€150 8€308€758-12€100 9€209€50   10-14€1510-25€25   15-20€10     21-75€5    
Help Yourself to €20 Extra and a €200 Bonus
Now is the time to join the fun and games at Unibet Poker because signing up for a free account via PokerNews' links gives you an awesome welcome package.
If you don't have an account already, download Unibet Poker via PokerNews. Create your account, and make a deposit of at least €10. Doing so entitles you to €20 worth of tickets, plus entry into up to four €500 weekly welcome freerolls.
Unibet Poker Spices Things Up With the Exciting Daily Specials
Your new Unibet Poker account comes with a €200 playthrough bonus. Play real money cash games, tournaments and HexaPro games and your bonus money releases into your playable account balance at the frequencies shown below:
LevelRakeCash rewardReward % 1€2€150% 2€10€440% 3€50€1530% 4€150€4027% 5€588€14025%