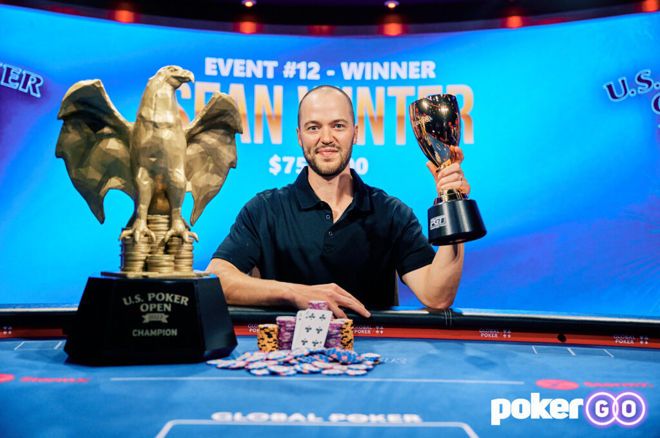 After finishing in second-place for two years in a row, Sean Winter is the winner of the US Poker Open Championship. Winters earned the 2022 golden eagle trophy in epic fashion as he had back-to-back victories in the two final events of the series, including Event #12: $50,000 No-Limit Hold'em, which he took down on Monday for $756,000.
Winters, who finished runner-up to David Peters at both the 2019 and 2021 USPO, defeated Japan's Masashi Oya during heads-up play to deny him the tournament victory, and to also deny fellow Japanese grinder and friend Tamon Nakamura the title of USPO champion.
Nakamura, who won both Event #4: $10,000 Big Bet Mix and Event #6: $15,000 8-Game, was a massive favorite heading into the day as a first-place finish and a first-place finish only could bump Winter up to the top of the series leaderboard.
Some DRAMA at the U.S. Poker Open: @Nolez7 vs. @OYAMASASHI88 for the Main Event title.
— Jeff Platt (@jeffplatt)
"It means a lot," Winter, who had had a quiet series up to the end, told PokerGO commentator Jeff Platt after the from-behind victory. "I'm kind of speechless right now. I was just getting destroyed all series, obviously, and I was kind of grateful for that because it motivates me to do well and the buy-ins went up. I kind of just got lucky in that regard and good winning when I need to."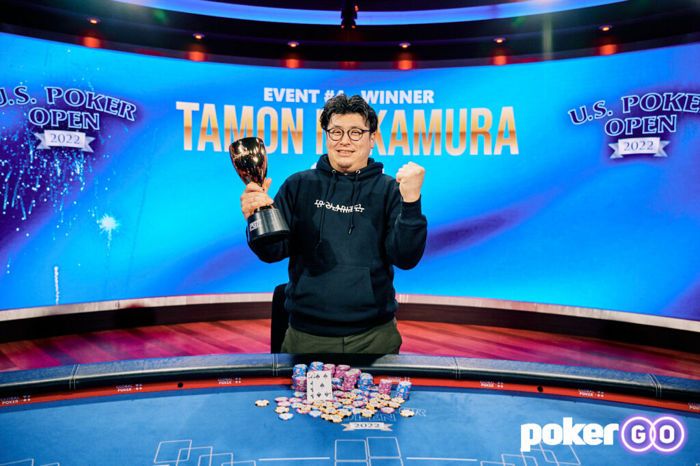 Tamon Nakamura
Winter, who on Sunday defeated Ali Imsirovic during heads-up play to win Event #11: $25,000 No-Limit Hold'em for $440,000, gave a shoutout to Nakamura and acknowledged that he was a massive underdog to win the USPO championship.
"Hats off to (Nakamura)," he said. "At the start of yesterday's tournament, I had to be one percent to win, less? I don't know. I wasn't even thinking about having a shot at all."
2022 US Poker Open Championship Standings
 RANKPLAYERCOUNTRYPOINTS  1Sean WinterUnited States718  2Tamon NakamuraJapan588  3Alex FoxenUnited States488  4Chino RheemUnited States481  5Phil HellmuthUnited States464  6Shannon ShorrUnited States441  7Erik SeidelUnited States428  8Dylan WeismanUnited States414  9Masashi OyaJapan414  10Adam HendrixUnited States356
Narrow Road to Victory
The final event of the series had the biggest buy-in, $50,000, and attracted 42 runners to generate $2.1 million in prize money. Winter entered the seven-handed final table on Monday as the second shortest stack but didn't let that deter him.
Jake Schindler busted on the money bubble in seventh place, while Dan Smith was the first player eliminated in the money for $105,000 when he got it in dominated, holding king-ten to the Blick Slick of Zhuang Ruan.
Next out was Shannon Shorr, who ran his ace-king ran smack into the pocket aces of Oya. Shorr, who took down the first event of the series for $213,900, earned a payday of $168,000 for his fifth-place finish, which also landed him sixth on the USPO leaderboard.
Shorr was the other sweat for Nakamura in the final event as a victory or second-place finish could have won him the overall championship.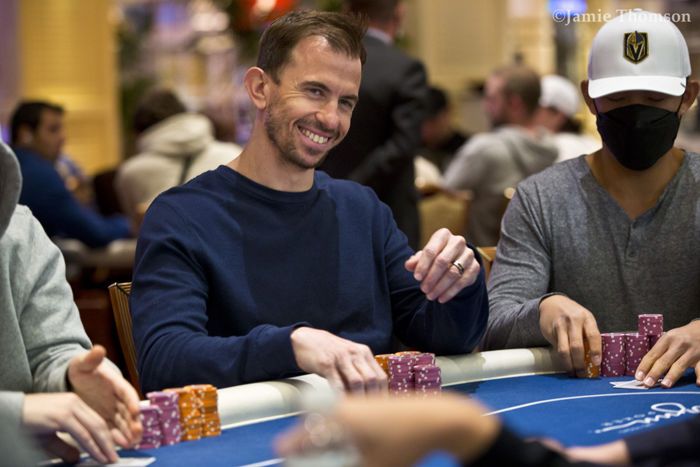 Shannon Shorr
Ruan, who entered the final table as chip leader, fell in fourth place for $336,000 when he ran a massive river bluff against Oya while holding
on a board of
. Oya, holding
for a pair of queens, bet 295,000 on the river and Ruan raised all-in to 1.5 million with just eight-high. Oya called and his opponent hit the rail the begin the heads-up battle against the USPO Champion-hopeful.
Event #12: $50,000 No-Limit Hold'em Final Results
 PlacePlayerCountryPrize  1Sean WinterUnited States$756,000  2Masashi OyaJapan$504,000  3Zhuang RuanUnited States$336,000  4Vikenty ShegalUnited States$231,000  5Shannon ShorrUnited States$168,000  6Dan SmithUnited States$105,000
The two started about even in chips before Oya took an early lead, though Winter stole the lead in a big pot where when his king-four got there against the pocket queens of his opponent.
It was the ladies that would doom Oya as he picked up
in the final hand against the
of Winter. The flop came
to give Winter trips, and he raised to 625,000 when facing a bet of 250,000 from Oya. Oya just called, only to raise all-in on the
turn when facing another bet from Winter. Winter snapped and Oya was drawing to two outs as the
bricked off on the river.
Nakamura was inside the PokerGO Studio and sweating his friend, who he later said started playing poker in October 2021, while he also sweated holding onto the top spot of the USPO leaderboard. After both their defeats, Nakamura took to Twitter to congratulate Winter, who he said "was really great."
おおやさん健闘しましたが、2位で終了です! そして、僕のプレイヤーオブシリーズも2位で終了しました!
— 中村多聞/ポラえもん/Tamon Nakamura (@tamonten10)
PokerGo commentator Nick Schulman, who himself competed in this year's USPO, congratulated Winter on the hard-fought victory.
"This guy's such a battler for so many years, nice to see him get the 'W,'" said Schulman. "I mean, that's an all-time player."
After runner-up finishes at the last two USPO series', Winter took the victory in stride.
"I'm good at winning when I need to, basically," Winters told Platt with a smile.
A list of winners at the 2022 USPO is available in the table below.
2022 US Poker Open Winners
 TOURNAMENTENTRIESPRIZE POOLWINNERCOUNTRYPRIZE (IN USD)  Event #1: $10,000 No-Limit Hold'em93$930,000Shannon ShorrUnited States$213,900  Event #2: $10,000 Pot-Limit Omaha77$770,000Justin YoungUnited States$200,200  Event #3: $10,000 No-Limit Hold'em88$880,000Adam HendrixUnited States$211,200  Event #4: $10,000 Big Bet Mix53$530,000Tamon NakamuraJapan$169,600  Event #5: $10,000 No-Limit Hold'em66$660,000Jeremy AusmusUnited States$178,200  Event #6: $15,000 8-Game47$705,000Tamon NakamuraJapan$239,700  Event #7: $15,000 No-Limit Hold'em70$1,050,000Alex FoxenUnited States$283,500  Event #8: $15,000 Pot-Limit Omaha67$1,005,000Chino RheemUnited States$217,350  Event #9: $25,000 No-Limit Hold'em63$1,575,000Erik SeidelUnited States$472,500  Event #10: $25,000 Pot-Limit Omaha49$1,225,000Dylan WeismanUnited States$416,500  Event #11: $25,000 No-Limit Hold'em55$1,375,000Sean WinterUnited States$440,000  Event #12: $50,000 No-Limit Hold'em42$2,100,000Sean WinterUnited States$756,000
Check out the PokerNews US Poker Open Hub here!
*Images courtesy of PokerGO.