Along with a purse boost of $1.1 million from 2021, the New York Racing Association announced Saratoga Race Course's 2022 stakes schedule Tuesday. The schedule features 77 stakes spread over the 40-day meet, where horsemen and women will race for $22.6 million in purses.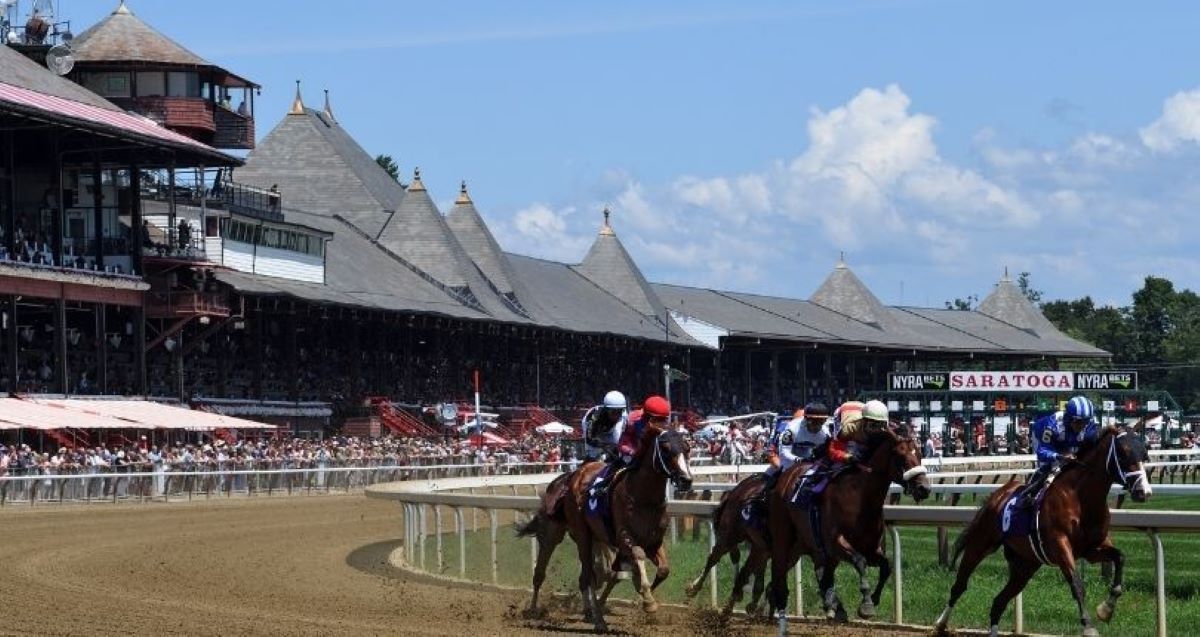 Summer at Saratoga features 77 stakes races worth $22.6 million over 40 days. (Image: Chelsea Durand)
Headlining that stakes schedule as always is the $1.25 million Travers Stakes Aug. 27 and the $1 million Whitney Aug. 6. Those are two of Saratoga's 19 Grade 1 events, which begin Saturday, July 16 with the $500,000 Diana and conclude with the $300,000 Hopeful on Closing Day: Monday, Sept. 5.
Saratoga's season opens Thursday, July 14 and runs through Labor Day, Sept. 5. That opening weekend is a four-day racing week, after which Saratoga will race five days a week (Wednesdays-Sundays) until the final week that features that Labor Day closer.
Opening Day features the $135,000 Wilton, which debuts Saratoga's Wilson Chute. The 3-year-old fillies running the Wilton will be the first contestants using the reconstructed chute, which NYRA officials restored and brought back for the first time since 1992.
Whitney Day offers three Grade 1s
Named after Richard Wilson, an early 20th century banker and former president of the Saratoga Racing Association, the Wilson Chute brings back one-mile races to Saratoga. The reconstructed chute will follow the original chute that takes runners along the Clubhouse Turn.
The first of Saratoga's two major racing days is Whitney Day, Aug. 6. The 1 1/8-mile Whitney is one of three Grade 1 events that day, offering a berth in the Breeders' Cup Classic to its winner. On the Whitney undercard are the seven-furlong, Grade 1 $500,000 Test Stakes for 3-year-old fillies and the $1 million Saratoga Derby Invitational. That 1 3/16-mile turf test is the second jewel of the Turf Triple series for sophomores.
As it usually is, Travers Day offers one of the biggest days of racing anywhere in the country. The 153rd edition of the Travers, one of the most prestigious races of the year for 3-year-olds, is one of six stakes — five being Grade 1s — Saturday, Aug. 27.
One of the deepest undercards of the year
On the Travers undercard are the Grade 1 $750,000 Sword Dancer, which offers an automatic berth to the Breeders' Cup Turf to its winner. There's the Grade 1 $600,000 Personal Ensign taking older fillies and mares 1 1/8 miles and the Grade 1 $600,000 Forego, a seven-furlong sprint for older horses.
Rounding out Saratoga's Grade 1 offerings that day is the $500,000 H. Allen Jerkens Memorial, one of the top sprint events for sophomores. That was the lone race standout Life Is Good lost last year, getting nipped by Jackie's Warrior.
Saratoga-2022 Key Summer Meet Stakes Races
Race
Grade
Distance
Eligible Horses
July 16
Diana
I
1 1/8 miles (turf)
4-and-up, Fillies & Mares
July 23
American Oaks
I
1 1/8 miles
3-year-old Fillies
July 30
Vanderbilt
I
6 furlongs
3-and up
Aug. 6
Whitney
I
1 1/8 miles
4-and-up
Aug. 6
Test
I
7 furlongs
3-year-old Fillies
Aug. 6
Saratoga Derby Invit.
I
1 3/16 miles (turf)
3-year-olds
Aug. 13
Fourstardave
I
1 mile (turf)
3-and-up
Aug. 20
Alabama
I
1 1/4 miles
3-year-old Fillies
Aug. 27
Travers
I
1 1/4 miles
3-year-olds
Aug. 27
Sword Dancer
I
1 1/2 miles (turf)
4-and-up
Aug. 27
Personal Ensign
I
1 1/8 miles
4-and-up, Fillies & Mares
Aug. 27
Forego
I
7 furlongs
4-and-up
Aug. 27
H. Allen Jerkens
I
7 furlongs
3-year-olds
Aug. 28
Ballerina
I
7 furlongs
3-and-up, Fillies & Mares
Sept. 3
Jockey Club Gold Cup
I
1 1/4 miles
3-and-up
Sept. 4
Spinaway
I
7 furlongs
2-year-old Fillies
Sept. 5
Hopeful
I
7 furlongs
2-year-olds
Along with the Hopeful, closing weekend at Saratoga offers up the Grade 1 $1 million Jockey Club Gold Cup Saturday, Sept. 3. NYRA said it will bump that purse up to $1.25 million should a Grade 1 winner start that race. The following day, Sunday, Sept. 4, brings the Grade 1 $300,000 Spinaway, one of the year's top races for juvenile fillies.
Saratoga will play host to two steeplechase Grade 1s: the $150,000 A.P. Smithwick Memorial July 20 and the $150,000 Jonathan Sheppard Aug. 17.
Fox Sports will televise the meet with its popular "Saratoga Live" show for the seventh season, airing races on the flagship Fox network, along with FS1 and FS2.