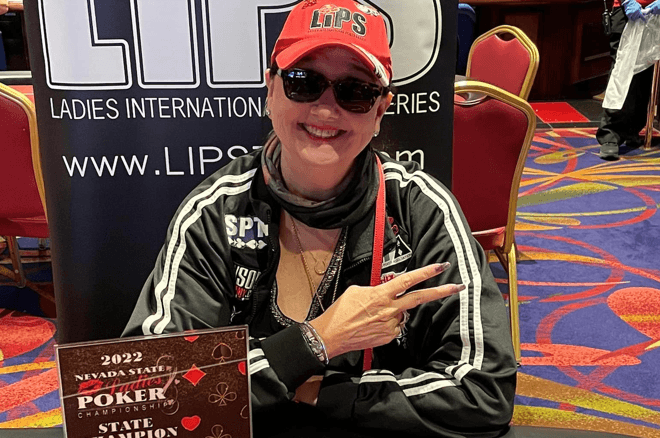 The 2022 Nevada State Ladies Poker Championship by Ladies International Poker Series (LIPS) ran from April 19-24 at South Point Casino in Las Vegas. Poker Hall of Famer Linda Johnson and Women in Poker Hall of Famer Jan Fisher hosted the nine-event series, which culminated with a $550 buy-in Nevada State Championship Event.
The tournament attracted 157 entrants and surpassed the $50K guarantee by generating a $78,500 prize pool. Coming out on top was a familiar face in Ruth Hall, who claimed an $18,537 top prize to bring her lifetime tournament earnings up to $370K according to the Hendon Mob. In 2020, Hall was honored as the Women's Poker Association (WPA) Player of the Year.
It marked the second time that Hall claimed the prestigious title. She previously topped a 294-entry field to win the $300 buy-in tournament in 2019 at Orleans Casino. That victory was good for $14,614. She also finished in seventh place out of 317 entries for $2,980 in the 2021 edition.
The win was especially sweet for Hall, who has been dealing with some serious health issues, specifically Ménière's Disease. In the past, attacks have forced her to leave tournaments with a healthy chip stack still in play, that is when she was up for playing at all. Fortunately for her, the support of family and friends, who have offered to help he with travel and accommodations, gave her both opportunity and newfound motivation.
"It's hard to beat a person who never gives up and that's why I was able to come back and win," the two-time breast cancer survivor told PokerNews. "I went from thinking I hope to min-cash at best with 23 ladies left, to taking six players out at the final table. I'll never give up on poker or living my life It felt great to win this title again after struggling to survive!"
2022 Nevada State Ladies Poker Championship Final Table Results
PlacePlayerPrize 1Ruth Hall$18,537 2Julieta Bearden$12,556 3Tonya Baltazar$8,389 4Deborah Blair$6,476 5Cheryl Baugus$4,828 6Dana Badar$3,925 7Ashley Frank$3,140 8Ana Freitas$2,473 9Theresa Hatcher$1,963
Others to cash the tournament were Jacqueline Pennington (10th – $1,649), Wendy Weissman (13th – $1,413), Stephanie Nolan (17th – $1,178), Michelle Richey (21st – $981), and Susan Segura (22nd – $550).
Best Free to Play Slots
While the Championship Event took center stage it was just one of nine events taking place at the 2022 Nevada State Ladies Poker Championship by LIPS. The series kicked off with Espy Enriquez besting a 54-entry field to win the $225 Omaha 8 of Better Championship for $1,450, while Lisa Taylor bested 135 runners to ship the $185 NLH Mini Main Event for $5,500.
There was also one male winner in Greg Bruce, but that was ok as it came in the $155 NLH Purple Tie Guy Salute, a tournament open to men who support the LIPS mission of helping promote women in poker. Bruce won the tournament for $1,728.
Here's a look at all those who won titles during the 2022 Nevada State Ladies Poker Championship.
2022 Nevada State Ladies Poker Championship Winners
DateTournamentEntriesPrize PoolWinnerPrize Tuesday, April 19$225 Omaha 8 of Better Championship54$10,260Espy Enriquez$1,450 Tuesday, April 19$155 NLH Host Hunt Bounty54$6,480Ana Jones$1,588 Wednesday, April 20$225 H.O.E. Championship51$9,690Darlene Springman$2,400 April 20-22$185 NLH Mini Main Event135$22,930Lisa Taylor$5,500 Thursday, April 21$155 NLH Purple Tie Guy Salute45$5,400Greg Bruce$1,728 Friday, April 22$185 Crazy Pineapple76$11,400Kathy Fleck$1,840 April 23-24$550 Nevada State Ladies Championship157$78,500Ruth Hall$18,537 Saturday, April 23$185 NLH Pajama Jam45$10,000Nooria Miskell$3,200 Sunday, April 24$155 NLH Green Chip Bounty Survivor54$5,1309 winners$570 each








LIPS Grand Champions
YearLocationEntriesWinner 2022South Point157Ruth Hall 2021South Point317Mikella Pedretti 2020Cancelled due to pandemic   2019Orleans Casino294Ruth Hall 2018Orleans Casino502Sandy Kasinowitz 2017Orleans Casino256Nancy Nguyen 2016Planet Hollywood341Diana Radford 2015Planet Hollywood431Persia Bonella 2014Golden Nugget428Maria Parlatore 2013Golden Nugget382Dianna Norman 2012Golden Nugget388Tammy Cruz 2011Golden Nugget303Angie Gelinas 2010Golden Nugget250Stacey Nutini 2009Golden Nugget232Ruth Hall 2009Golden Nugget196Jessalyn Sims 2008Orleans Casino198Yvette Lambprecht 2008Golden Nugget219Wan Suk 2007Orleans Casino289Debbie Burkhead 2006Caesar's Palace319Jeannie West 2005Ocean's 11197Kim Fontes
*Images courtesy of LIPS.

Chad Holloway
Executive Editor U.S.
Executive Editor US, PokerNews Podcast co-host & 2013 WSOP Bracelet Winner.