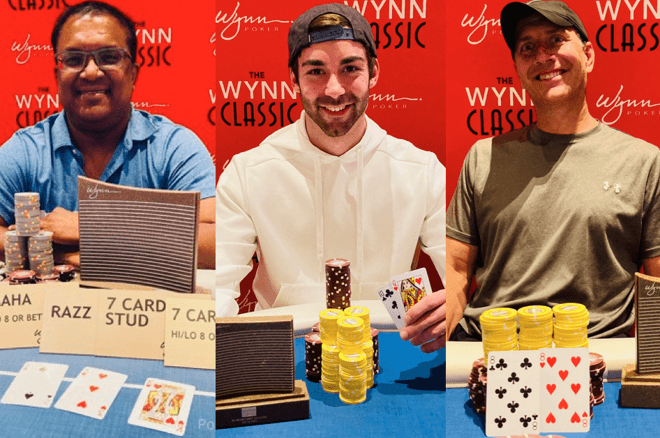 This summer, the 2022 Wynn Summer Classic ran alongside the 2022 World Series of Poker (WSOP).
This year's Wynn Summer Classic consisted of dozens of events with buy-ins ranging from $500 to $5,500, including poker variants like Pot-Limit Omaha, Limit Omaha 8 or Better, H.O.R.S.E. and 8-Game Mix. The series offered over $15.8 million in guaranteed prize money, including seven events with seven-figure guarantees.
PokerNews offered live updates from several events:
Here's a look at some other winners from the 2022 Wynn Summer Classic.
Victor Ramdin Back on Winning Track in Wynn Summer Classic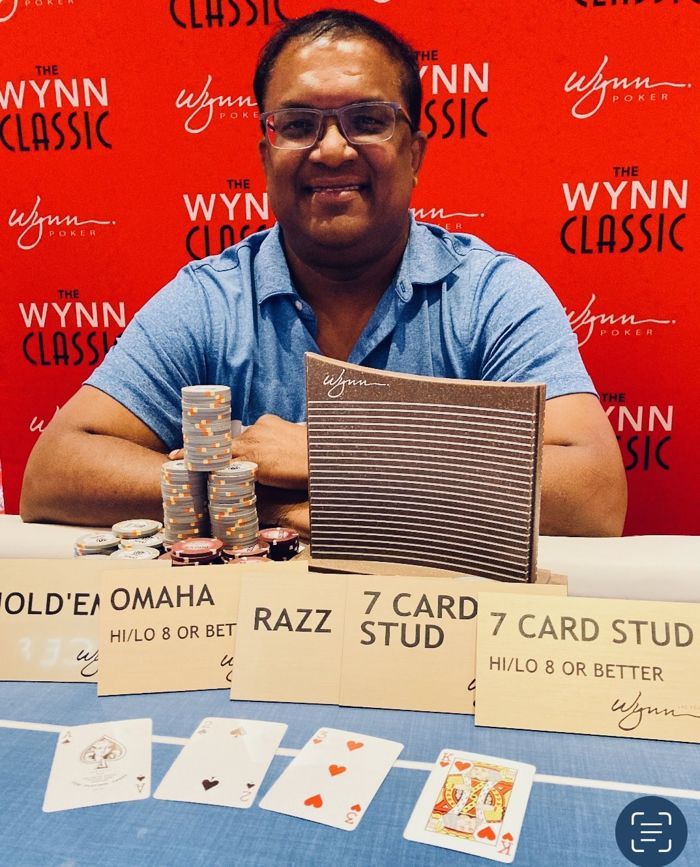 Victor Ramdin
Long-time talented poker pro Victor Ramdin, returned to the winner's circle for the first time since 2019. He shipped the $1,100 No-Limit Hold'em event, a $100,000 guaranteed tournament, at the Wynn Summer Classic on June 11.
Ramdin, who resides in Las Vegas, took home $44,013 as part of a heads-up chop arrangement with runner-up Brian Nadell, who received $39,725 for his efforts. Natascha Stamm, a German poker player finished in third place for $20,258, while talented pro Ari Engel was the fourth-place finisher, good for $13,884. The tournament attracted 194 entries, creating a prize pool of $189,150 at the luxurious Las Vegas Strip casino.
For Ramdin, it's been a long time coming for a player who was once among the top-earning tournament players in the world. He now has over $5 million in live tournament cashes, according to Hendon Mob. His biggest score was $1,331,889 in 2006 when he took down the $10,000 buy-in WPT Foxwoods Poker Classic. He has 57 World Series of Poker cashes among his impressive resume.
$1,100 NLH Final Table Results
PlacePlayerPrize 1Victor Ramdin$44,013 2Brian Nadell$39,725 3Natascha Stamm$20,258 4Ari Engel$13,884 5Maury Barrett$10,224 6Karl Tretter$8,086 7Shirley Rosario$6,624 8Frederic Moss$5,618 9Timothy Wong$4,823
Frank Lagodich Defeats Jeremy Kottler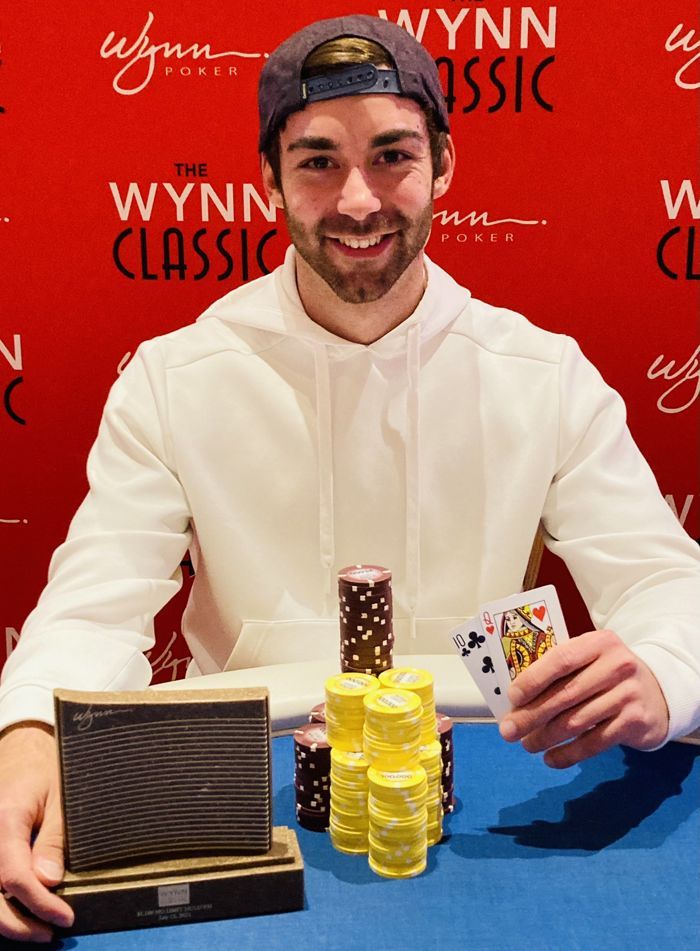 Frank Lagodich
On July 12, an $1,100 buy-in, $200K GTD No-Limit Hold'em tournament was held at the 2022 Wynn Summer Classic. The event attracted 529 runners and offered up a $518,420 prize pool to the top 53 finishers including Chad Stewart (10th – $9,811), Eric Siegel (13th – $7,750), Hayato Kitajima (24th – $3,856), Kami Hudson (32nd – $3,368), Bob Shao (45th – $2,569), and Anthony Bogard (53rd – $2,569).
In heads-up play, it came down to a pair of accomplished pros in Frank Lagodich and Jeremy Kottler. The former ultimately prevailed to win the tournament for $107,165, while Kottler, who last November won the 2021 Wynn Fall Classic $3,500 Championship for $643K, had to settle for second place and $69,987 in prize money.
It marked the third six-figure score of Lagodich's career and helped bring his lifetime earnings up over $630,000 according to the Hendon Mob.
$1,100 NLH Final Table Results
PlacePlayerPrize 1Frank Lagodich$107,165 2Jeremy Kottler$69,987 3Carlton Peake$47,241 4Josip Simunic$33,334 5Pierre Bou-nahra$24,521 6Wissam Zalzali$18,870 7Francisco Neto$15,138 8Adam Kisicoff$12,546 9David Chace$9,812
Jeff Petronack Wins One of Last Events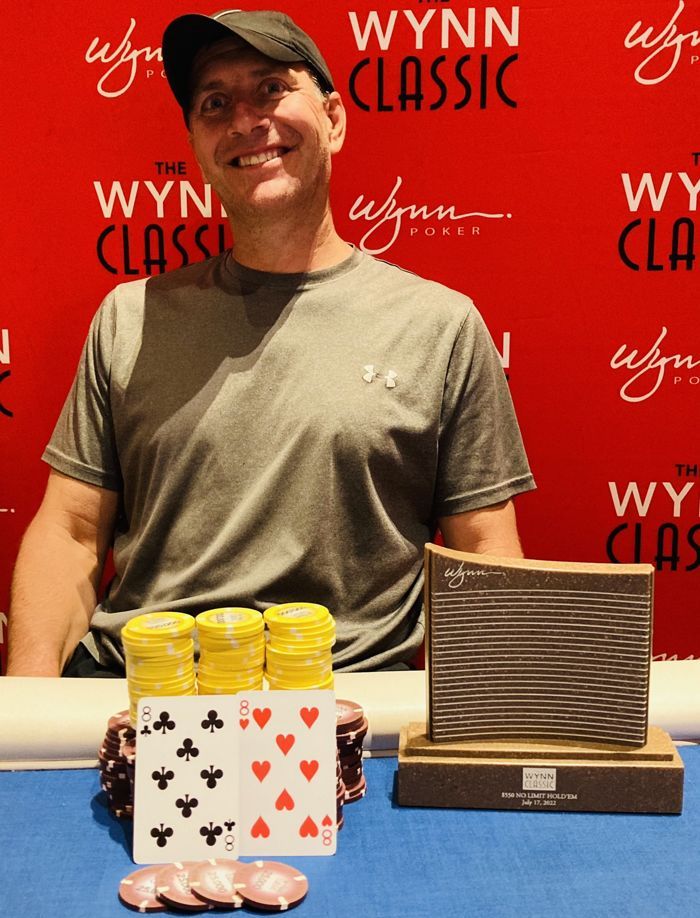 Jeff Petronack
One of the last tournaments on the 2022 Wynn Summer Classic schedule was a $550 buy-in, $100K GTD No-Limit Hold'em event, which attracted 435 entrants and more than doubled the guarantee by creating a $208,800 prize pool.
The top 44 finishers got a piece of it including Yiannia Liperis (10th – $3,775), Gladys Landegger (18th – $2,143), Scott Sisler (25th – $1,634), Gavin Munroe (35th – $1,427), and Eric Siegel (44th – $1,247).
At the final table, Minnesota's Jeff Petronack bested Pennsylvania's Danny Vo in heads-up play to claim the title and $45,607 top prize. According to the Hendon Mob, it was the second-largest score of Petronack's career after he earned $48,799 for finishing runner-up in the 2012 MSPT Meskwaki Casino.
$1,100 NLH Final Table Results
PlacePlayerPrize 1Jeff Petronack$45,607 2Danny Vo$29,441 3Nicolas Plantin$19,836 4Daniel Snow$13,885 5David Froyalde$10,252 6Wayne Harmon$7,893 7Neil Cullen$6,348 8Erwann Pecheux$5,272 9Kengo Tahara$4,453
2022 Wynn Summer Classic Winners
*DateTournamentEntriesPrize PoolWinnerHometown/CountryPrize*       6/3/22$600 NLH $200K GTD938$487,760Lawrence KingOrlando, FL$69,000       6/3/22$550 Seniors $50K GTD266$127,680Robert WilliamsonHenderson, NV$25,552       6/4/22$1,100 NLH $200K GTD238$233,240John HowardUnited Kingdom$58,942       6/5/22$1,100 NLH $200K GTD238$233,240Maziar KeshavarziSan Antonio, TX$46,107       6/6/22$1,100 NLH $200K GTD242$237,160Edvin SetaghianGlendale, CA$59,930       6/7-6/10/22$1,100 NLH $1M GTD1,827$1,781,325Daniel YuLas Vegas, NV$183,147       6/10-6/11/22$1,100 HORSE Championship $100K GTD194$189,150Victor RamdinLas Vegas, NV$44,013       6/22/22$1,100 NLH $200K GTD314$307,720Jan BednarCzech Republic$71,954       6/12-6/13/22$2,200 Limit Omaha 8/B Championship $100K GTD160$156,000Caleb ShumardPueblo, CO$39,893       6/13-6/17/22$2,200 Mystery Bounty $2.5M GTD2,854$5,708,000Manuel MachadoPortugal$410,485       6/18/22$1,100 NLH $200K GTD246$241,080Soony FrancoFrance$50,728       6/19/22$1,100 NLH $200K GTD420$411,600Daniel SmiljikovicN/A$79,012       6/19-6/20/22$3,000 PLO $250K GTD170$467,500Michael LeiborinFrance$135,831       6/20-6/21/22$1,100 Seniors NLH $250K GTD618$602,550Tolga DimerelIstanbul$109,572       6/23/22$550 PLO $100K GTD588$282,240Lovell WilkersonColumbia, SC$40,000       6/21-6/23/22$1,600 NLH $1M GTD1,446$2,096,700Adam HendrixAlaska$257,885       6/24/22$3,500 NLH Championship $3.5M GTD1,428$4,605,300Jin Ho HongKorea$696,011       6/27/22$5,200 NLH Porgressive Bounty $250K GTD134$393,960Felipe KetzerBrazil$94,865       7/2/22$550 NLH $100K GTD392$188,160Colton BlombergTempe, AZ$41,102       7/1-7/2/22$3,000 8-Game Mix $150K GTD105$288,750Sam PanzicaFort Lauderdale, FL$66,178       6/28-7/22/22$1,600 NLH $2M GTD2,574$3,732,300Mitch GarshofskyLas Vegas, NV$333,329       7/3/22$550 NLH $100K GTD464$222,720Josh AllenCastle Rock, CO$47,722       7/4/22$550 NLH $100K GTD362$173,760James ClarkeUnited Kingdom$32,727       7/5/22$550 Ladies NLH $50K GTD166$79,680Marguerite SpagnuoloStaten Island, NY$18,840       7/5-7/8/22$1,100 NLH $1M GTD2,441$2,379,975Xiang LinBrooklyn, NY$185,955       7/8/22$1,100 NLH $200K GTD566$544,680Ken DonarskiWillowbrook, IL$85,141       7/9/22$1,100 NLH $200K GTD629$616.42Marc FogginUnited Kingdom$116,796       7/10/22$1,100 NLH $200K GTD316$309,680Carlo SciannameoSutton, MA$64,550       7/11/22$550 NLH $100K GTD400$192,000Kauno JaeppinenFinland$41,944       7/12/22$1,100 NLH $200K GTD529$518,420Frank LagodichCanton, OH$107,165       7/13-7/16/22$1,600 Mystery Bounty $1.5M GTD2,190$2,080,500Paul TedeschiFrance$232,474       7/17/22$550 NLH $100K GTD435$208,800Jeff PetronackHugo, MN$45,607       7/20/22$500 Casino Employee Mystery Bounty335$144,050Tyrone KelleyN/A$18,596      
Learn More About the wynn Poker Room here!

Chad Holloway
Executive Editor U.S.
Executive Editor US, PokerNews Podcast co-host & 2013 WSOP Bracelet Winner.