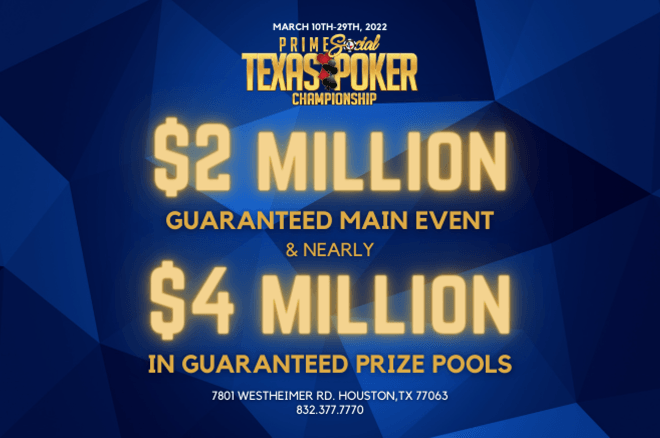 Tournament Director Justin Hammer has put together the biggest poker series in Texas history at Houston's Prime Social. The Texas Poker Championship kicks off March 10, a series that guarantees a state record $4 million in prize money.
Poker in Texas is alive and well with card rooms all across the Lone Star State bringing in large crowds on a regular basis. But no event up to this point has ever been bigger than what's about to go down at Prime Social.
The historic series features a $2 million guaranteed Main Event, and as Hammer tweeted, more mixed events in one series than Texas has ever seen. Play began Thursday with the $500 Mystery Bounty No-Limit Hold'em tournament, which features a $500,000 guaranteed prize pool and, as the name suggests, mystery bounties.
Listen to Justin Hammer on the PN Podcast here!
The New Craze in Poker?
Mystery bounty tournaments have become popular in Las Vegas, most notably at Wynn, which hosted a $1,600 buy-in version last week. Eddy Konarske won the 2,103-player tournament for $220,000. The format has become the craze of the Las Vegas poker scene, and Hammer's excited to bring it to Texas.
"Mystery bounties are so much more appealing to the recreational player," Hammer told PokerNews when asked to compare mystery bounty events to traditional bounty tournaments. "Most people know it's really tough to win a tournament, but the idea of busting someone on Day 2 and luck-boxing close to first place money is something most anyone can do."
In a traditional bounty tournament, each player receives the same amount as everyone else upon busting a player. But in a mystery bounty, the payout is unknown and could be thousands of dollars or more. At the Wynn's recently completed tournament, for example, three players drew $100,000 mystery bounty envelopes.
As Hammer explains, the tournament format caters to both pros and recreational players because it allows everyone to have a shot at a nice payday.
"It's exciting to be a part of and will definitely be around for a while," Hammer continued. "It does make traditional bounties seem a little less exciting, maybe, but I think they'll still have a place. Giving players lots of options is what a tournament series should be all about."
A Little Something for Everyone
Hammer is giving his players who show up to compete in the Texas Poker Championship at Prime Social many options, and not just when it comes to bounty events. There are 18 events in total starting with the Mystery Bounty and concluding March 24-29 with the $5,300 buy-in Main Event, a $2 million guaranteed tournament with three Day 1 starting flights.
In between those events, there are seven non-NLH tournaments, one ladies event (NLH), and one seniors event (NLH). Buy ins for the series range from $200 to $5,300.
Texas Poker Championship Series Schedule
DateEventGuaranteeTime* March 10Event #1: $500 Mystery Bounty Day 1a$500,00011 a.m. March 10Day 1b 4 p.m. March 11Day 1c 11 a.m. March 11Day 1d 4 p.m. March 12Day 1e 11 a.m. March 12Day 1f 4 p.m. March 13Day 1g (Turbo flight) 9 a.m. March 13Day 2 2 p.m. March 13Event #2: $400 NLH Jacked Stack$50,00012 p.m. March 13Event #3: $600 Omaha 8-or-Better 5 p.m. March 14Event #4: $400 Short Deck 11 a.m. March 14Event #5: $600 Triple Stud 5 p.m. March 15Event #6: $200 Sweat and Go 11 a.m. March 15Event #7: $400 NLH Seniors 11 a.m. March 15Event #8: $600 H.O.R.S.E. 3 p.m. March 16-19Event #9: The Big Texas $500k$500,00011 a.m. March 16Event #10: $600 Dealers Choice 3 p.m. March 17Event #11: $600 No-Limit 2-7 Single Draw 3 p.m. March 19Event #12: $1,100 Mystery Bounty Turbo 5 p.m. March 20Event #13: $600 NLH One Day 100k$100,00012 p.m. March 20Event #14: $400 PLO 3 p.m. March 20Event #15: $250 Ladies Event 5 p.m. March 21Event #16: $1,100 PLO Championship$100,00011 a.m. March 21Event #17: $600 NLH Survivor$50,0003 p.m. March 24Event #18: $5,300 Main Event Day 1a$2,000,00012 p.m. March 25Day 1b 12 p.m. March 26Day 1c 12 p.m. March 27Day 2 12 p.m. March 28Day 3 12 p.m. March 29Day 4 12 p.m. March 27Event #19: $3,000 Dealers Choice 6-Max 2 p.m. March 28Event #20: $3,000 Big O 2 p.m. March 28Event #21: $3,000 NLH 6-Max 4 p.m. March 229Event #22: $1,700 NLH Big Bounty Turbo 12 p.m.
Prime Social will host twice daily $800 buy-in satellites into the Main Event from March 23-26. Additionally, there will be $150 mega satellites available into the Big Texas $500k.