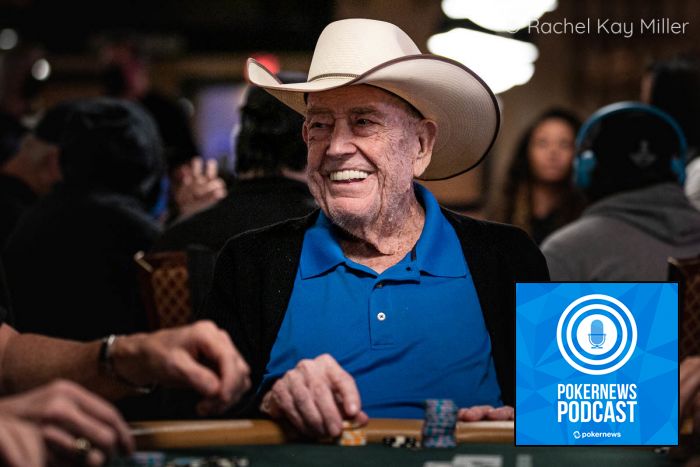 In the latest PokerNews Podcast, Chad Holloway and Jesse Fullen discuss their recent road trip across the Lone Star State as a part of PokerNews' Texas Week, which you can read about in full here.
Along with senior writer Jon Sofen, the trio spent six days traveling to 26 different poker rooms in Houston, Austin, Odessa, Midland, Fort Worth, Dallas, and College Station. They also swung by Doyle Brunson's hometown of Longworth as well as Hardin-Simmons University in Abilene, where "Texas Dolly" attended college and excelled at both basketball and track.
In addition to exploring rooms such as Texas Card House, The Lodge (where they touched base with Doug Polk), KoJack's, Red Star Social, Shuffle 214, Wautauga Social Lounge, Poker House Dallas, and Game On Social, the crew also stopped by some historical poker sites, such as the graves of Poker Hall of Famers Jack "Treetop" Straus and Johnny Moss.
The Texas poker market has grown leaps and bounds over the past five years, and if you've ever wanted a glimpse into what it's like, this week's episode is for you!
See pictures from the Texas Road Trip here!

Texas

Last update: April 1, 2022
Online Poker is forbidden
Online Casino is forbidden
Sports Betting is forbidden
Time Stamps
TimeTopic 00:24Welcome to the show 00:48PokerNews Texas Road Trip in the books 01:55Sponsor: GGPoker 02:50The genesis of the Texas Road Trip 06:00Day 1 – Flying into Houston; visiting three rooms 10:37Jesse wins big at Empire Poker Club on free steak night 13:14Day 2 – Heading to Austin 14:00Visiting Shuffle 512 15:33The Oaks Poker Club 17:17Paying respects to the late Jack "Treetop" Straus 20:00Red Star Social, formerly Palm Social 22:09Visiting Doug Polk at The Lodge 23:56Texas Stand-Up side game 25:10PokerNews returning to The Lodge in May 25:50Texas Card House Austin 26:50Pot-Limit Omaha (PLO) the game of choice in Texas 28:20Last-minute visit to Austin's 52 Social 30:28Heading up through Central Texas 30:40Stopping at San Angelo's Roosevelt Club 32:20Paying respects to Poker Hall of Famer Johnny Moss 34:09Odessa's Celebrity Card Club 35:50Midland's KoJack's Poker Club 37:35Remembering Clyde Hinton 39:06Doyle Brunson Day! 39:33Longworth, Texas – hometown of Doyle Brunson 42:53Big Country Athletic Hall of Fame 45:20Brunson's alma mater Hardin-Simons University 45:43President Eric Bruntmyer gives us a personal tour 48:50Fort Worth's Wautauga Social Lounge 50:13Poker History – The Stockyards 52:15Shuffle 214 in Dallas 57:38Texas Card House Dallas 54:20Poker House Dallas 56:35Quick stop in Waco, Texas 58:20Texas Avenue Social Club & Game On Social in College Station 1:00:00Fun times at Game On Social; Jesse meets Jerry 1:03:33Meeting Sarah for breakfast 1:04:35Texas Card House Houston 1:06:33PLO poppin' at Legends Poker Room 1:09:13101 Poker Richmond looks to turn the corner 1:13:58Prime Social wraps Texas Championship – James Carroll victorious 1:16:00Farewell dinner at Goode Co. Barbeque 1:16:50101 Poker Club in Katy, Texas 1:18:56Sponsor: Unibet 1:19:40Jesse pays a visit to Hangars Poker House 1:22:38Takeaways from the PokerNews Texas Road Trip
Learn more about poker in Texas here!
Tell us who you want to hear from. Let us know what you think of the show — tweet about the podcast using #PNPod, and be sure to follow Sarah Herring and Chad Holloway on Twitter.
Subscribe to the PokerNews Podcast on Apple Podcasts here!
Check Out Past Episodes of the PN Podcast Here!

Chad Holloway
Executive Editor U.S.
Executive Editor US, PokerNews Podcast co-host & 2013 WSOP Bracelet Winner.