April 29, 2022

Chad Holloway
Executive Editor U.S.
0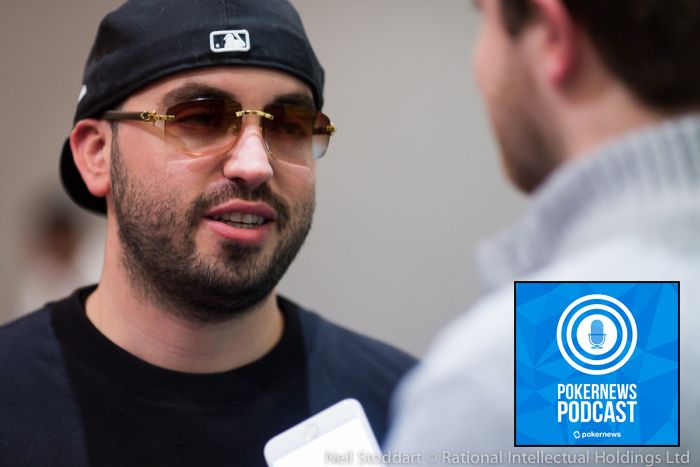 Hosts:
Sarah Herring @auntychardonnayChad Holloway @ChadAHollowayJesse Fullen @JesseFullen
LibsynSpotifyiTunesPodbeanPlayerFmStitcher
In the latest edition of the PokerNews Podcast, Sarah Herring responds to criticisms surrounding her interview with Bryn Kenney, which includes a segment of reading some mean tweets. Learn her thoughts on the whole matter and learn behind-the-scenes details on how it all came together.
Sarah is also joined by Chad Holloway and Jesse Fullen to discuss Chino Rheem winning the PokerGO Tour $25K Showdown Series, previewing the High Stakes Duel Phil Hellmuth vs. Tom Dwan match coming up on May 12, and Ruth Hall taking down the Nevada State Ladies Poker Championship for the second time.
They also discuss Brad Owen being brought on as WPT Ambassador, and an update on Phil Ivey's weed business venture, which doesn't have a happy ending.
Listen to those stories and more on the PokerNews Podcast!
Time Stamps
TimeTopic 00:24Welcome to the show 00:44Sarah responds to Bryn Kenney interview criticisms 08:26How did the interview come about? 15:12Sarah reads mean tweets 31:10Chino Rheem wins PokerGO Tour $25K Heads-Up Showdown 35:07New High Stakes Duel between Phil Hellmuth & Tom Dwan announced 38:33Brad Owen brought on as WPT Ambassador 40:50Mary Darnell wins bestbet Jacksonville Spring Series Opener 41:25Ruth Hall wins Nevada State Ladies Poker Championship for 2nd time 44:08Phil Ivey involved in marijuana dispensary bankruptcy case 48:30RGPS Coconut Creek, MSPT Sycuan & EPT Monte Carlo are happening now! 49:30Teasing next week's guest – Dara O'Kearney
Tell us who you want to hear from. Let us know what you think of the show — tweet about the podcast using #PNPod, and be sure to follow Sarah Herring and Chad Holloway on Twitter.
Subscribe to the PokerNews Podcast on Apple Podcasts here!
Check Out Past Episodes of the PN Podcast Here!
Sharelines
PN Pod: Sarah Herring (@AuntyChardonnay) responds to criticisms around her interview with @BrynKenney

Chad Holloway
Executive Editor U.S.
Executive Editor US, PokerNews Podcast co-host & 2013 WSOP Bracelet Winner.
Follow on:
0
What do you think?
Register to leave a comment
Sign in
Tags
PokerNews Podcast Sarah Herring Bryn Kenney Chino Rheem Phil Hellmuth Tom Dwan
Related Players
Phil HellmuthTom DwanDavid RheemBryn Kenney