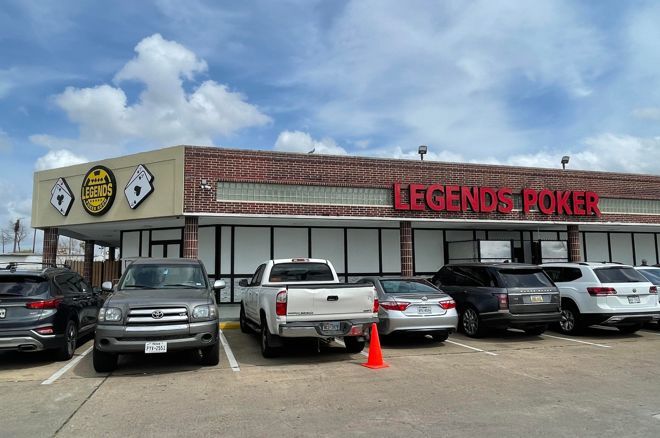 Legends Poker Room in Houston, a club the PokerNews crew visited during Texas Week, was the site of yet another gun-related incident Tuesday night when an unidentified suspect fired a series of bullets into the Texas card room.
Players took cover under poker tables for safety during the scary situation. No one was injured but bullet holes were noticeable inside Legends after the culprit drove away.
One person who was inside the poker club during the shooting told PokerNews a bullet came within a foot of grazing his head.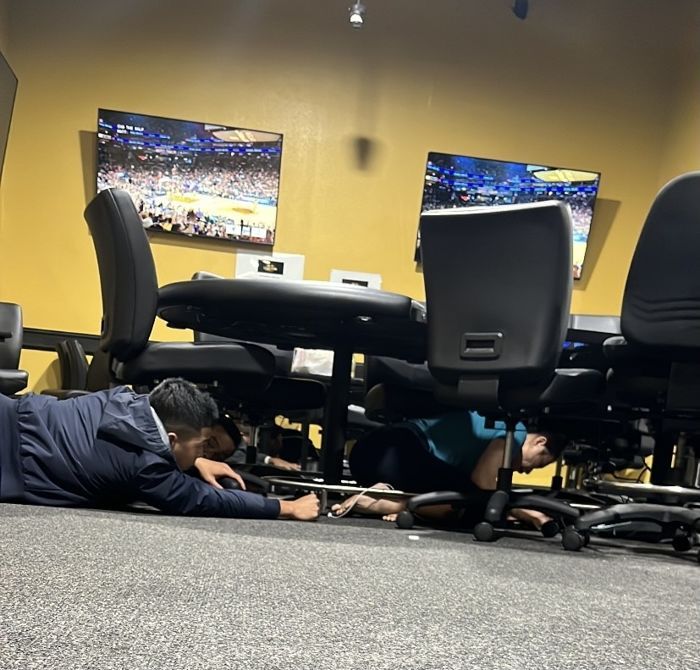 Scary scene as poker players take cover.
How it all Went Down
Despite multiple violent incidents taking place at Legends within the past few months, many players don't seem to be too concerned. Shortly after Tuesday's shooting, games were back up and running. On Wednesday afternoon, 15 cash games were in action, most of which had a waiting list.
Police arrived at the scene around 11:30 p.m., about 30 minutes after the shooting occurred. Authorities uncovered more than 20 shell casings upon arrival.
PokerNews spoke with two individuals connected to the incident, both requiring anonymity. The first patron we spoke with said that an unknown guest was hovering around the cashier's cage before employees became suspicious. The individual in question was then asked to leave.
According to our source, 15 minutes later, a suspect from directly outside Legends Poker Room began firing into the building at 9275 Richmond Avenue. Players and staff immediately began huddling under poker tables and behind counters to avoid the slew of bullets grazing throughout the room. Some players shared photos on social media of the shooting aftermath.
We haven't been able to locate anyone in attendance who could provide a description of the suspect, and It's unclear if the person who was inside the room prior to the shooting is the individual who shot up the place.
"It ended up being that shots were fired from outside through the walls and got into the room that way," an anonymous player in attendance told PokerNews. "Luckily no one was hit. It is really a miracle as most of the bullet holes I saw were at sitting chest height. Once it was over, we all got up and checked no one was hurt."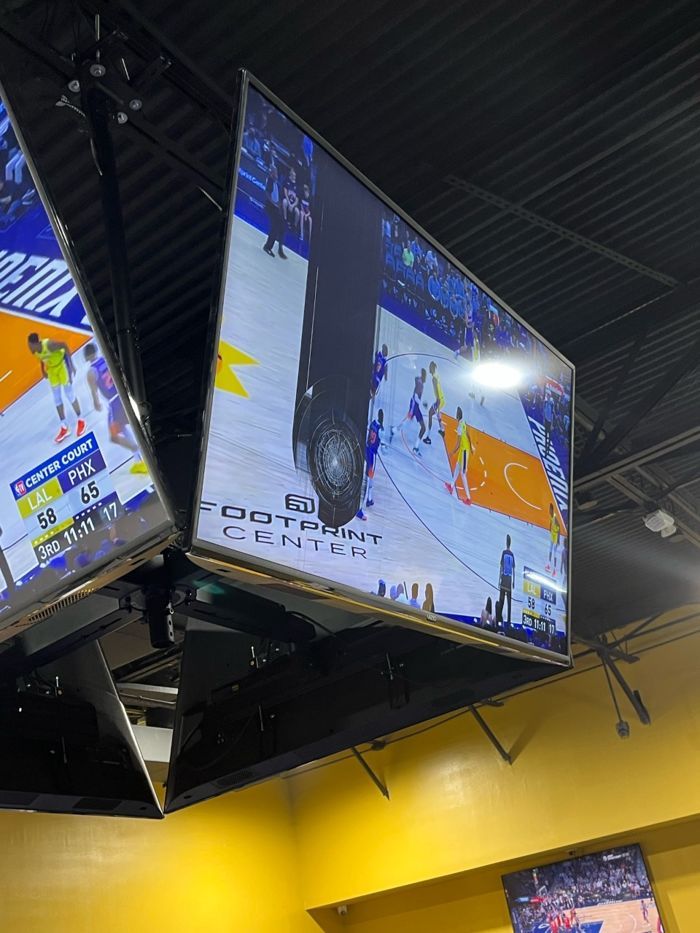 A bullet cracked a TV screen inside Legends Poker Room in Houston.
The poker players we spoke with said that those attempting to take photos and video were told "in an aggressive manner" not to do so, and to refrain from posting anything about the incident on social media, although a few players successfully snapped pictures.
"(The employee) then also very aggressively asked players if they wanted to continue playing and was shouting around to find a dealer to start dealing," the anonymous player said of what transpired moments after the shooting. "That's when I found someone to buy my chips for cash as I am leaving town and don't really want to go back to cash out. Cops were there doing their thing but after about 15 minutes also left."
Free to Play Slots in the US
Starting to See a Pattern
On March 28, another similar situation occurred across the street, although the poker room wasn't involved. In that incident, an argument broke out at a nearby barber shop, which led to a non-fatal shooting. The suspect in that case, according to police, remains at large.
One of several bullets that came through the wall.
In January, Legends Poker Room security guard Trelynn Robinson (known as "Tek") heroically foiled an armed robbery inside the Houston poker room. Since then, police have been called to the business on a few occasions and our sources said that multiple players have been followed home and robbed upon leaving the card room.
Earlier this week, an elderly poker player with health issues was involved in an altercation in the Legends parking lot and died of a cardiac arrest. Old-school poker pro Sammy Farha, a Houston local, was also involved in an altercation at Legends back in December. A local dealer who goes by the name "AJ," clocked the high-stakes gambler to the delight of many local pros who aren't too fond of Farha.
Still, Legends remains one of the busiest poker rooms in Texas. Within minutes following the Tuesday shooting, two low-stakes games were back in action.
One source, who is connected on the business side of Legends, verified a rumor to be true that the poker room hires "house players" who are paid to provide action and get games going. The purpose of these props is to, as our source explained, make it appear on PokerAtlas that there are plenty of games running at any given time.
House players, we are told, do not play with their own money. Since they provide some solid action at the table, regular players, especially pros, enjoy playing against them, perhaps part of why Legends remains busy despite the apparent risk involved.
PokerNews will continue to monitor the situation and report any new info we receive as the story progresses.

Texas

Last update: April 1, 2022
Online Poker is forbidden
Online Casino is forbidden
Sports Betting is forbidden