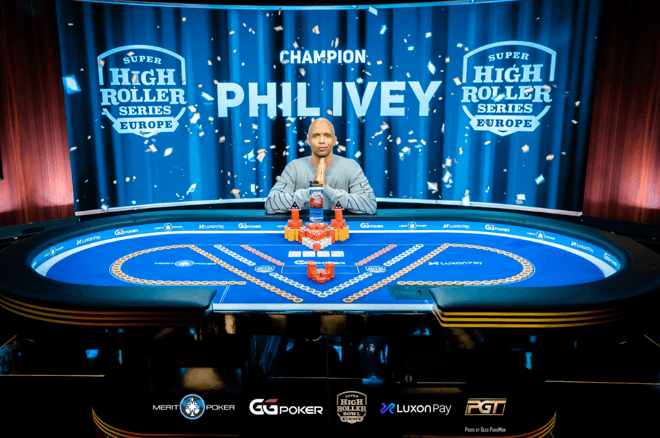 Phil Ivey has done it again, this time outlasting a field of 32 to beat Ali Imsirovic heads-up and take down Event #4: $50,000 Pot-Limit Omaha in the Super High Roller Series Europe at the Merit Crystal Cove Resort and Casino in North Cyprus.
This is Ivey's second win in five cashes at the combined Triton Poker/SHRS Europe. With the victory, he claims the top prize of $640,000 from a prize pool of $1,600,000.
SHRS Europe Event #4: $50,000 Pot-Limit Omaha Results
PlaceNameCountryPrize 1Phil IveyUnited States$640,000 2Ali ImsirovicBosnia and Herzegovina$416,000 3Joni JouhkimainenFinland$256,000 4Eelis ParssinenFinland$176,000 5Dylan WeismanUnited States$112,000
It was a challenging final table for Ivey, who came into the day with the third-most chips. After eliminating Dylan Weisman in fifth-place, he needed to overcome a heads-up deficit after Imsirovic scored knockouts of Finlanders Eelis Parssinen in fourth and Joni Jouhkimainen in third to take a lead into the final clash.
However, it was all Ivey in heads-up play as he squared off with Imsirovic, a young high-stakes phenom who currently holds the lead on the 2022 PokerGO Tour leaderboard. The 10-time WSOP champion got started early, winning several pots to take the advantage until he was nearly 4-1 in chips.
Imsirovic found a small double late, but that wasn't enough, and the big moment came when Imsirovic got it in with king-queen-six-two on a flop of queen-jack-three. Ivey turned over ace-ace-eight-four, and the rest of the runout brought no help for Imsirovic.
Ivey was all smiles after the win, basking in his return to form after playing a reduced schedule in recent years.
Best Free to Play Slots
The win gives Ivey a big lead on the SHRS Europe championship leaderboard, where he is clear of second-ranked Andras Nemeth by nearly 1,000 points. The leader at the end of the series will take home the SHRS Europe championship and a $25,000 bonus. Still to come this week is the $250,000 Super High Roller Bowl, where Ivey can greatly improve on his already lofty total series winnings of $2,880,100.
SHRS Europe Championship Standings
RankPlayerCountryPoints 1Phil IveyUnited States1,725 2Andras NemethHungary738 3Winfred YuHong Kong700 4Jason KoonUnited States700 5Elton TsangHong Kong653 6Mikita BadziakouskiBelarus633 7Tom VogelsangNetherlands616 8Laszlo BujtasHungary606 9Wai Kiat LeeMalaysia567 10Ivan LeowMalaysia537
Click for live updates from the PokerGO Live Reporting team
Where to Watch the Super High Roller Series Europe?
Be sure to check out all of the live action from SHRS Europe with David Tuchman and Brent Hanks providing the commentary on the PokerGO YouTube channel. Play is expected to go live with final table action at 7 a.m ET and 4 a.m. PT. each day throughout the series.
*Image courtesy of Merit Poker
Save $20 on an annual subscription to PokerGO by using the code "EU22WEB" at check out. Sign up here.

Matt Hansen
Live Reporting Executive
Las Vegas-based PokerNews Live Reporting Executive, originally from Chicago, IL