This year marks the 50th running of the grueling Iditarod Trail Sled Dog Race in Alaska from Anchorage to Nome, and to celebrate a half-century of sled dog racing, we compiled a complete list of Iditarod winners, including the names of the lead dog or dogs for every champion from Dick Wilmarth in the first race in 1973, through Susan Butcher and her four victories, to Dallas Seavey with a fifth victory in 2021.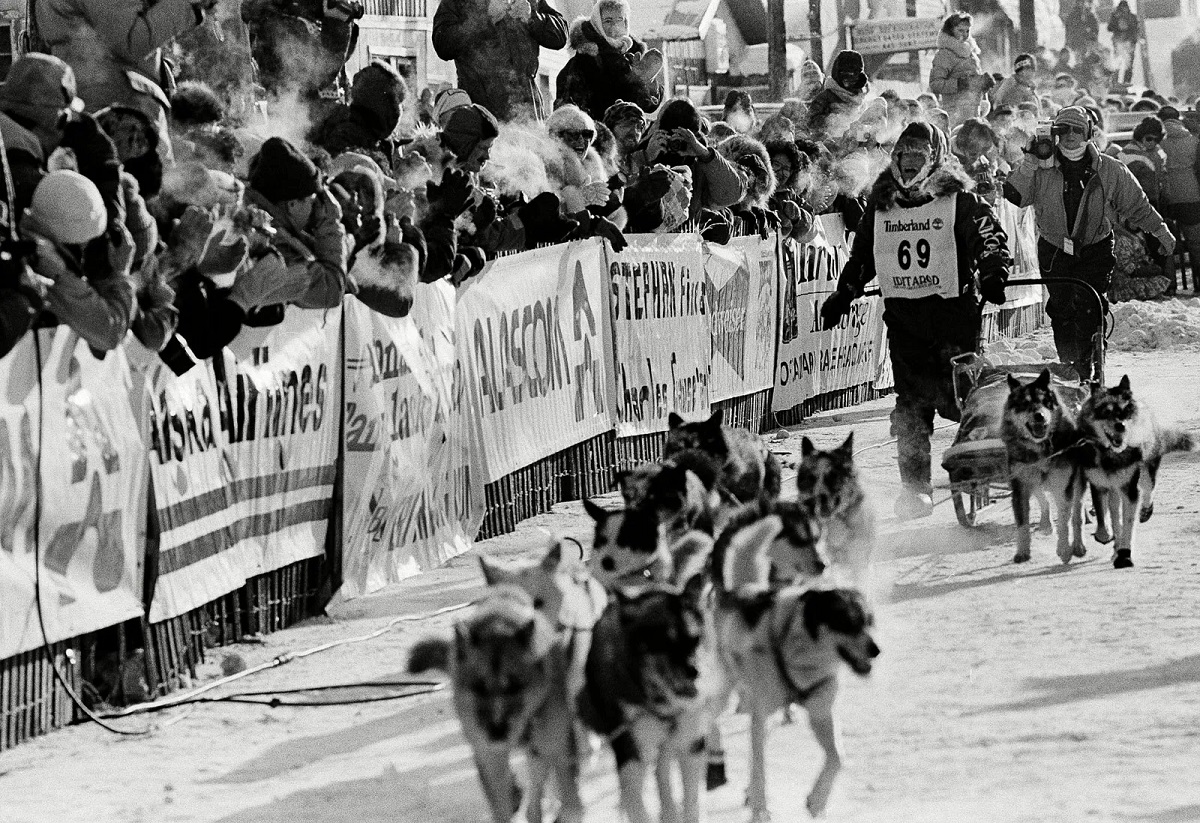 Susan Butcher secures her fourth victory at the 1990 Iditarod with lead dogs Sluggo and Lightning. (Image: Getty)
In 2021, Seavey won his fifth Iditarod and tied Rick Swenson for most victories in the great Alaskan sled dog race. Seavey added his name to the list of Iditarod winners when he first became a champion in 2012.
Swenson, a five-time winner in the Iditarod, secured his first win in 1977 and his last win in 1991.
The Iditarod is one of the few sports that allow men and women to compete against each other, because the Alaska wilderness is equally brutal on men and women. Susan Butcher, American's greatest female athletes, won the Iditarod four times including three consecutive victories in the late 1980s.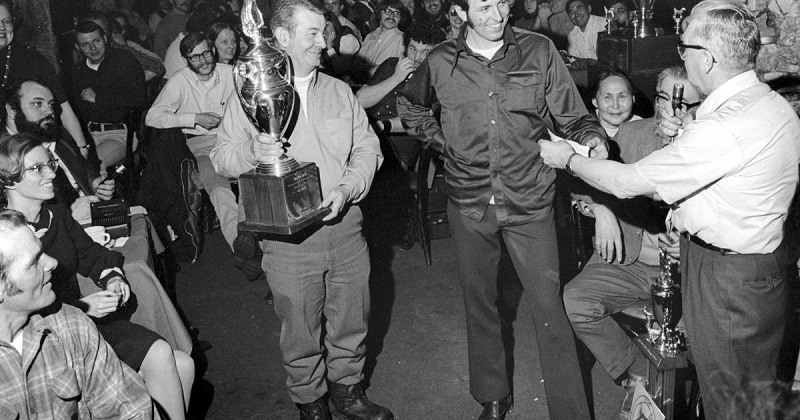 Dick Wilmarth accepts the trophy for the first victory in the inaugural Iditarod in 1973. (Image: AP)
1970s to Early 1980s: Pioneers and Swenson Domination
Wilmarth won the inaugural Iditarod in 1973 thanks to his lead dog Hotfoot. It took him 20 days to complete the sojourn. Other early winners at the Iditarod included Carl Hunnington, Emmitt Peters, and Gerald Riley.
LIST OF IDITAROD WINNERS & DOGS (1973 to 1985)
YEAR
MUSHER
LEAD DOG(S)
1973
 Dick Wilmarth
Hotfoot
1974
Carl Huntington
Nugget
1975
Emmitt Peters
Nugget and Digger
1976
Gerald Riley
Puppy and Sugar
1977
Rick Swenson
Andy and Old Buddy
1978
Dick Mackey
Skipper and Shrew
1979
Rick Swenson (2)
Andy and Old Buddy
1980
Joe May
Wilbur and Cora Gray
1981
Rick Swenson (3)
Andy and Slick
1982
Rick Swenson (4)
Andy
1983
Rick Mackey
Preacher and Jody
1984
Dean Osmar
Red and Bullet
1985
Libby Riddles
Axle and Dugan
Minnesota-born Swenson won his first Iditarod in 1977 with lead dogs Andy and Old Buddy. It took Swenson 16 days and 16 hours to complete his first victory. He added a second victory in 1979 and became the first musher to win the great sled dog race twice. He added back-to-back victories in 1981 and 1982 with Andy once against as his lead dog to become a four-time Iditarod champion.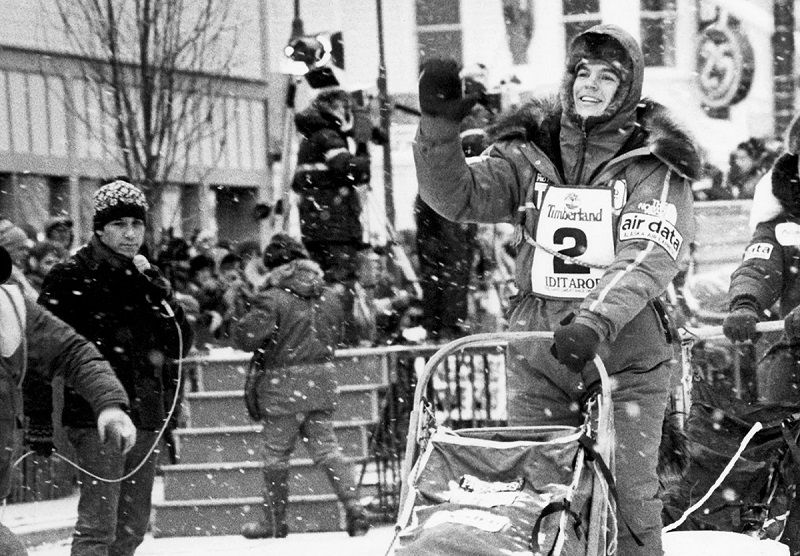 Susan Butcher proves her first victory at the Iditarod was not a fluke with back-to-back wins in 1987. (Image: AP)
Rise of Susan Butcher
Butcher grew up in Massachusetts, but moved to Alaska because she loved the outdoors. She is a self-taught musher who got hooked on the sport. Butcher became a household name when she became the first woman to win the Iditarod in 1986. Little did she know it would mark the first of four overall championships and that New Yorker magazine would profile her in 1987.
Butcher and her lead dog Granite won the great Alaskan race three times together for a three-peat between 1986 and 1988. In 1990, Butcher won her fourth Iditarod with Sluggo and Lightning as her lead dogs.
LIST OF IDITAROD WINNERS & DOGS (1986 to 1998)
YEAR
MUSHER
LEAD DOG(S)
1986
Susan Butcher
Granite and Mattie
1987
Susan Butcher (2)
Granite and Mattie
1988
Susan Butcher (3)
Granite and Tolstoi
1989
Joe Runyan
Rambo and Ferlin the Husky
1990
Susan Butcher (4)
Sluggo and Lightning
1991
Rick Swenson (5)
Goose
1992
Martin Buser
Tyrone and D2
1993
Jeff King
Herbie and Kitty
1994
Martin Buser (2)
D2 and Dave
1995
Doug Swingley
Vic and Elmer
1996
Jeff King (2)
Jake and Booster
1997
Martin Buser (3)
Blondie and Fearless
1998
Jeff King (3)
Red and Jenna
Swenson added a fifth victory in 1991 to take the overall lead with five titles. Swiss musher Martin Buser added two wins in 1991 and 1994. Jeff King ended the 1990s with three victories and different lead dogs in each win.
New Century: Swingley, Buser, Mackey 4-Timers Club
At the turn of the century, it marked the dawn of a new era, yet despite all the technological advances in the world, the Iditarod was still a test of endurance and will. Doug Swingley won three races in a row between 1999 and 2001 with Stormy as his lead dog to join the exclusive four-timers club joining Swenson and Butcher.
LIST OF IDITAROD WINNERS & DOGS (1999 to 2010)
YEAR
MUSHER
LEAD DOG(S)
1999
Doug Swingley (2)
Stormy, Cola and Elmer
2000
Doug Swingley (3)
Stormy and Cola
2001
Doug Swingley (4)
Stormy and Peppy
2002
Martin Buser (4)
Bronson
2003
Robert Sorlie
Tipp
2004
Mitch Seavey
Tread
2005
Robert Sorlie (2)
Sox and Blue
2006
Jeff King (4)
Salem and Bronte
2007
Lance Mackey
Larry and Lippy
2008
Lance Mackey (2)
Larry and Hobo
2009
Lance Mackey (3)
Larry and Maple
2010
Lance Mackey (4)
Maple
Buser, the legendary Swiss musher, returned with a huge win in 2002 to become a four-time champion. Although the 2022 race was 80 miles shorter, Buser set a new record by reaching Nome in less than nine days.
Lance Mackey ended the 2000s with a four-peat. Mackey had Larry as his lead dog three of the times, and Maple as a lead dog twice.
In 2017, Mitch Seavey defeated his son Dallas to become the oldest musher to win the Iditarod at 57. (Image: AP)
Unbeatable Seavey Family: Mitch and Dallas
The Seavey clan dominated the 2010s with Mitch Seavey snagging two titles (and his third overall) and his son Dallas reaching the finish line first five times, including three-straight victories between 2014 and 2016. There was a six-year stretch when the Seavey family won the Iditarod between 2012 and 2017.
LIST OF IDITAROD WINNERS & DOGS (2011 to 2022)
YEAR
MUSHER
LEAD DOGS
2011
John Baker
Velvet and Snickers
2012
Dallas Seavey
Guinness and Diesel
2013
Mitch Seavey (2)
Tanner and Taurus
2014
Dallas Seavey (2)
Beetle and Reef
2015
Dallas Seavey (3)
Reef and Hero
2016
Dallas Seavey (4)
Reef and Tide
2017
Mitch Seavey (3)
Pilot and Crisp
2018
Joar Leifseth Ulsom
Russeren and Olive
2019
Peter Kaiser
Marrow and Lucy
2020
Thomas Waerner
K2 and Bark
2021
Dallas Seavey (5)
North and Gamble
2022
TBD
TBD
In 2020, while the COVID-19 pandemic shutdown all pro sports in North America, the Iditarod was the last major sporting event still going on. Norway's Thomas Waerner won his first title in 2020 with lead dogs K2 and Bark in harness.
In 2021, during the age of COVID-19, organizers shortened the race. Despite the altered course, Dallas Seavey snagged his fifth win.
Multiple Mushing Victories
Only nine mushers were Iditarod winners on multiple occasions. Dallas Seavey and Rick Swenson are tied with five wins each. However, old-school mushers think Swenson's victories were far more impressive considering the grueling conditions in the 1970s when mushers spent significantly more time on the race course in the Alaskan tundra and did not have the benefit of better technology and warmer clothing.
MULTIPLE IDITAROD CHAMPIONS AND WINNERS
Dallas Seavey 5
Rick Swenson 5
Susan Butcher 4
Doug Swingley 4
Martin Buser 4
Jeff King 4
Lance Mackey 4
Mitch Seavey 3
Robert Sorlie 2
Seven mushers are in the four-timers club including Susan Butcher, Doug Swingley, Martin Buser, Jeff King, Lance Mackey, Rick Swenson, and Dallas Seavey.
Mitch Seavey won three times and Norway's Robert Sorlie won twice in the early 2000s.