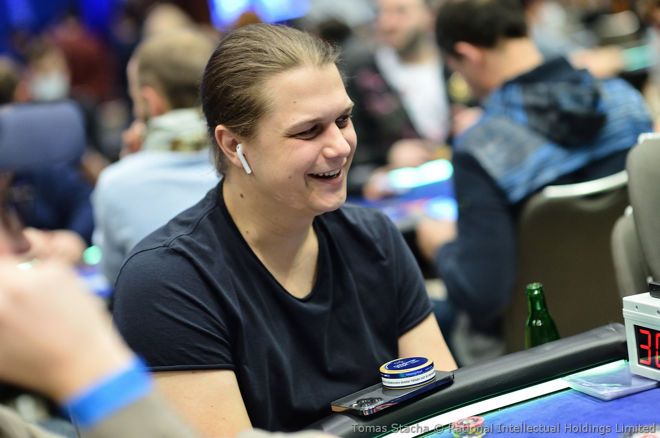 The PokerStars Sunday Million 16th Anniversary edition has reached Day 3 and only 38 players remain in contention for the gigantic $1,000,036 first place prize. Canada's "paromology" is the player to catch, but surely it is the Swedish legend Niklas "Lena900" Astedt, who is eighth in chips, who is the overwhelming favorite to get the job done.
Sunday Million 16th Anniversary Edition Top 10 Chip Counts
PlacePlayerCountryChips 1paromologyCanada70,919,607 2begines1Brazil61,273,274 3Guilherme "Guizaoo_" CarmoBrazil55,670,502 4bames25Sweden51,211,084 5ChavesVilaBrazil49,862,385 6RastabombastPoland49,440,460 7e.p.2014Germany46,864,335 8Niklas "Lena900" AstedtSweden46,775,726 9ConckersUnited Kingdom39,529,587 10Peauker123Belgium38,966,145
More than 3,800 PokerStars players took advantage of the extended late registration period, resulting in the total number of entries reaching 52,120. That bumper crowd ensured the $10 million guarantee was surpassed by $424,000. The top 7,711 finishers won a slice of the $10,424,000 prize pool, so spare a thought for Brazil's "Tripaozao" who fell in 7,712nd place and burst the money bubble.
Poker Bankroll Management in 2022: An Introduction
Ten Team PokerStars Players reached the money places, although there are no Red Spades through to the final day's action.
Fintan "easywithaces" Hand (5,076th – $528), Tom "MajinBoob" Hayward (4,913rd – $528), Parker "tonkaaaa" Talbot (4,621st – $528), Benjamin "bencb789" Rolle (4,475th – $528), Lex "L. Veldhuis" Veldhuis (4,247th – $528), Alejandro "PapoAR" Lococo (3,676th – $581), Sebastian "peach&loove" Huber (3,130th – $639), Benjamin "Spraggy" Spragg (2,735th – $639), Lasse "Wistern" Lauuristen (2,273rd – $703), and Rafael "GM_VALTER" Moraes (2,100st – $703) were the ten in-the-money Team PokerStars players.
Reigning champion Vanessa "Niffller" Kade put together yet another deep run, a deep run that ended in 2,753rd place for $639.
Sunday Million Sunday Million 16th Anniversary Edition Payouts
PlacePrize 1$1,000,036 2$749,084 3$552,126 4$406,954 5$299,952 6$221,085 7$162,955 8$120,108 9$88,528 10-11$65,250 12-13$48,093 14-17$35,448 18-23$26,128 24-31$19,257 32-47$14,194
"Paromology" is the player to catch going into Day 3; they are armed with a helthy stack of 70,919,607 chips. It appears paromology returned to PokerStars for the first time since 2015 just to play in this tournament, and what a decision that has turned out to be. The Canada-based player is guaranteed to take home at least $14,194 but has a legitimate chance of a seven-figure haul.
A pair of Brazilians occupy second and third place at the restart. "begines1" has 61,273,274 chips while Guilherme "Guizaoo_" Carmo has 55,670,502 chips when play resumes at 6:00 p.m. GMT on March 22.
Slightly further down the chips counts, in eighth-place with 46,775,726 chips, is Niklas "Lena900" Astedt, who is by far the highest-profile player still in the hunt for the title of champion. Astedt has more than $23.4 million in online poker tournament cashes, including more than $14.1 million from his play at PokerStars. The Swede is fresh off the back of a runner-up finish in the PokerStars $5,200 Titans Event that came with a $104,441 payday.
Play gets back underway at 6:00 p.m. on March 22 with each of the 38 returning players guaranteed to take home no less than $14,194. Anyone reaching the nine-handed final table sees their minimum take-home pay increase to $88,528 with the top eight finishers securing at least six-figures. Whoever becomes the Sunday Million 16th Anniversary Edition becomes poker's latest millionaire. Stay tuned to PokerNews to discover who that champion is.