The three-year conflict between Churchill Downs Inc. and Nevada racebooks finally ended Tuesday when the two formerly bickering entities signed a contract that will allow Nevada horseplayers access to the entire Kentucky Derby wagering menu this year.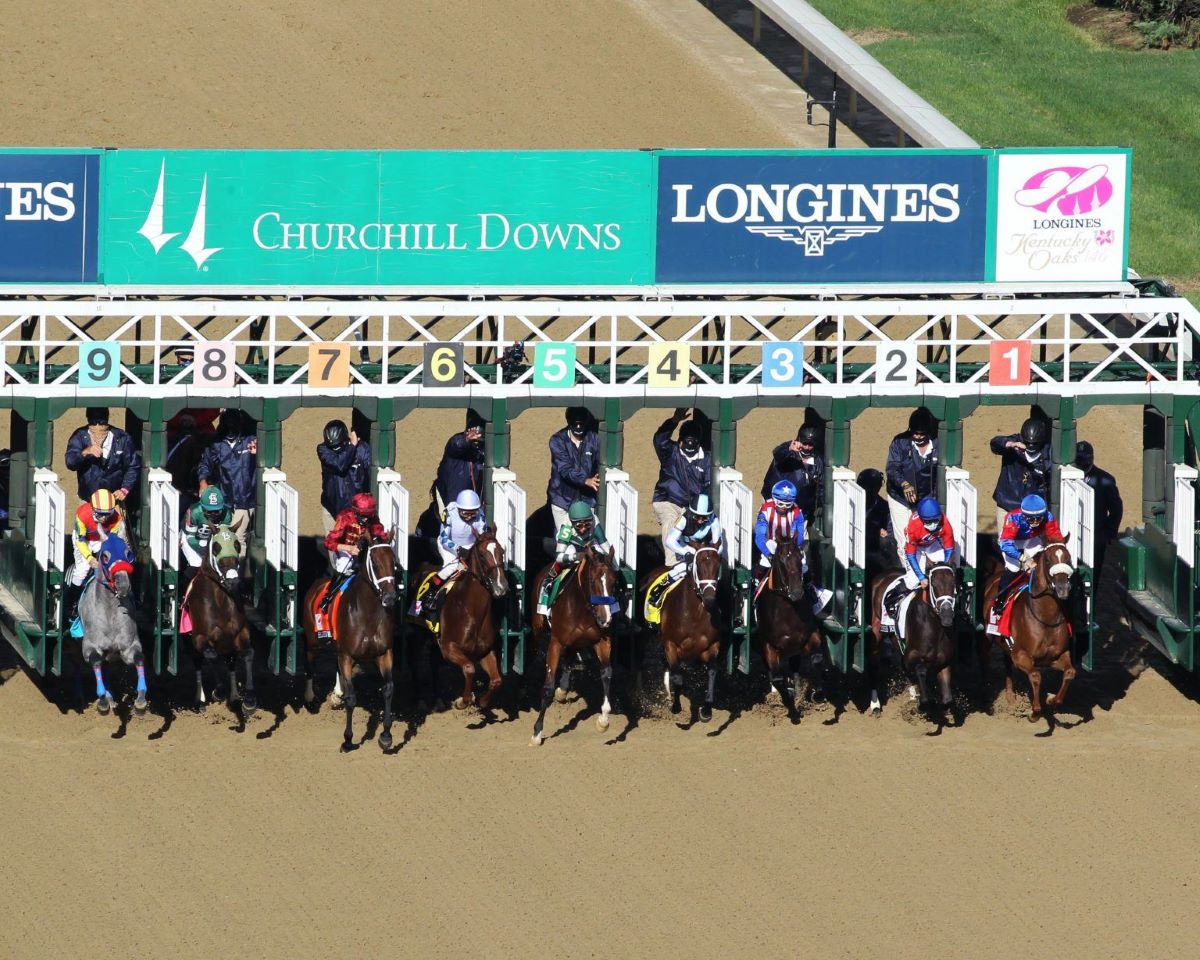 Nevada horseplayers can once again partake in the full wagering menu of Churchill Downs races like the Kentucky Oaks. An agreement between Churchill Downs and Nevada racebooks opened the betting windows for that state's bettors after a three-year impasse. (Image: Churchill Downs/Coady Photography)
The Las Vegas Review-Journal reported that the deal between the Nevada Pari-Mutuel Association and CDI was en route to Nevada gaming regulators for approval. That formality is expected in time for Churchill Downs' spring meet opener Saturday.
"Therefore, barring any unforeseen circumstances, it appears that the board will likely approve pari-mutuel wagering at Churchill Downs, which would include the Kentucky Oaks and Kentucky Derby races, sometime this week," Michael Lawton, a spokesman for the Nevada Gaming Control Board, told the Review-Journal.
"We are thrilled that the Nevada horseplayers will have access to these premier races," CDI said in a prepared statement.
This removes one of the most nagging headaches for not only Nevada horseplayers, but the racebooks serving them. From Oct. 19, 2019 until Tuesday, the NPMA and CDI were locked in a standoff centering on how much Nevada racebooks should pay CDI for their simulcast signal.
Standoff not limited to Churchill Downs
The standoff prevented Nevada bettors from wagering on not only races at Churchill Downs and CDI-owned tracks such as Fair Grounds and Turfway Park, but tracks like Oaklawn Park. In Oaklawn's case, that track — owned by the Cella family since it was built in 1904 — contracted its simulcast feed to CDI.
Through a back-door arrangement allowed by state gaming regulators, this standoff had one giant loophole. Oaks and Derby Days. Nevada racebooks could book action on "nationally televised races" from Churchill Downs. That provided a small window for Nevada horseplayers to bet the Oaks, Derby and selected graded stakes on those cards.
What it didn't do was allow that state's bettors access to the full wagering menu. Because Nevada racebooks were denied access to the giant pari-mutuel pool, they had to book the wagers themselves.
Yeah, we can't book that Pick 5, sorry
As a result of this and the fact not every stakes race was televised, Nevada bettors couldn't bet Pick 4s, Pick 5s and Pick 6s. On top of that, loss-averse racebooks capped payouts on Daily Doubles, Pick 3s, exactas and trifectas. Most, if not all, did not book superfecta wagers.
The only bets receiving full-odds payouts were win, place and show bets. Exotics payouts were capped at anywhere from 175/1 to 500/1, depending on the racebook's policy.
One more loose end needs tying up before Nevada bettors can dive into the Churchill Downs pari-mutuel pool. The Review-Journal reported that the Nevada Disseminators Service, the company that distributes the racing simulcast, needs to agree on a separate contract with CDI.
Dispute was over takeout rates from Derby bets
But Todd Roberts, the president of NDS, told the Review-Journal he expects that to happen by Wednesday. By Thursday, he told the Review-Journal, the Nevada Gaming Board should have the contract.
No details of the deal were released. But the crux of the dispute centered around CDI's demand for 50% of Nevada's total takeout on the Kentucky Derby. The company said that was the going rate it received from other states. CDI's original demand was for 7½ cents of every Nevada dollar bet on its races – with more kicked back on the Derby. The NPMA desires the status quo of 6 ¾ cents.
When you look at this deeper, the end of the dispute after nearly three years over what was essentially loose change to both entities illustrates again, the short-sightedness and insular nature of horse racing. This is a sport that needs fans more than fans need it. Isolating even one state's horseplayers into makeshift, ad-hoc wagers on the biggest day of racing isn't anyone's idea for long-term growth.