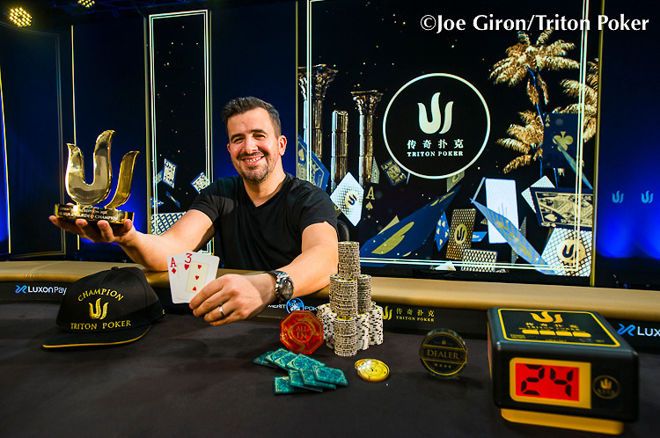 Hungary's Andras Nemeth defeated fellow Hungarian Laszlo Bujtas in heads-up play to outlast 82 runners and win Event #1: $50,000 6-Handed NLH in the Triton Poker Special Edition Series at Merit Crystal Cove Resort and Casino in North Cyprus. Nemeth took home $1,082,000 from a total prize pool of $3,936,000 for the victory.
Laszlo and Bujtas were joined by Dong Hyun Kim, Phil Ivey, and Jason Koon in the top five. Other notables that cashed include Michael Addamo in 11th and Sam Greenwood in eighth.
Triton Poker Special Edition Series Event #1: $50,000 6-Handed NLH Payouts
PlacePlayerCountryPrize (USD) 1Andras NemethHungary$1,082,000 2Laszlo BujtasHungary$770,000 3Dong Hyun KimSouth Korea$503,800 4Phil IveyUSA$387,100 5Jason KoonUSA$307,000 6Elton TsangHong Kong$240,100 7Stephen ChidwickUnited Kingdom$188,000 8Sam GreenwoodCanada$147,000 9Michael SoyzaMalaysia$113,000 10Eng Siang EweMalaysia$99,000 11Michael AddamoAustralia$99,000
Free to Play Slots in the US
Winner's Reaction
Nemeth's win is the latest in his hot run on the high roller scene that started with two victories at EPT Prague in March. The European Tour regular made the trip to North Cyprus to compete in the Triton Poker series, and he was pleased with his result.
"It's so surreal," Nemeth said in his post-win interview. "To play for the first time and actually win."
"I want to pinch myself," he continued.
Nemeth has an opportunity to join the $100,000 event with late registration extended until the first round of Day 2, but he may have his sights set on Wednesday's Short Deck tournament.
"It's expensive, and I know a few guys who know how to play, and it seems very complicated," he said when asked about his plans for the rest of the series.
"Winning this tournament helps. So maybe. We'll see."
Nemeth Does it Again, Wins Second High Roller at EPT Prague
Free to Play Slots in the US
Final Table Action
The unofficial table was started with seven players, and Stephen Chidwick was the first to go when he made a set of deuces but ran into Elton Tsang's flush.
Six-handed play went on for nearly two hours until Day 1 chip leader Tsang bowed out in sixth place when he couldn't improve against a charging Nemeth. The elimination of Tsang brought Nemeth near 10 million in chips and the rest of the table trying to outrun the ever-growing blinds.
Shortly after, Koon was next to go in fifth place when his king-queen ran into the pocket queens of Bujtas. On the very next hand it was Ivey who hit the rail when he got his money in with ace-jack but watched Bujtas catch up with a suited seven-five to eliminated him in fourth place.
The eliminations continued in rapid succession as players were in a position to either shove or fold, due to the escalating blinds. Kim was the eliminated in third when he got it in good with pocket sevens, but Nemeth called with pocket fours and made a straight on the river.
Heads-up play was an All-Hungarian matchup, but it didn't last long. While six-handed play went on for nearly two hours, the final five eliminations occurred over just 35 minutes, and the big moment came when Nemeth made a pair of aces to beat the king-queen of Bujtas.
Free to Play Slots in the US
Addamo Continues High Roller Hot Streak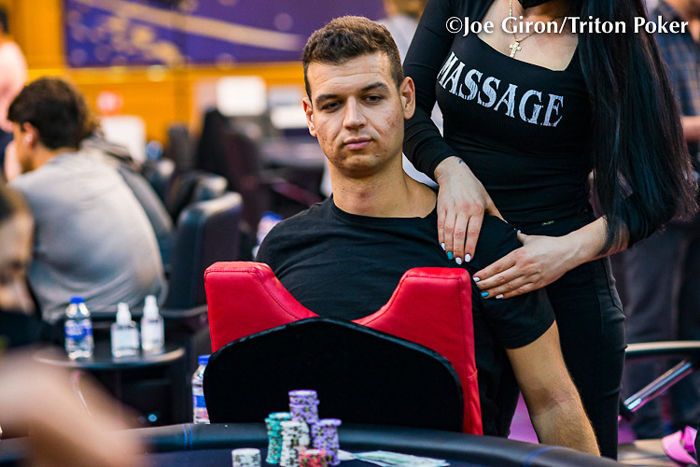 Michael Addamo
Day 2 of Event #2: $100,000 8-Handed NLH is currently underway, with Australian superstar Michael Addamo being the start of day chip leader.
Addamo's high roller hot streak in 2021 was one of the top stories of last year, and was capped off with his fourth WSOP bracelet win.
Tom Vogelsang and Teun Mulder are his closest opponents and are the only players to return for Day 2 with chip stacks north of 100 big blinds.
The event is stacked with pokers biggest names like Phil Ivey, Ali Imsirovic and Jason Koon. Be sure to follow all the action, as the PokerNews live reporting team are providing all the latest updates.
Event #2: $100,000 NLH 8-Handed Day 1 Top Ten Chip Counts
SeatPlayerCountryChip CountBig Blinds 1Michael AddamoAustralia1,058,000132 2Tom VogelsangNetherlands1,019,000127 3Teun MulderNetherlands826,000103 4Danny TangHong Kong569,00071 5Chris BrewerUnited States567,00071 6Ali ImsirovicBosnia and Herzegovina562,00070 7Stephen ChidwickUnited Kingdom486,00061 8Ben HeathUnited Kingdom472,00059 9Jake SchindlerUnited States461,00058 10Mike WatsonUnited States424,00053
Sharelines
Andras Nemeth added another high roller title to his collection, winning the opening event of the Triton Poker Special Edition Series for $1,082,000.

Matt Hansen
Live Reporting Executive
Las Vegas-based PokerNews Live Reporting Executive, originally from Chicago, IL

Calum Grant
Editor & Live Reporter
Calum has been a part of the PokerNews team since September 2021 after working in the UK energy sector. He played his first hand of poker in 2017 and immediately fell in love with the game. Calum's proudest poker achievement is winning the only tournament he has ever played in Las Vegas, the prestigious $60 Flamingo evening event.