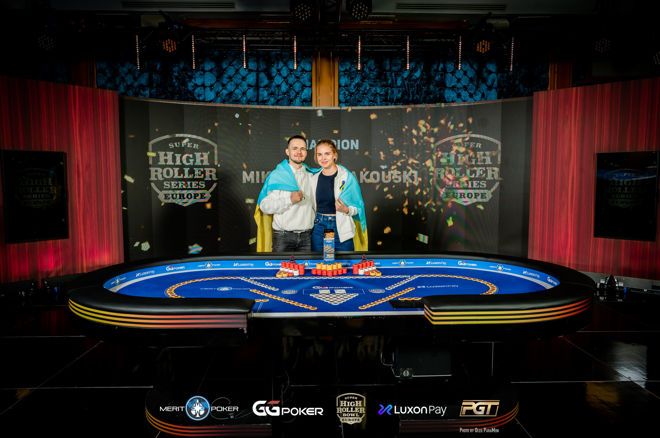 Mikita Badziakouski held off Phil Ivey in heads-up play to win Event #2: $50,000 Short Deck in the Super High Roller Series Europe at Merit Crystal Cove Resort and Casino in North Cyprus.
The Belarusian, who was shrouded in the Ukrainian flag as the final cards fell, locked up the $756,000 first prize and his first win since taking down the $50,000 High Roller at the 2021 World Series of Poker.
This was Ivey's fourth cash of the combined Triton Poker/SHRS Europe series, and he moves into third place on the PokerGo Tour leaderboard with the runner-up finish.
Jason Koon continued his solid run through the combined series with a third-place finish, and Stephen Chidwick picked up his second cash of the series in fourth. Lun Loon finished in fifth place and Wai Kiat Lee made another Short Deck final table after finishing in second in Triton Poker's Event #3: $75,000 Short Deck.
SHRS Europe Event #2: $50,000 Pot-Limit Omaha Final Table Results
PlacePlayerCountryPrize 1Makita BadziakouskiBelarus$756,000 2Phil IveyUnited States$504,000 3Jason KoonUnited States$336,000 4Stephen ChidwickUnited Kingdom$231,000 5Lun LoonMalaysia$168,000 6Wai Kiat LeeMalaysia$105,000
Ivey also extends his lead on the SHRS Europe series leaderboard with the finish, which puts him over $2.2 million on the series. Badziakouski jumped into fifth with the win and Koon makes an appearance in eighth on the heels of his third-place finish. The top finisher at the end of the series will take home the SHRS Europe Championship and a $25,000 bonus.
SHRS Europe Championship Standings
RankPlayerCountryPoints 1Phil IveyUnited States1,341 2Andras NemethHungary700 3Winfred YuHong Kong700 4Elton TsangHong Kong653 5Mikita BadziakouskiBelarus633 6Tom VogelsangNetherlands616 7Laszlo BujtasHungary606 8Jason KoonUnited States575 9Wai Kiat LeeMalaysia567 10Ivan LeowMalaysia537
Best Free to Play Slots
Event #3 Gets Underway
Danny Tang is the chip leader at the end of Day 1 of Event #3: $25,000 No-Limit Hold'em, and sits with a clear margin over Romania's Liviu Ignat in second. The tournament drew 64 entrants to generate a prize pool of $1,600,000.
Ali Imsirovic remains in the hunt yet again this week, and he has secured at least $64,000 in prize money, meaning he will add to his lead on the PokerGo Tour leaderboard with a cashing finish. Koon is also back in the mix, continuing his consistent run of Day 2s in North Cyprus. Andras Nemeth will look to add another victory to his impressive week, while Matthias Eibinger looks to do the same after also winning during the Triton portion of the festival.
Each of the returning nine players has their sights set on the top prize of $432,000.
SHRS Europe Event #3: $25,000 NLH Day 2 Chip Counts
RankNameCountryChip Count 1Danny TangHong Kong1,885,000 2Liviu IgnatRomania1,100,000 3Matthias EibingerAustria1,005,000 4Ali ImsirovicBosnia and Herzegovina840,000 5Andras NemethHungary825,000 6Jason KoonUnited States660,000 7Sinan UnluTurkey645,000 8Daniel DvoressCanada640,000 9Marius Gierse Germany405,000
Click for live updates from the PokerGo Live Reporting team
Where to Watch the Final Table?
The livestream will kick off once the final table is reached on Sunday, April 10 and the action will air with David Tuchman and Brent Hanks doing the commentary on the PokerGo YouTube channel. Action is expected to go live after the first elimination when the event begins at 7 a.m ET and 4 a.m. PT.
*Images courtesy of Merit Poker
Save $20 on an annual subscription to PokerGo by using the code "EU22WEB" at check out. Sign up here.

Matt Hansen
Live Reporting Executive
Las Vegas-based PokerNews Live Reporting Executive, originally from Chicago, IL