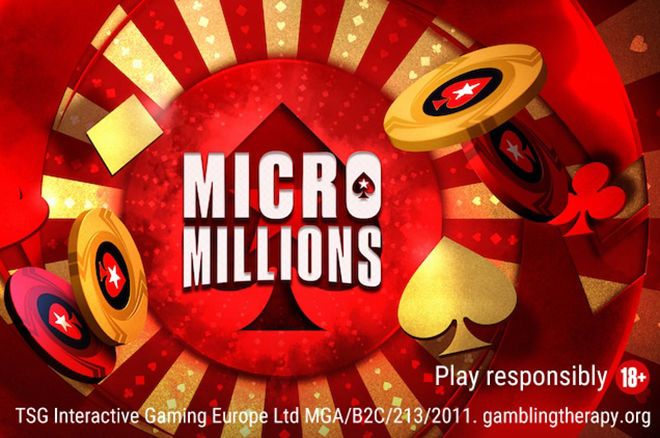 The PokerStars MicroMillions came to a thrilling conclusion over the weekend with the series' final events crowning their champions, including the massive Main Event and High Roller tournaments. Brazil's "matthews085" walked away with the MicroMillions Main Event title for $36,295 while "deanlougue" turned $55 into $46,507 in the High Roller tournament.
The MicroMillions Main Event drew in 27,544 entries, which meant a guarantee-busting $550,880 prize pool, an impressive sum in its own right but especially so when you consider it only cost $22 to buy into.
Nobody at the final table won less than $2,500, well, "fccamilo" collected $2,490 for their ninth-place exit, which is near as damn it $2,500. Thanks, in part, to the bounty element, there were some substantial jumps in the prize money awarded. "ADAUSD" banked $4,280 for their eighth-place finish, "UP.itAA007" scooped $4,715 after falling in seventh, with a $6,718 prize winging its way to "Nazar81400" when their tournament ended abruptly in sixth.
The final four-figure sum, $9,234, went to New Zealand's "Paul.Stamets."
Three of the final four finishers hailed from Brazil, meaning the United Kingdom's "jimpot139" was surrounded by Samba stars. Those three Brazilians became two after the eliminations of "Pandaa'xx" and "DSantanna87," who walked away with $12,050 and $15,226.
"jimpot139" faced off against "matthews085" knowing they would win at least $26,454. However, they fell at the final hurdle and collected no extra prize money. "matthews085," on the other hand, saw $36,295 hit their PokerStars account, with $12,423 coming from the bounty prize pool.
MicroMillions 202: $22 NLHE Main Event Final Table Results
PlacePlayerCountryBountiesPrizeTotal Prize 1matthews085Brazil$12,423$23,872$36,295 2jimpot139United Kingdom$2,616$23,838$26,454 3DSantanna87Brazil$1,082$14,144$15,226 4Pandda'xxBrazil$1,968$10,082$12,050 5Paul.StametsNew Zealand$2,047$7,187$9,234 6Nazar81400Ukraine$1,595$5,123$6,718 7UP.itAA007Brazil$1,063$3,652$4,715 8ADAUSDBrazil$1,677$2,603$4,280 9fccamiloBrazil$635$1,855$2,490
"deanlogue" Scoops $46,507 High Roller Top Prize
The United Kingdom's "deanlogue" outlasted 6,545 opponents in the MicroMillons #204: $55 No-Limit Hold'em High Roller and got their hands on an impressive $46,507.
The top five finishers each received five figures after "Spotzilla666" ($2,735), "marceloscob" ($3,989), "CambadaDeMixos" ($5,554), and "marek_heinz" ($7,915) bowed out.
Brazil's "keyhell" was the first player to turn their $55 buy-in into five figures, namely $11,278. Montenegro's "DoryanGh" was next to fall; they collected $16,072. Third place and $22,902 went to "NERINEJA85," leaving "llllSquarepants" of Malta heads-up against "deanlogue" of the UK. The heads-up duo did not strike any deal, meaning there was a $14,000 difference in prize money, or more than 250 buy-ins! The lack of a deal meant "llllSquarepants" received $32,634 for their second-place finish, while "deanlogue" hauled in $46,507.
MicroMillions 204: $55 NLHE High Roller Final Table Results
PlacePlayerCountryPrize 1deanlogueUnited Kingdom$46,507 2llllSquarepantsMalta$32,634 3NERINEJA85Poland$22,902 4DoryanGhMontenegro$16,072 5keyhellBrazil$11,278 6marek_heinzCzech Republic$7,915 7CambadaDeMixosMalta$5,554 8marceloscobBrazil$3,898 9Spotzilla666Poland$2,735