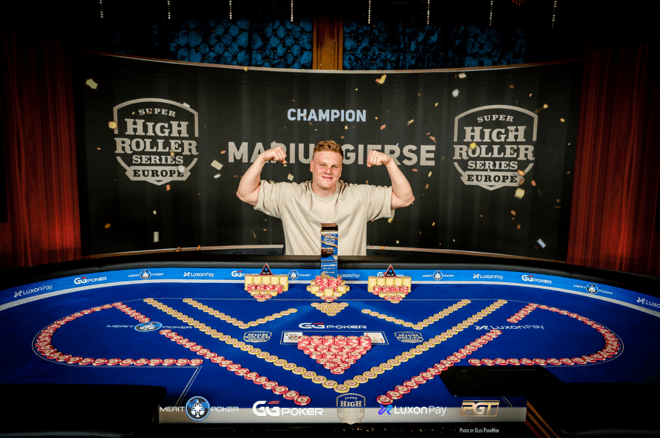 Marius Gierse came from the bottom of the chip counts to defeat Danny Tang heads-up and win Event #3: $25,000 No-Limit Hold'em. The third tournament of the Super High Roller Series Europe drew 64 entries to create a prize pool of $1,600,000, from which Gierse claimed $432,000 for the victory.
Gierse outlasted a high-profile final table, which included Jason Koon, who finished in third, and fourth-place finisher Ali Imsirovic. The German champion got to work early, finding a double through Imsirovic after an active start to the day.
It was a late double through Tang during three-handed play that made much of the difference, and Gierse went into heads-up with the chip lead. Tang couldn't close the deficit and Gierse sealed the comeback victory to pick up his first SHRS title.
SHRS Europe Event #3: $25,000 No-Limit Hold'em Results
PlaceNameCountryPrize 1Marius GierseGermany$432,000 2Danny TangHong Kong$320,000 3Jason KoonUnited States$208,000 4Ali ImsirovicBosnia and Herzegovina$160,000 5Liviu IgnatRomania$128,000 6Matthias EibingerAustria$96,000 7Daniel DvoressCanada$80,000 8Andras NemethHungary$64,000 9Sinan UnluTurkey$64,000 10Sirzat HissouGermany$48,000
Phil Ivey remains on top of the SHRS Europe standings, but Jason Koon moved a few slots up the leaderboard to fourth place on the heels of his top-three finish in Event #3. Andras Nemeth also picked up enough points to claim sole position of second place with his cashing finish. The leader at the end of the series will win the SHRS Europe championship and a $25,000 bonus.
SHRS Europe Championship Standings
RankPlayerCountryPoints 1Phil IveyUnited States1,341 2Andras NemethHungary738 3Winfred YuHong Kong700 4Jason KoonUnited States700 5Elton TsangHong Kong653 6Mikita BadziakouskiBelarus633 7Tom VogelsangNetherlands616 8Laszlo BujtasHungary606 9Wai Kiat LeeMalaysia567 10Ivan LeowMalaysia537
Best Free to Play Slots
Imsirovic and Ivey Set to Clash in Event #4
Imsirovic jumped into the tournament after his fourth-place finish in Event #3, and he leads the final seven players in Event #4: $50,000 Pot-Limit Omaha, which drew 32 entrants for a prize pool of $1,600,000. Not far behind is Ivey, who will look to extend his lead in the overall series with a finish in the top five.
Finlander Joni Jouhkimainen sits in second, with Dylan Weisman in fourth and Eelis Parssinen in fifth. Rounding out the unofficial final table are Iakov Onuchin and Portugal's Tomas Ribeiro. The top five players are guaranteed at least a $112,000 min-cash.
SHRS Europe Event #4: $50,000 Pot-Limit Omaha Day 2 Chip Counts
RankNameCountryChip Count 1Ali ImsirovicBosnia and Herzegovina1,125,000 2Joni JouhkimainenFinland980,000 3Phil IveyUnited States965,000 4Dylan WeismanUnited States610,000 5Eelis ParssinenFinland460,000 6Iakov OnuchinRussia370,000 7Tomas RibeiroPortugal290,000
Click for live updates from the PokerGO Live Reporting team
Where to Watch the Final Table?
The final table action will air on Monday, April 11 with David Tuchman and Brent Hanks doing the commentary on the PokerGO YouTube channel. Play is expected to go live at 7 a.m ET and 4 a.m. PT.
*Images courtesy of Merit Poker
Save $20 on an annual subscription to PokerGO by using the code "EU22WEB" at check out. Sign up here.

Matt Hansen
Live Reporting Executive
Las Vegas-based PokerNews Live Reporting Executive, originally from Chicago, IL