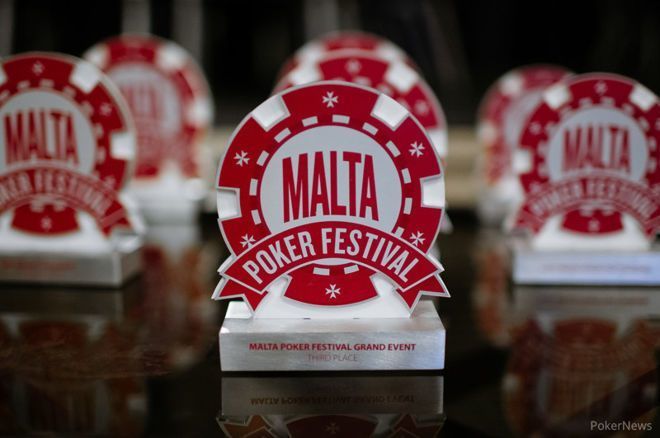 The 2022 Malta Poker Festival (MPF) is fast approaching, getting underway on April 25 at the wonderful Portomaso Casino, Malta. The series, established in 2018, is the brainchild of Ivonne Montealegre and is catered toward recreational and aspiring poker players.
Originally a licensed psychologist, Montealegre swapped the sofa for the sportsbook and has never looked back, having over 20 years experience working in live poker. PokerNews recently caught up with Montealegre to get the scoop on this year's MPF.
Love of Poker Dominates MPF
The MPF has often been praised for its grassroots feel and sense of community the series brings and that is down to Montealegre and her team putting players first, always.
"We focus on quality completely and getting to know our audience. Our community is growing, and that's because of the shared love for poker on display as well as the MPF being a wonderful event that puts everyone to network."
Besides being a fantastic festival to attend, the MPF is also a great avenue for aspiring poker players who are looking to take their game to the next level. With more affordable buy-ins and partnerships with the likes of The Hendon Mob and the Amateur Poker Association & Tour (APAT), the events on offer are a far cry away from the low buy-in super-turbo tournaments in your local casino.
"The MPF is useful for recreational players. It is a great training field as the structures of the poker tournaments are conducive to a very good development of the game."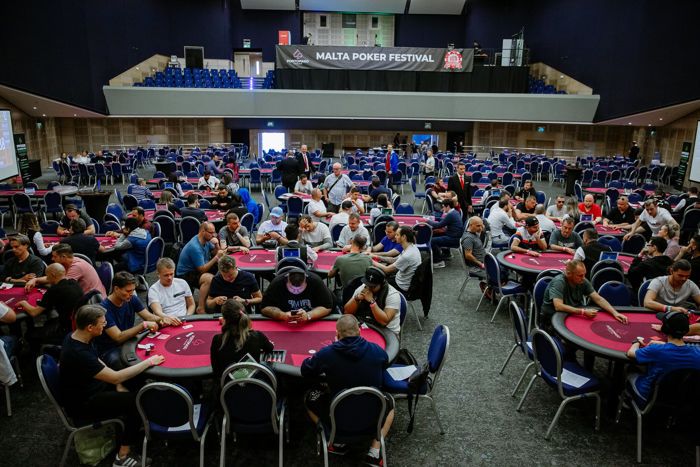 Portomaso Casino Tournament Room
On top of the MPF making you a better poker player, it has also changed the lives of some of those who have attended previous editions. As already mentioned, there is a strong community feel at the festival and Montealegre gave an example of where that was on show.
"The island is a hub for online gaming and a lot of the igaming community attends the event, so there are some super nice networking stories," Montealegre recalled. "I know a poker player that played in our event and at his table was the CEO of a big igaming company. They relocated him as head of poker and the rest is history! He has had a good career and him and his family have been in Malta ever since. You meet all kinds of people at the poker tables from all walks of life.
Best Free to Play Slots
Challenges of COVID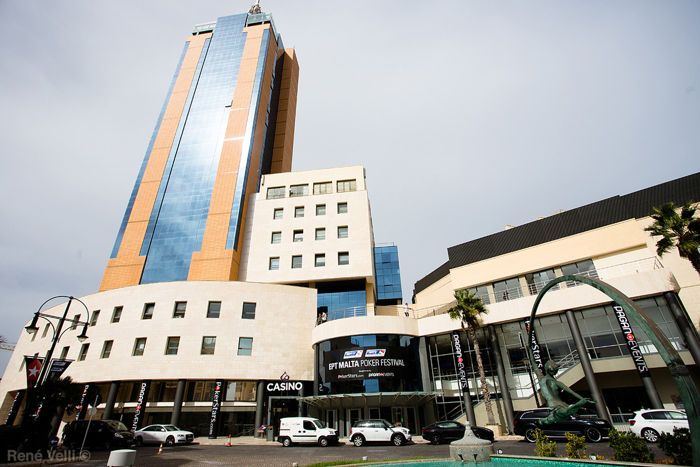 Portomaso Casino
The MPF was just one of the many poker festivals derailed by the pandemic, having been postponed twice before.
"It has been extremely challenging coming from a two and half year hiatus," Montealegre said. "It's no secret the live poker industry has been amongst the hardest hit. We face now new challenges, including COVID-19 protocols and restrictions in terms of mass gatherings all over the globe. The entire planning of the event has taken an extra dimension. Luckily measurements are starting to relax."
Luckily for Montealegre, the venue has been supportive throughout and the MPF founder was thankful to the series hosts.
"I have chosen Portomaso Casino and our 10-year plus partnership because they are up for the challenge," Montealegre told PokerNews. "During the pandemic, their poker room remained open as the only poker room in Malta with poker tournaments and was such an act of bravery and resilience on their part."
Read More: Secure a Platinum Pass For Pennies in the PokerStars EasterWithAces Series
Past Malta Poker Festival Grand Event Champions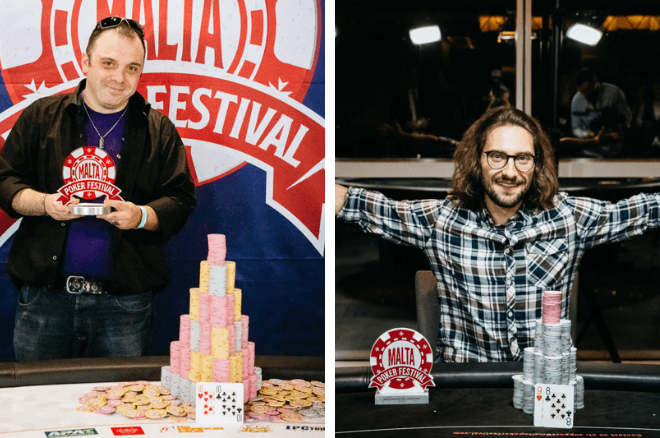 Past MPF Grand Event Champions Emanuele Onnis (Left) and Tomas Sujeta (Right)
Must Have Rooms
Home to the biggest tournaments online, these online poker rooms also have the largest player base, great bonuses, tons of action and the best software. If you don't have accounts here, you are missing out on the best that online poker has to offer.
2022 Malta Poker Festival Full Schedule
DateTime (CET)Buy-InEvent Mon, 25 Apr7 p.m.€60Satellite to MPF Grand Event Tue, 26 Apr2 p.m.€550MPF Grand Event Day 1A Tue, 26 Apr7 p.m.€60Satellite to MPF Grand Event Wed, 27 Apr12 p.m.€60Satellite to MPF Grand Event Wed, 27 Apr2 p.m.€550MPF Grand Event Day 1B Wed, 27 Apr7 p.m.€60Satellite to MPF Grand Event Thurs, 28 Apr2 p.m.€60Satellite to MPF Grand Event Thurs, 28 Apr4 p.m.€550MPF Grand Event Day 1C Thurs, 28 Apr6 p.m.€220Bounty Hunter Days Malta Thurs, 28 Apr7 p.m.€60Satellite to MPF Grand Event Fri, 29 Apr12 p.m.€60Satellite to MPF Grand Event Fri, 29 Apr2 p.m.€550MPF Grand Event Day 1D Fri, 29 Apr4 p.m.€220The Hendon Mob Championship Day 1 Fri, 29 Apr6 p.m.€150MPF Highroller Satellite Sat, 30 Apr1 p.m.-The Hendon Mob Championship Day 2 Sat, 30 Apr2 p.m.€550MPF Grand Event Day 1E Sat, 30 Apr3 p.m.€120APAT Maltese Championship Day 1 Sat, 30 Apr4 p.m.€100Ladies First! Sat, 30 Apr9 p.m.€550MPF Grand Event Day 1F Sun, 1 May1 p.m.-APAT Maltese Championship Day 2 Sun, 1 May2 p.m.-MPF Grand Event Day 2 Sun, 1 May3 p.m.€150MPF Highroller Turbo Satellite Sun, 1 May4 p.m.€1,100MPF Highroller Sun, 1 May6 p.m.€150Win the Cross Sun, 1 May7 p.m.€200PLO Knight Crusaders Mon, 2 May2 p.m.-MPF Grand Event Day 3 Mon, 2 May5 p.m.€120MPF Last Chance

Calum Grant
Editor & Live Reporter
Calum has been a part of the PokerNews team since September 2021 after working in the UK energy sector. He played his first hand of poker in 2017 and immediately fell in love with the game. Calum's proudest poker achievement is winning the only tournament he has ever played in Las Vegas, the prestigious $60 Flamingo evening event.