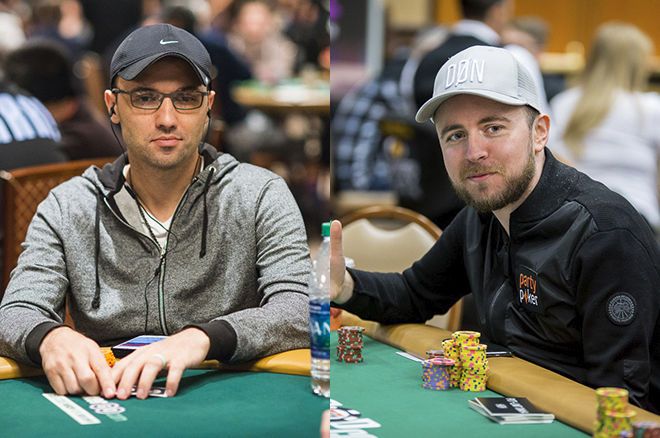 The Main Event of the GGPoker Super MILLION$ Week has reached its nine-handed final table and what a fantastic bunch of players are seated there. Some 685 players bought in across the various flights and created a $6,850,000 prize pool, which blew the $5 million guarantee out of the water. The eventual champion of this prestigious tournament gets their hands on $1,179,576 of the pot.
Dutch grinder "WouldIlieToYou" is the player to catch going into the final table but seasoned pros Nick Maimone and Patrick Leonard are hot on their heels.
Super MILLION$ Main Event Final Table
PlacePlayerCountryChipsBig Blinds 1WouldIlieToYOUNetherlands14,250,02489.1 2Nick MaimoneCanada11,874,20474.2 3Patrick LeonardHungary10,349,51064.7 4Andrii NovakUkraine9,491,83459.3 5Dejan KaladjurdjevicMontenegro7,039,87444 6Aleks ShepelArmenia6,282,81239.3 7spaise411Russia4,291,36026.8 8Simon MattssonNorway3,847,84224 9Chunlei ZhouHong Kong1,072,5406.7
Watch All The Final Table Action Here
WouldIlieToYou sits down with 14,250,024 chips when the cards are back in the air at 6:00 p.m. BST on May 3. This is only the fourth time the Dutch player has bought into the Super MILLION$ and the first time they have cashed. They are guaranteed $147,446 even if the unthinkable happens and they bust out first, but are only eight eliminations away from a $1,179,576 score.
Nick Maimone is an establish household name in poker circles but not a familiar name in the Super MILLION$ events. Maimone has only competed in seven Super MILLION$ events and won $34,470 from those tournaments. His 11,874,204 stack, or 74.2 big blinds if you prefer, put Maimone in a position where he should be challenging for the title and that seven-figure top prize.
Super MILLION$ Main Event Final Table Payouts
1st – $1,179,5762nd – $909,5773rd – $701,3804th – $540,8385th – $417,0436th – $321,5847th – $247,9758th – $191,2159th – $147,446
Big Final table on Tuesday, 3/9, guaranteed $147k, $1.2m ftw, moving to Vancouver on Wednesday. LFG https://t.co/uFThhVYuql
— Patrick Leonard (@padspoker)
Former world number one Patrick Leonard has given himself a fantastic chance of becoming this event's champion by reaching his second-ever Super MILLION$ final table third in chips. Leonard goes into battle with 10,349,510 chips, or 64.7 big blinds. The Super MILLION$ has not exactly been kind to Leonard but he now has the perfect opportunity to boost his $88,032 earnings from this tournament.
Fourth place at the restart with 9,491,834 chips (59.3 big blinds) is Ukraine's Andrii Novak. The Ukrainian is yet to win this tournament from 34 attempts but will fancy his chances thanks to sitting down with a healthy stack. Novak has almost $234,000 in Super MILLION$ earnings. No doubt he'll be going all out to make that more than $1.4 million by the time this final table is done and dusted.
Like the chip leader, Dejan Kaladjurdjevic has a played three, failed to cash in three, record in Super MILLION$ tournaments. Reaching this massive final table means the man from Montenegro is guaranteed to show a massive profit in this event regardless of where he finishes tonight. Kaladjurdjevic is a relative unknown quantity and that could well work in his favour. His sits down with 7,039,874 chips, or 44 big blinds.
The next three shortest stacks have between 24 and 39.3 big blinds in their arsenal. Former Super MILLION$ champion Simon Mattsson is the shortest stack of this trio courtesy of him sitting behind 3,847,824 chips (24 big blinds) and Russia's "spaise411" is sandwiched between Mattsson and Aleks Shepel. Spaise411 has earned $1,170,884 from the Super MILLION$.
Bringing up the rear is Hong Kong's Chunlei Zhou. They return to the fray armed with 1,072,540 chips, which is a meagre 6.7 big blinds. Zhou is in push-or-fold territory but that relives some of the pressure because it makes their decision making much simpler.