The #4 Dallas Mavs are down 1-0 in the first round of the 2022 NBA Western Conference Playoffs after the #5 Utah Jazz defeated them in Game 1 without All-Star Luka Doncic in the lineup due to a calf injury. Doncic is still nursing a mild calf strain and he's listed as doubtful for the Mavs and unlikely to play in Game 2 on Monday.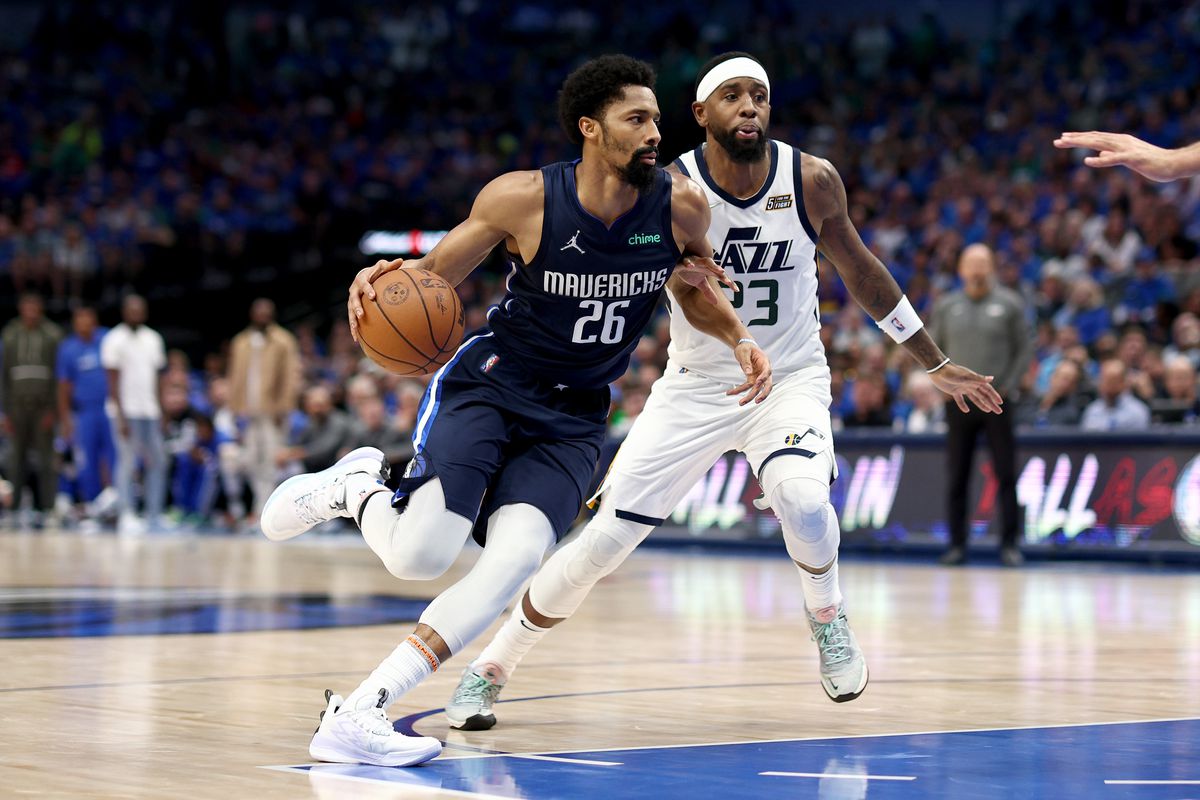 Spencer Dinwiddie (26) from the Dallas Mavs drives to the hole against Royce O'Neal from the Utah Jazz in Game 1 of the 2022 NBA Playoffs. (Image: Tom Pennington/Getty)
The Mavs are +5.5 home dogs once again for a second game in a row. The Jazz beat the Mavs by six points in Game and barely covered the -5.5 point spread.
The Mavs would love for Doncic to return in Game 2 to avoid falling into an 0-2 hole with the series shifting to Salt Lake City for Games 3 and 4 later this week. Doncic was spotted shooting uncontested jump shots in practice, but he was not moving at normal speed.
"It's 'He can play' or 'He can't play'," said head coach Jason Kidd. "If he can't play, then we have to go forward. We showed that already in Game 1, and if it happens in Game 2, then that's the way we have to go."
Doncic had a light shooting workout two days in a row, but mild calf strains typically take ten days to heal. Doncic suffered the initial injury in the final game of the season last Sunday.
After jumping out to a 1-0 lead, the Jazz are now -700 favorites to win the series against the Mavs. The Mavs fell to +500 underdogs to pull off the comeback.
Jazz: Close Shave in Game 1
The Mavs held their own without Doncic in Game 2, and stormed back from double-digit lead in the fourth quarter for a chance to steal a victory. However, Donovan Mitchell scored 30 of his team-high 32 points in the second half for the Jazz. But Royce O'Neal knocked down his only 3-pointer of the game to seal the victory in the closing minute.
"The fact Royce didn't hesitate and shot that ball, that's a mindset, and I think it's a mindset that our team has right now," said Jazz head coach Quin Snyder.
Bojan Bogdanovic added 26 points in the victory for the Jazz..
Rudy Gobert scored just five points on 0-1 shooting and 5-for-6 from the free-throw line, but he hauled down 17 rebounds and blocked three shots.
Thanks to Gobert, the Jazz outrebounded the Mavs 53-34. Backup center Hasan Whiteside added eight rebounds off the bench. For the Mavs, point guard Jalen Brunson led the team with seven boards.
Doncic Doubtful for Game 2
The problem with losing a superstar like Doncic to an injury in the playoffs, is that he's the top scorer, rebounder, and dish man for the Mavs averaging 28.4 points, 9.1 rebounds, and 8.7 assists per game.
Without Doncic on the floor, the Mavs were outmuscled on the boards. Shooting wise, the Mavs struggled to hit shots in Game 1 at just 38.2% from the field, including 28.1% from 3-point range.
In the loss, Brunson led the Mavs with 24 points. Spencer Dinwiddie started  in place of Doncic, and he added 22 points. However, both Dinwiddie and Brunson combined for 1-for-7 from 3-point range.
On Sunday, Doncic worked out with media present. It's unknown if that was just for show to keep up morale, or if he's feeling much better. He's been upbeat all things considered.
"Luka's been involved," said Kidd. "He's talking in meetings, and so again, I've said that since Day 1 that he's in a good spot. A lot of times when you're hurt, you can be grumpy or frustrated, but he's not, so we'll just hope that he continues to be able to do more as each day goes by."
If Doncic is better, there's also concern he could reaggravate the calf strain and miss the remainder of the series. That's why it's a tough spot. Return too soon and risk missing everything, but if Doncic misses Game 2 and the Mavs lose, then they're in a really difficult situation hitting the road to play two more games after falling behind 2-0.
"That's just the way (this) sport can be sometimes," added Kidd. "Injuries come at the wrong time, and Luka's injury came at the wrong time, but you can't cry over spilled milk. We're all professionals and we understand what the situation is. If he can go, that doesn't automatically mean we're going to win games, but we feel better about it if he is on the floor, and hopefully he can get on the floor soon."