May 02, 2022
Mike Patrick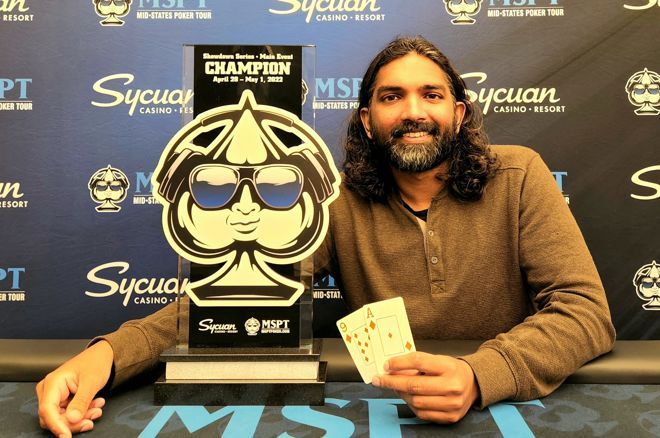 The second trip of the year for the Mid-States Poker Tour (MSPT) to San Diego, California was another massive success, culminated by the crowning of Sebastin Kolman as the $1,110 Showdown Series Main Event champion.
Kolman outlasted a field of 473 entries that shattered the $300,000 guarantee to claim the winner's share of the $457,310 prize pool.
The Los Angeles pro, who is originally from Bombay, India, took home $79,671 in prize money and the champion's trophy after a four-handed deal was struck that ultimately saw Kolman earn the final $23,000 that was left on the table for the winner.
The victory was Kolman's biggest ever tournament score, and a huge boost for someone who says he's primarily a cash game player.
"I play mostly cash, but I play tournaments occasionally and am starting to play more," he said after his victory.
When asked what he'll do with the money, playing more tournaments is definitely in Kolman's plans, including a certain dream event he now says he'll play: "I was already going to play at the World Series of Poker, but I've wanted to play the Main Event for a while. Now I have the incentive to play it."
He'll certainly be ready and able after outlasting a star-studded field in the MSPT event, including a final table that included four-time WSOP bracelet winner and MSPT champion Adam Friedman and MSPT Hall of Famer Rob Wazwaz.
MSPT Sycuan Final Table Results
PlacePlayerPrize 1Sebastin Kolman$79,671* 2Rich Lanes$53,258* 3Derek Molnar$56,540* 4Hesam Fedaifar$45,224* 5David Leese$24,695 6Adam Friedman$18,750 7Andres Moran$14,634 8Rob Wazwaz$11,433 9Scott Sisler$8,689
*Denotes four-handed deal.
Road to the Final Table
On Sunday, 59 players from the three opening flights returned with their eyes on MSPT glory. Just 54 of them would make the money, and it didn't take long to burst the bubble as eventual runner-up Rich Lanes eliminated Adrian Lopez in 55th place to guarantee the remaining players $2,058 in prize money.
From there, the eliminations came at a rapid pace with such notables as Poker League of Nations founder Lena Evans (37th – $2,241), and MSPT stalwarts DJ Buckley (30th – $2,469) and Rich Alsup (20th ($4,162) among those cashing, but falling short of the final table.
Final Table Action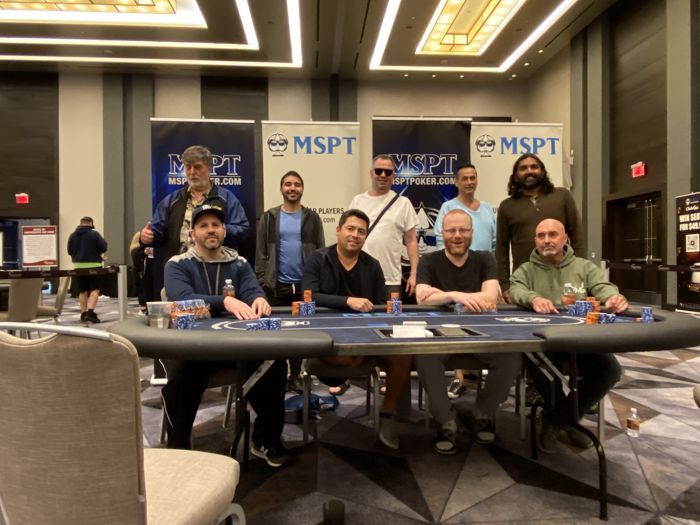 MSPT Sycuan Main Event Final Table
After a short dinner break, the players came back hungry for action with Day 1c chip leader Scott Sisler being the first to be sent home with $8,689. A swingy day for Wazwaz ended in eighth place for $11,433 after he lost a flip to third-place finisher Derek Molnar.
Friedman battled with a short stack as best he could at the final table before he was finally eliminated in sixth place by Lanes for $18,750. Friedman earned his 10th MSPT top-ten finish, tying him for third on the all-time list with Kou Vang.
A turning point at the final table for Kolman was when he won a massive pot from the man he would eventually defeat heads-up, Lanes, to take the chip lead at the final table for the first time.
From there, Kolman made the most of his stack, getting to heads-up play with the lead before whittling away Lanes' stack before finally defeating him for the title.
Kolman's crowning as Main Event champion capped a hugely successful couple of weeks for the MSPT, as along with the huge Main Event prize pool, they awarded over $300,000 in the many side events throughout the week.
MSPT Sycuan Side Event Winners
TournamentEntriesPrize PoolWinnerPrize Event #1: $360 MSPT Mystery Bounty446$91,700 prize pool + $46,600 in bountiesRich Alsup$20,070 (+12,600 in bounties) Event #2: $250 Pot-Limit Omaha69$13,800Daniel Ruiz$3,324 Event #3: $250 Sunday Feast93$18,600Steve Sharp$5,579 Event #4: $185 Deepstack208$30,160Robert Fortuno$4,595 Event #5: $250 Seniors (50+)95$19,000William Glasser$4,439 Event #6: $250 Turbo Super Stack NLH90$18,000Patrick McCool$5,760 Event #7: $250 6-Max76$14,769Justin Lynch$4,438 Event #8: $300 Tag Team Championship248$28,520Jose Parra & Luis Montano$8,556 Event #9: $250 Hump Day NLH72$14,400Luis Montano$4,897 Event #10: $1,110 Main Event473$457,310Sebastin Kolman$79,671 Event #11: $200 Ladies Event, Powered by PLON39$6,825Mikella Pedretta$3,070
Best Free to Play Slots
The MSPT crew is now packed up and on its way to the next stop, their long-awaited return to Cleveland for the 2022 Ohio State Poker Championship at the JACK Casino Cleveland. Click here for a preview of that event, which will be live reported by PokerNews.
MSPT Ohio State Championship Event Schedule
DateTime (PDT)TournamentLate RegGTD Prize PoolStarting StackBlind Levels Wednesday, May 412:00 pm$400 Pot-Limit Omaha4:20 pm-20,00030 Thursday, May 53:00 pm$1,100 MSPT Main Event Day 1a11:40 pm$500,00025,00040 Friday, May 612:00 pm$1,110 MSPT Main Event Day 1b9:10 pm$500,00025,00040 Saturday, May 712:00 pm$1,110 MSPT Main Event Day 1c9:10 pm$500,00025,000   7 pmNightly $135 NLH9:10 pm-12,00020 Sunday, May 812:00 pm$1,110 MSPT Main Event Day 2  $25,00040  12 pm$360 Last Chance4:20 pm-15,00030
Mike Patrick