Two-time Professional Fighters League champion Kayla Harrison has ended her free agency by once again joining the PFL.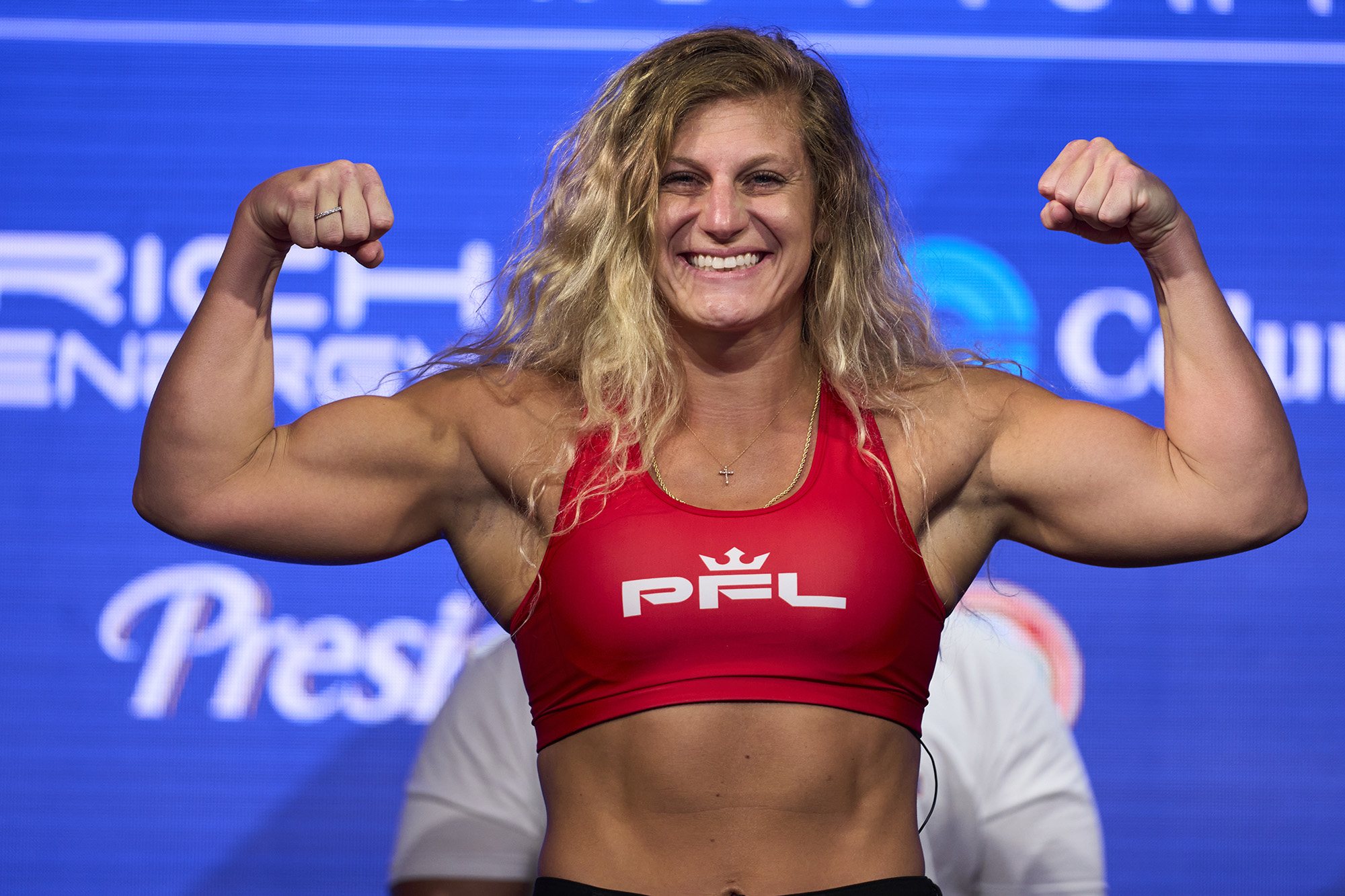 Kayla Harrison has signed another contract with PFL, though she also expects to fight top competition in the near future. (Image: PFL)
Harrison, who has won the PFL women's lightweight championship in each of the last two seasons, had been considering offers from both Bellator and the UFC, among others.
Harrison wants cross-promotional superfight
The PFL released a statement saying that it had signed Harrison to a multiyear contract. The promotion had the right to match any offer Harrison received from another company. Sources told ESPN that the PFL did just that after Bellator made Harrison a large offer earlier this year. UFC also approached Harrison, but didn't match the other two offers.
Harrison (12-0) rates as one of the top women's fighters in MMA today. However, she has yet to test herself against any of the biggest names in the sport, just as the UFC's Amanda Nunes or Bellator's Cris Cyborg. The PFL has brought in former Bellator featherweight champion Julia Budd for its next season. If Budd faces the two-time champion, it would represent the biggest fight of Harrison's career.
"On one hand, I don't disagree with [the criticisms]," Harrison said via ESPN.com. "They want to see me fight the top dogs. I want to fight the top dogs. I'm not running from anybody, I'm not hiding from anybody."
Harrison says that the PFL is interested in setting up a cross-promotional fight for her after the next season.
"The PFL has ensured me and promised me that they don't care if they have to cross-promote, co-promote," Harrison said. "They want to make that fight happen just as much as I do."
Covington dominates Masvidal over five rounds
Colby Covington showed that he is still one of the top welterweights in the world by simply outfighting Jorge Masvidal for five rounds in the main event of UFC 272 on Saturday night.
While Masvidal found a couple of moments in the fight, including dropping Covington in the fourth round, it wasn't enough to negate a dominant wrestling performance by the brash American. Covington also used some timely pressure and smart striking to control all aspects of the bout. Ultimately, the judges easily awarded him a 49-46, 50-44, 50-45 decision.
"It wasn't my best performance," Covington said afterwards. "That was a real friend of mine at one point in my career…I let my emotions get the best of me. But it was still dominant. I showed the world how good I was.
Covington (17-3) should remain the No. 1 contender in the welterweight division following the victory. Masvidal (35-16) suffered his third consecutive loss, though the previous two came to divisional champion Kamaru Usman.
"To lose to a punk like that, it sucks, you know?" Masvidal said after losing to Covington. "If I fight another wrestler, I need to make sure I can deal with this thing…I need to fix the wrestling, man."
Nurmagomedov entering UFC Hall of Fame
The UFC will induct former lightweight champion Khabib Nurmagomedov into its Hall of Fame during International Fight Week in July. Nurmagomedov finished his career with a perfect 29-0 record, and is considered one of the best fighters in the history of MMA.
The Dagestani fighter last fought in October 2020, when he submitted Justin Gaethje in the second round. He retired after the fight, soon after the death of his father, Abdulmanap Nurmagomedov.