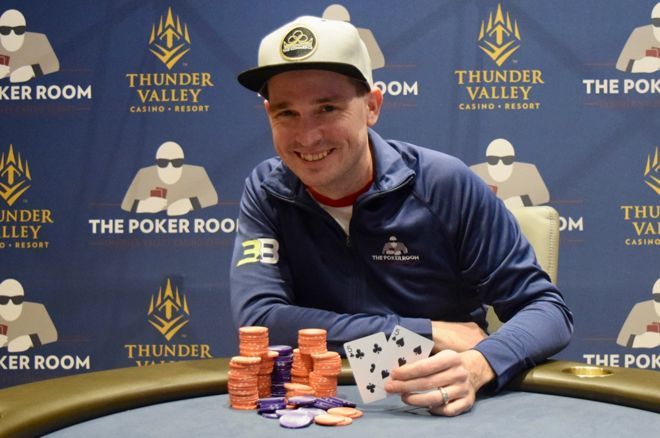 Justin Hammer, a Global Poker Awards nominee and winner of the 2nd Annual Gulf Coast Poker award for "Industry Professional of the Year," is one of the top and most recognized tournament directors in poker. He's also had some success on the felt, as you can see from his winner's photo from a Thunder Valley side event. Last year, Hammer took his talents to Houston where he's helped grow the Prime Social card room.
Prime Social is in the midst of its biggest series ever, the $4 million guaranteed Texas Poker Championship. The series, larger than any other in the state of Texas up to this point, was the idea of Hammer, who previously served in a similar role at Commerce Casino in Los Angeles before the pandemic.
"We did a lot of tournaments (at Commerce), and then I started branching out in California doing other things," Hammer said on the PokerNews Podcast. "And then COVID happened and it kind of shut down all the work I had lined up."
Listen to Justin Hammer on the PN Podcast here!
Moving to Texas
Two years ago, Hammer didn't expect to be anywhere but working in California, but like many others in the world affected by the pandemic, he was forced to relocate for work, and life brought him to Houston's Prime Social, an already established poker room that hired him to grow the room's tournament offerings. He's more than accomplished that goal already.
"I realized in our very first Main Event it was a $250,000 guarantee, and now I'm doing a $250,000 satellite into a $2 million guarantee Main Event," Hammer said.
Hammer continued to praise the efforts of his staff who have bought into his lofty goals of hosting major poker events at a level that Texas had never seen.
"We've got a team [at Prime Social] in management and ownership that just supports the vision that we have and they want it to keep getting bigger and bigger."
Prime Social Club in Houston
Everything is Bigger in Texas, Even the Poker Games'
Poker rooms in Texas operate differently in Texas than most places, for legal reasons. In the Lone Star State, the card rooms operate as clubs and charge monthly membership and hourly seat fees to play instead of taking rake out of cash game pots. Hammer explained on the podcast why that's actually better for the players.
"The way the rooms make money is you rent your seat so you pay a fee," Hammer explains. "And what that does is you don't take money out of the pot. So what we don't realize is when you're taking money out of the pot, it's coming off the table."
More money on the table means bigger pots and more money for the players, says Hammer.
"So you have a bunch of people buy in for $500 in a game. Normally after five hours, there'd be $500 gone. Like an entire person is gone, regardless of how many people bought in or lost. In Texas, the money just stays."
Hammer, who should not be confused with his doppleganger pal Matt Savage (somehow they aren't related), is passionate about growing Prime Social's tournament scene even more than he already has. Prime Social's $2 million guaranteed Main Event, a $5,300 buy-in tournament, runs from March 24-29. As Savage mentioned on the podcast, players can enter the tournament on the cheap by winning one of the numerous satellites offered.
On top of hosting a major series with millions of dollars up for grabs, Hammer is helping Prime Social attract big name players. He mentioned four-time WSOP bracelet winner Adam Friedman will be in attendance for some of the mixed events during the current series.
Texas Poker Championship Series Schedule
DateEventGuaranteeTime* March 10Event #1: $500 Mystery Bounty Day 1a$500,00011 a.m. March 10Day 1b 4 p.m. March 11Day 1c 11 a.m. March 11Day 1d 4 p.m. March 12Day 1e 11 a.m. March 12Day 1f 4 p.m. March 13Day 1g (Turbo flight) 9 a.m. March 13Day 2 2 p.m. March 13Event #2: $400 NLH Jacked Stack$50,00012 p.m. March 13Event #3: $600 Omaha 8-or-Better 5 p.m. March 14Event #4: $400 Short Deck 11 a.m. March 14Event #5: $600 Triple Stud 5 p.m. March 15Event #6: $200 Sweat and Go 11 a.m. March 15Event #7: $400 NLH Seniors 11 a.m. March 15Event #8: $600 H.O.R.S.E. 3 p.m. March 16-19Event #9: The Big Texas $500k$500,00011 a.m. March 16Event #10: $600 Dealers Choice 3 p.m. March 17Event #11: $600 No-Limit 2-7 Single Draw 3 p.m. March 19Event #12: $1,100 Mystery Bounty Turbo 5 p.m. March 20Event #13: $600 NLH One Day 100k$100,00012 p.m. March 20Event #14: $400 PLO 3 p.m. March 20Event #15: $250 Ladies Event 5 p.m. March 21Event #16: $1,100 PLO Championship$100,00011 a.m. March 21Event #17: $600 NLH Survivor$50,0003 p.m. March 24Event #18: $5,300 Main Event Day 1a$2,000,00012 p.m. March 25Day 1b 12 p.m. March 26Day 1c 12 p.m. March 27Day 2 12 p.m. March 28Day 3 12 p.m. March 29Day 4 12 p.m. March 27Event #19: $3,000 Dealers Choice 6-Max 2 p.m. March 28Event #20: $3,000 Big O 2 p.m. March 28Event #21: $3,000 NLH 6-Max 4 p.m. March 229Event #22: $1,700 NLH Big Bounty Turbo 12 p.m.
Prime Social will host twice daily $800 buy-in satellites into the Main Event from March 23-26. Additionally, there will be $150 mega satellites available into the Big Texas $500k.
Learn more about the Texas Poker Championship by clicking here!
*Lead image courtesy of Thunder Valley/Dan Ross of Hold'em Media.