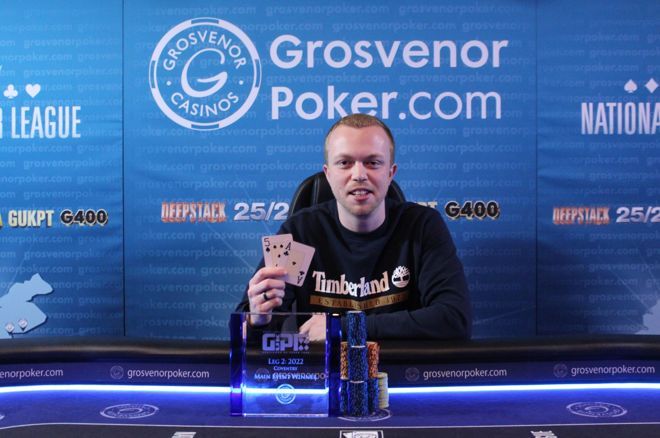 Joe Hindry has defeated a 416-player field to win the GUKPT Coventry Main Event, just weeks after winning a career-best £60k score in London.
He takes home £93,460 for a new career-best score after defeating Richard "Chufty" Ashby heads-up.
It was 15 years since Ashby first final-tabled a GUKPT Main Event, but despite taking the lead heads-up, he had an inferior two-pair twice heads-up to fall in second place.
GUKPT Coventry Main Event Final Table Results
RankPlayerCountryPayout (GBP) 1Joe HindryUnited Kingdom£93,460 2Richard AshbyUnited Kingdom£65,350 3Waheed AshrafUnited Kingdom£39,600 4Jacob StoneUnited Kingdom£25,300 5Gary WhiteheadUnited Kingdom£16,550 6Mitchell HynamUnited Kingdom£12,100 7Stephen KehoeUnited Kingdom£8,800 8Calogero MorrealeUnited Kingdom£7,500 9Andrew BakUnited Kingdom£6,450
Winner's Reaction
"I'm going to choose my next tournament very carefully," Hindry said to PokerNews after his second victory in as many tournaments. "I feel blessed. I remember coming [to Coventry] when I was 18 to play in the Goliath and just thinking what if. What would it be like to win one.
"I don't play as much anymore, and I usually just play cash. And now to have won these two, it's just mad."
And does he have room on his mantelpiece for another trophy?
"I think there's room for another one…"
GUKPT Coventry Main Event
Final Day Recap
Day 3 began just six eliminations away from the final table, and it didn't take long for Richard Ashby to take control.
However, he was pipped to the final table chip lead by Waheed Ashraf whose audacious bluff-shove on stream saw him take over at the top of the counts.
Ashraf pushed ahead as the early eliminations at the final table saw Andrew Bak and Calogero Morreale hit the rail. The elimination of Stephen Kehoe by Ashraf saw him strengthen his chip lead, but no one looked capable of breaking free from the chasing pack.
Ashby eliminated Mitchell Hynam in sixth, before overnight leader Gary Whitehead left in fifth as Ashraf and Ashby continued to battle for the chip lead.
As the blinds increased, Jacob Stone hit the rail after expertly navigating the final table in the middle of the pack. He was followed by Ashraf who ran out of steam just before heads-up.
Hindry had sent Ashraf to the rail, and took the chip lead heads-up. A flush over flush situation saw Ashby briefly hold the lead, but two unavoidable situations for Ashby saw him hold an inferior two pair twice in quick succession to bust to Hindry.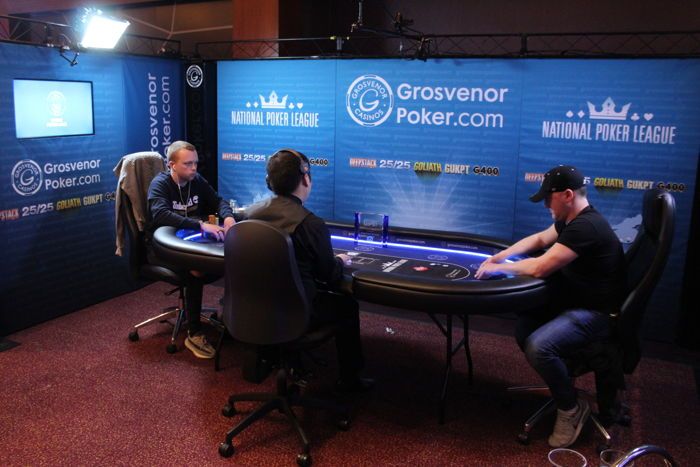 GUKPT Coventry
2022 GUKPT Schedule
PokerNews will be live reporting from the GUKPT all this season, so stay tuned for our next coverage!
LegVenueDateBuy-inFieldWinnerPayout (GBP) 1The Poker Room, London27 January-6 February£1,250702Timothy Chung£185,560 2Coventry24 February-6 March£1,000416Joe Hindry£93,460 3Bury New Road, Manchester17-27 March£1,250    4Reading South17-24 April£1,000    5Edinburgh8-15 May£750    6Luton26 May-5 June£1,000    7The Poker Room, London23 June-3 July£1,000    8Leeds22 September-2 October£750    9Luton13-23 October£1,250    10Blackpool6-13 November£1,250    Grand FinalThe Poker Room, London1-18 December£2,000   

Will Shillibier
Executive Editor E.U.
Will Shillibier is based in the United Kingdom. He graduated from the University of Kent in 2017 with a B.A. in German, and then studied for a NCTJ Diploma in Sports Journalism at Sportsbeat in Manchester. He previously worked as a freelance live reporter, and video presenter for the World Poker Tour.